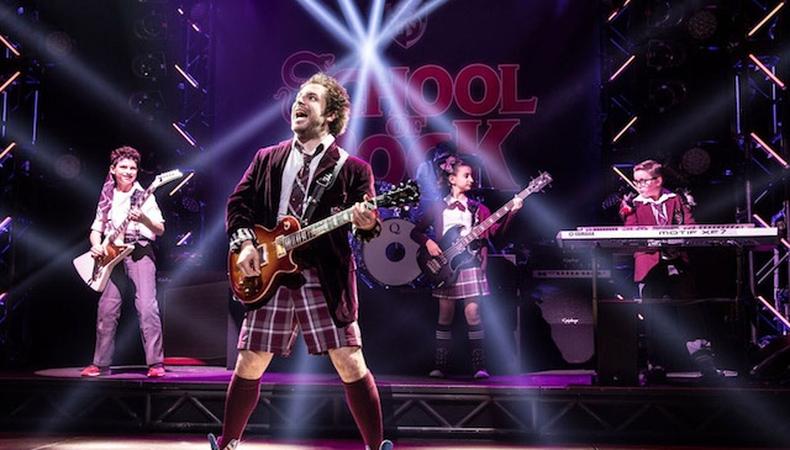 When it comes to Andrew Lloyd Webber's "School of Rock," star Justin Collette couldn't have asked for a better-suited musical for his Broadway debut. A multi-hyphenate actor and musician (and former teacher) in his native Toronto, he pulls on all his various performative skills for the hit tuner (which earlier this spring clocked in 1,000 performances and counting) and its high-octane lead: Dewey Finn. Collette recently chatted with us about what it's been like making his debut in as Dewey, what advice he has for other artists looking to make strides in Canada, and why "Dr. Strangelove" should be at the top of all actor's streaming queue.
This marks your Broadway debut. What has that experience been like for you?
It has been incredible. I mean, it was a shock to the system to go from doing the kind of improv theater work I was doing—and cartoon voice work and some film stuff—but, like, doing a Broadway show every week is just physically so much, so it took awhile to get adjusted to that. But it's been the most rewarding experience of my career, for sure. It's so crazy that I don't even do eight shows—I only do five. I have a standby that does the matinees. I was really at the point in my life where I was looking for a challenge and, you know, be careful what you wish for, right? Because I got this role where I'm onstage the whole time and my co-stars are 13 10-year-olds. It's just been kind of ineffable and very, very rewarding, challenging, and fun.
How did this opportunity first come about for you?
I did it the old-fashioned way [and auditioned], but it happened really quickly! I auditioned on a Friday, and then at the end of my audition, they asked me to come back the next day, so I went back on Saturday. This is in Toronto, where I auditioned. And they asked if I could be in New York by Monday, so on Sunday, I drove to New York. On Monday, I did a workshop. Tuesday, I auditioned for the final time for the show before I was offered a contract. So it all kind of happened in five days.
Wow. Well, I do feel like this role of Dewey, it requires a certain skill set, so when they see it, they know it.
Yeah, for sure. That is for sure the benchmark for Dewey: Are you capable of doing it? Do we think that you'll be physically able?
How does your background in sketch and improv inform your read of this character?
I don't know how much that it informs my read of the character as much as it really helps me to do a show with kids and to do the same show over and over again. I'm really lucky that the creatives on this show let me make Dewey the way that I made him. They really didn't want him to be like anybody else. That was really liberating in the creative process. So when we were in rehearsals, they just kind of let me try whatever I wanted, and to their credit, I would have a lot of different choices, a lot of different jokes, and we'd try them out in the show, and if they worked, they stayed, and if they didn't work, we cut them. But it was nice to feel like I wasn't just stepping in and trying to do the same job that [others] had done. It's a challenge coming in to replace somebody who had created a role because they had so much of their voice in it, and you don't want to just sound like a fraud of them. So I got lucky.
Considering your audition process for Dewey, how do you typically prepare for an audition?
This is kind of the most important thing that I've learned: I think all that people want to see in the room when you're auditioning is that you're comfortable and that you're easy to work with. I mean, a lot of it is going to come down to just the way you look, and you can't help that. That's going to always be a part of it. And you obviously need to be prepared; know your material and go in and be as competent as you can with it. But I really think that the more you seem like an easy person to work with—you know, theater and film can be really, really stressful. So the more malleable you are in the room, the better. Don't get stressed out if they ask you to do a reread of something. And if they ask you to reread something, don't do it the same way you just did it. They want to see if you can move. An actor is a tool for the director to use, and they want to see that you have more than one function. So I think the most important thing in an audition room is to be comfortable and to be malleable.
Right, and it's important to jump on any chance you get to show that you're a good colleague and a good collaborator.
Yeah, absolutely. And bring that in the way you present the work. If you go in there shaking and nervous—and it is nerve-wracking—but if you go in shaking and nervous, that's not you, and they're not going to want to put you in front of 1,600 people eight times a week if you can't perform in front of three. I realize that it's more stressful to be in that intimate of a setting, but no one is going to make that leap of faith.
What special skills do you have listed on your résumé?
I can play the guitar. I have accents that I can do. I can play a lot of instruments—I'm a multi-instrumentalists, so I play the drums, piano, bass, guitar. I can ski. There's not a lot of skiing in "School of Rock"—there's some, if you look.
What advice specific to the Canadian market do you have for early career folks to get a leg in that industry?
I feel like Canada is absolutely a totally different place to work as an artist than New York. In New York and in the States in general, I feel like you can just be an actor. And that's not pejorative or anything. You can be an actor, you can focus on your craft, and if you're good at that, I think there's work for you. I don't think that that's the case in Canada. In Canada, you kind of have to make your own work, so if you want to be seen, you've gotta make the opportunity for you to be seen. So I would take writing classes. One of the virtues of improve, too, is just that you get stage time if you're waiting around to get a play or something. That might only come by once a year, depending on where you're at. But if you do improv, at least you're flexing your muscles, you're on stage all the time, you're creating.
And lastly, what is one movie that every actor should see?
"Dr. Strangelove." The thing that I love the most about it is that I'm a huge [Stanley] Kubrick fan, I'm a huge Peter Sellers fan, and I think that the way that Kubrick shoots a movie shows the best of what a director can bring to an actor's performance, and I think Peter Sellers shows just incredible range in his performance in a serious, nuclear war film at a time when that was actually a thing that could happen. It's a really brave movie.
Ready to get to work in New York City? Check out Backstage's theater audition listings!