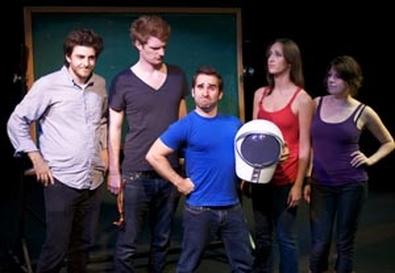 This ambitious sextet of 20-something USC graduates has done an admirable job of coping with its crash-landing from the cushioning protection of academia to face the "inevitable day a flashlight shines brightly in our faces," as director Elissa Weinzimmer explains in her program notes, turning their separate life experiences into one collective night of performance art. Under the nurturing hand of Weinzimmer, whose imaginative staging contributes palpably to the eclectic mix, these blossoming artists have bravely opened themselves to evoke the funniest—and most painful—memories of their adolescent years, performing their own pieces with a remarkable youthful skill.
It's a stretch for the creators to try to link these monologues into one "sucker punch of real life," as the program also explains in an effort not to suffer the slings and arrows of theatrical showcasing, but the talents of these six participants trump the thinness of the concept. There's great humor here. Ben Giroux's involves an inept search for love, boldly going "where taller, more attractive men have gone before" in a world of cyber-dating, his dependence on hair goop, Facebook poking, and an obsessive use of Febreze proving "all for naught." Lanky, physically puckish James Robinson reveals agonizing memories of boarding school in Birmingham, England, a place where residents "see pictures of Auschwitz and wonder what the fuss is all about." Juliana Tyson and Sascha Alexander have wonderful moments recalling, respectively, crashing a neighborhood party near USC ("You don't get South Central immunity for liking mariachi music") and coping with a hoarsely painful vocal malady that could have forever doomed Alexander into playing "loud slutty cheerleaders who get killed off" early in slasher movies.
Still, the two most memorable turns come from Robinson, who seems to have discovered a way to channel Peter Cook and Alan Bennett simultaneously, and John Dardenne, who offers the evening's most charming, most bittersweet, most courageous contribution as he considers his teenage years spent discovering his atheism in a family tearing him between Christianity and Judaism. In a world where 90 percent accept the concept of a supreme being, Dardenne affectingly, poignantly makes his case, to an uncomfortably hushed audience, for a life spent doing good and living well without the need of prayer or the fear of getting a lightning bolt up the spine for not believing in fairy tales.
Despite the dangers of falling off that dangerous academic cloud every college experience creates, USC should be grateful to have these six exceptional recent graduates out there showing what they have to offer when people are willing to listen to their uniquely individual inner voices.

Presented by and at the Lillian Theatre, 1076 Lillian Way, Hollywood.
Aug. 25–Sept. 30. Tue.–Wed., 8 p.m.
(323) 960-7822. www.schoolforsuckers.com.