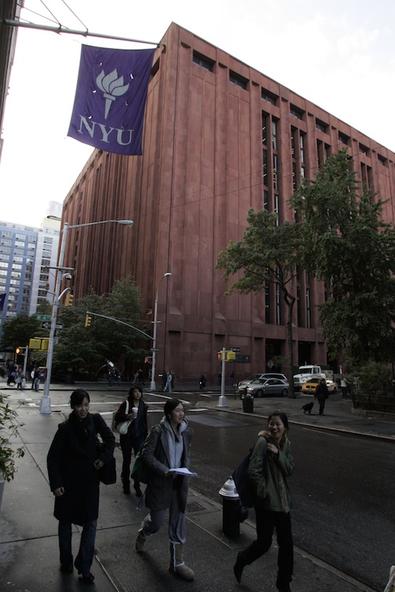 Whether you're looking to become the next indie director sensation or you want to be the actor-collaborator who helps brings to life the next indie director sensation's films, the first step is identifying the place where filmmakers' visions are shaped. Earlier this year the Hollywood Reporter compiled a list of 25 of the country's best film schools. Here are the top 10:
UNIVERSITY OF SOUTHERN CALIFORNIA
If you ever wanted to walk straight from the filmmaker's classroom into a legitimate IMAX theater, consider what many feel is the crème de la crème of film schools: USC's School of Cinematic Arts. In addition to a reputable education, the USC campus also houses an immersive lab. "The greatest strength to our programs is the underlying philosophy that the best education comes from creating an environment where theory and practice are in constant interaction," says the university's website. USC is so ahead of the curve it's currently offering comedy as a minor.
NEW YORK UNIVERSITY
Not only is this university located in one of the top cities for acting talent, but the facilities at the school include a teaching soundstage, a digital media library, and a full production center. Concentrations at NYU include experimental filmmaking, writing for film and TV, documentary filmmaking, and animation. NYU ensures its artists receive exposure well before graduation, with opportunities such as having their work showcased at the Cannes Film Festival.
UNIVERSITY OF CALIFORNIA, LOS ANGELES
UCLA is one of the more affordable options if you want a great filmmaker's education. Known for its stellar screenwriting program, the university also specializes in melding its various departments. "Our vision is for the [School of Theater, Film and Television] to serve as a premier interdisciplinary global professional school that develops outstanding humanistic storytellers, industry leaders, and scholars whose diverse, innovative voices enlighten, engage, and inspire change for a better world," says UCLA's website.
AMERICAN FILM INSTITUTE
"AFI is America's promise to preserve the history of the motion picture," says the school's website. But more than upholding the memory of film's golden age, the school also works to bring the past into present-day context to better serve students. The school emphasizes visual storytelling in a team setting, so expect to have classes broken up to reflect actual roles within a production. David Lynch and Darren Aronofsky are both AFI alumni.
CALIFORNIA INSTITUTE OF THE ARTS
The CalArts film program is a four-spoked wheel rotating around experimental animation, a film directing program, character animation, and a program in film and video focusing on everything from abstract and new media angles to more traditional visual storytelling formulas. Overall, the institute takes a more singular and independent approach to the creative film process, understanding the importance of the individual.
COLUMBIA UNIVERSITY
Yes, this Ivy League is pricey. But only for the first two years! In the third year, tuition drops from more than $50,000 to just under $4,500. Columbia offers two MFA programs: screenwriting-directing and creative producing, and combines both hands-on and theoretical training to provide a "deep understanding of all the principles and practice of dramatic filmmaking." Kathryn Bigelow, the first woman to win an Academy Award for directing, is a Columbia alum.
CHAPMAN UNIVERSITY
The Dodge College of Film and Media Arts at Chapman is located in Orange County, Calif., providing students with internships at studios and production companies, and opportunities for face-to-face interactions with directors, editors, and other industry professionals who visit the campus. Dodge offers MFA degrees in film production, film studies, film and TV production, screenwriting, production design, and more.
LOYOLA MARYMOUNT UNIVERSITY
LMU takes an immersive approach when educating the next generation of filmmakers, offering programs for both undergraduate and graduate students that teach creators to "read" the industry's language. MFA concentrations include screenwriting, film and TV production, and writing and producing for television. Loyola is known for its small class sizes, allowing students solid face time with their instructors.
EMERSON COLLEGE
Based in Boston, the institution offers three degrees within its Visual and Media Arts concentrations, as well as a highly selective three-year MFA program that accepts only 22 students per class year. Bonus for the West Coasters: Emerson recently opened an L.A. headquarters on Sunset Boulevard.
THE UNIVERSITY OF TEXAS AT AUSTIN
The selective university is responsible not only for founding an online journal about the state of television that was subsequently turned into the Flow Conference, but also for giving us greats like Wes Anderson and Robert Rodriguez. "Through extensive studio and technique courses covering all aspects of media production, MFA students hone conceptual, aesthetic, and technical abilities in a variety of media," says the UT website.
Inspired by this post? Check out our film audition listings!