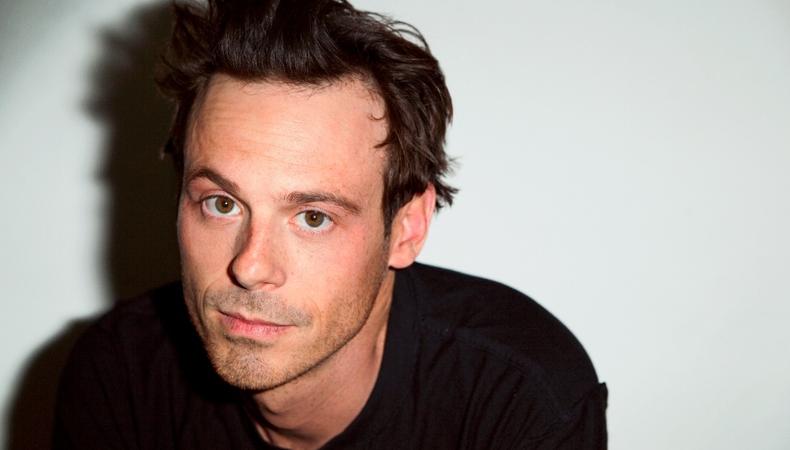 2012 might end up being remembered as the year of Scoot McNairy. The actor, perhaps best known for producing and starring in the 2007 indie hit "In Search of a Midnight Kiss," will be seen on screen in three highly anticipated films before the end of this year.

First up is "Argo," premiering at the Toronto Film Festival Sept. 7 before hitting American screens Oct. 12. Ben Affleck produced, directed, and stars in the film based on the incredible true story of CIA operatives who pretend to be filmmakers in order to extract six Americans from Iran during the 1979 hostage crisis. McNairy portrays Joseph Stafford, one of the six, who is resistant to the plan designed by Affleck's agent.

But first, McNairy will be seen in a major role opposite Brad Pitt in "Killing Them Softly," opening Sept. 21, and later this year in Gus Van Sant's new drama "Promised Land." It's a great payoff for the journeyman actor.

"I've been very, very fortunate, especially in the last year, having pushed really hard over the last 10 years," says McNairy. "I've just been keeping my head down and trying to focus on the work. But I've loved every minute of it."

How did you land your role in "Argo"?
Scoot McNairy: I met with Lora Kennedy, the casting director. And then I got a call to come back and meet with Ben. I think he just wanted to read with me and make sure I wasn't a loose cannon. He's an amazing director. He gives us a lot of room to play and he's so smart. I had such a good time working with him, both as a director and an actor.

Is it true you did an Axe body spray commercial with him in 2006?
McNairy: (Laughing) I did! It was a commercial that aired in Europe. And when I went into casting for "Argo," I read and did my thing, and as I was leaving I turned back and said, "Oh yeah, Axe deodorant." He was like, "No way, that was you!" I don't know if it helped my odds at all.

What sort of research did you do to prepare for your role?
McNairy: I didn't know that much about the story going into it. They gave us a huge box of research, down to movies that were big during that time period and books on Khomeini and The Shah. For three weeks leading up to shooting, we were immersed in educating ourselves not only on the scenario, but also the time period. Also, they put the actors playing the escaped hostages in a house for five days to live together, so we all got to know each other really well.

You also have a large role opposite Brad Pitt in "Killing Them Softly," opening this month. Was that also an audition situation?
McNairy: Yeah. The writer/director, Andrew Dominik, hadn't seen me in anything. He was like, "Who are you? Where did you come from?" Andrew really took a risk casting me in such a great role. I'm very indebted to him. I've been up for studio films before where they basically said, "Who? No, get me a bigger name."

And you'll be appearing in Gus Van Sant's "Promised Land" later this year. What can you tell us about that?
McNairy: It's an amazing script by Matt Damon and John Krasinski about fracking in the oil and gas industry. Matt plays a guy who comes to a small town to close all the land leases, and I play one of the farmers who is hesitant to sign [because] he doesn't want to give up his land.

You're also an accomplished producer. How did you get involved in that?
McNairy: I was out here, struggling to get the roles I wanted, so I opened a production company to start making films that I wouldn't normally get cast in and that I wanted to see. Producing was just an extension of my love for storytelling. I love all aspects of it—directing, producing, acting, writing, the whole thing. So it was an avenue that popped up based on the fact I was looking for work and no one would hire me on the movies I wanted to make. So I started to make them myself.

I know you like getting on stage, too. When was the last time you were able to do a play?
McNairy: I work with a theater company called The Moth Theatre. John Markland, who's my acting coach, started that theater and the last play I was in there was Sam Shepard's "Geography of a Horse Dreamer." It was a great time. It was an all-male cast, so every rehearsal was like a clubhouse.

There's a play John wrote called "Americano" that I saw and just fell in love with it. We're developing that into a screenplay now.

"Argo" screens Friday, Sept. 7 at the Roy Thomson Hal at 6:30 p.m.; Saturday, Sept. 8 at the Visa Screening Room (Elgin) at 11:00 a.m.; and Saturday, Sept. 15 at the Visa Screening Room (Elgin) at 3:00 p.m. as part of the Toronto International Film Festival.