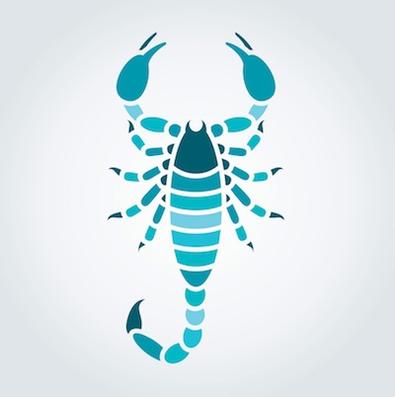 Scorpio (October 23 – November 21)
The robust trio of the Sun, Mars, and Mercury has been energizing your adventurous side and encouraging you to face the unknown and walk into your fears. Because these planets are in Cancer, you may have fears around expressing your true feelings or articulating what you want down deep. Is it more freedom? A move? Some healthy self-righteousness rears its head as well as you're trying to find your best style of showing up authentically.
Travel is also probably on the mind, although you're desiring an emotional component to it, like maybe returning to the place of your father's father. Cancer stuff. It's best right now to keep trying things, get messy and just learn by doing. If you push some buttons, so be it; you're a provocative Scorpio (or Scorpio rising) after all, you're not here to make people comfortable. Sometimes getting out of our well-worn grooves helps us awaken to our truth, thus the travel dreams. So whatever you can do—take a new route home, study a new language, find ways to integrate epiphanies into your day-to-day life—the better. You're trying on new communication styles and ways to bring the adventure home.
Venus, planet of love and attraction, enters your 8th House of intimacy on July 5 amplifying this theme of the inner adventure and the quest for emotional and sexual satisfaction as well. Again, be willing to try new things and implement your book learnin' into your behavior and way of relating. There's room to be a little wild and unruly right now, which ultimately will serve intimate relationships. Things may come to head on July 8 when the Full Moon in Capricorn lights up the tribal 11th house and makes clear what role you play on the grand stage. Provacateur? Shaman? Artist? When there's a planetary migration into fiery Leo around July 20th, the mood completely changes. Your 10th House of career is in the cosmic spotlight and your recent shifts are more visible to everyone around you. More on that next month!
Kelly Chambers is a writer, actor, and astrologer living in Los Angeles. She can be reached for private astrology readings through her website theastrologersdaughter.com. You can also check her out in the web series "Break Hollywood with Nice & Fargo," a comedy by actors for actors. Follow the latest in cosmic news on her Instagram and Twitter. She welcomes your comments and insights.
Ready to see what else July has in store for you? Check out our film audition listings!