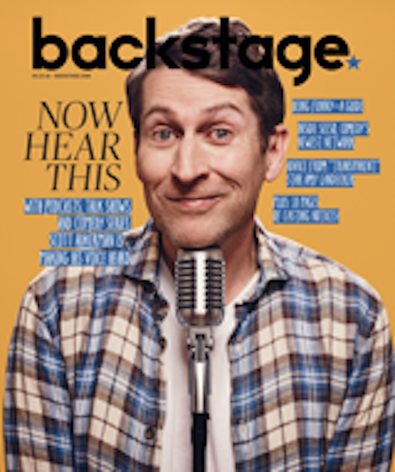 Scott Aukerman (aka Choctaw, aka Hot Saucerman, aka Hot Soccermom, aka ad infinitum) is like the coolest gang leader in America, rolling deep with a posse of funny people who bring it every time, whether as guests on his "Comedy Bang! Bang!" podcast and talk show, or hosting their own podcasts on his Earwolf network. Forget Taylor Swift—Aukerman's got the real #squadgoals.
He's also quieter and more thoughtful in conversation than one would reasonably expect from his surrealist attitude on the everything-but-the-kitchen-sink IFC series (back June 3) or the tangent-loving podcast. Still laugh-out-loud funny, he's also much more likely to brush aside his accomplishments as what Paul Rust (Netflix's "Love") calls "the ruling godfather/architect/god-itect of alternative comedy for nearly 20 years."
"I would say exploit more than mentor," he says of his ability to bring new funny voices to the masses as guests. "It's always surprising to me when someone says, 'Oh my god, what an honor!' I'm barely hanging on, trying to book it, like, the day before." But he can't help himself; Aukerman is a fanboy's fanboy who is genuinely rooting for the success of people who make him laugh. "I hear about a funny person and then I put them on my show and I try to make the audience love them because it has so many auxiliary benefits for the comedian."
Now, comedians will have even more chances thanks to the growth of Aukerman's budding empire with the success of series "Bajillion Dollar Propertie$" on Seeso (recently renewed for a second season), a "Comedy Bang! Bang!" tour, and stints writing for the 2015 Emmy Awards and the 2016 Academy Awards. But even as he becomes the exemplar of a certain kind of cerebral comedy—just watch any episode of his delightfully twisted IFC series or the genius "Between Two Ferns With Zach Galifianakis," which netted Aukerman an Emmy—he's still the kid who used to record songs off the radio in his room, then stitch them into recordings of himself playing DJ, speaking into a microphone and then throwing to the song.
Aukerman is a rarity in the comedy world: a really funny person who loves to see other funny people be funny. He extols that attitude as a virtue worth learning for young comedians prone to career envy. "At a certain point, all of that will fall away and it won't be so much a competition with your peers as a competition with yourself," he says. "And the people who are constantly concerned with where they are in the industry when it comes to their peers are not as happy, I think. If you do not become famous, great! If you could be rich or famous, choose rich every time! Fame is worth nothing. It's a hindrance most of the time."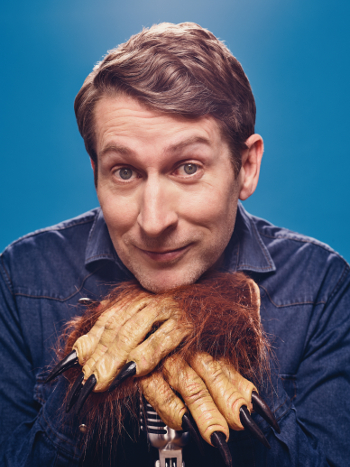 His innate cheerleader becomes increasingly evident as he discusses bringing on new performers to his shows. He sees his job as host-cum-ringmaster as convincing the audience to love his guest. "When I like someone, I usually try to make the audience like them," he says. "I try to explain it in such a way or put them in a context where people will enjoy it."
Should the audience not enjoy it, too bad. Aukerman's rule when it comes to criticism is simple: Ignore it. There was a time, he says, when he dreaded releasing a new episode because he dreaded the criticism that would come his way; now, he blocks people who send him negative comments on Twitter and considers any show a success as long as he liked it. And so when guests premiere new characters or join the show for the first time, such as Jessica St. Clair's debut appearance as Marina del Rey high school student Marissa Wompler, Aukerman is determined to make them a hit. "I saw Jess do that onstage and I really liked it and said, 'Hey, come on the show,' " he says. "And I tried to set her up in a way where we could have success, like, here's how we can frame it." That turned into making Marissa into a somewhat peripatetic intern, one who eventually became so popular that she now hosts her own podcast on the Earwolf network, "Womp It Up!"
That refusal to allow criticism to deter him may stem from a decade-long stint as a screenwriter that found Aukerman writing three scripts a year, making mid–six figures, and never seeing a project come to fruition. Describing the process as "like screaming down a toilet," Aukerman recalls once being told, "This is the best script we've ever read. And we're not moving forward."
At the same time, Aukerman had another life producing the Comedy Death-Ray live series and lurking in the shadows like "the Slenderman of comedy" from 2002 to 2012, which, while fun, only served as a reminder that he had given up performing to make more money as a writer of projects that never happened. So he jumped at the chance to do bits over the phone for a DJ friend, which eventually led to hosting his own show when the radio station went under and remade itself as an online destination. Or, as Aukerman describes it, "I decided to do something for fun and for no money just because I wanted to scratch that itch of being a performer, and that was what made everything snowball into what I'm doing now."
That a podcast would lead to a television talk show is not a leap many network executives would make—but for IFC TV President Jen Caserta, it was a natural move.
"First and foremost, there was Scott," she says over the phone. "His pedigree, the way he burst 'Comedy Bang! Bang!' the podcast into the live show—the brand of Scott Aukerman was the first distinction because we believed in him so much. We were one of the first to really anticipate using podcasting as a vehicle for [TV] shows."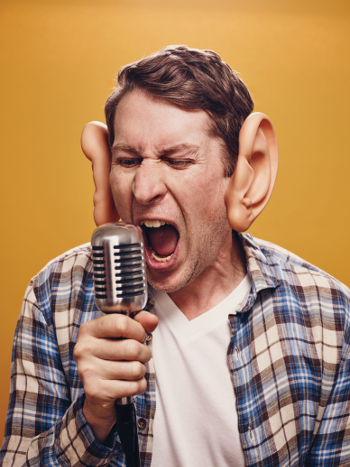 Just as his childhood spent playing radio DJ seemed to destine him to podcaster, so too does Aukerman's love of the medium of television seem to preordain him as a brilliant satirist of TV tropes and conventions, first with his series and then as a writer for award shows. As his former "Mr. Show" boss Bob Odenkirk says, "I've been amazed at how he's turned his [pop culture] expertise into the brilliant, absurd, and very funny riffs on 'Comedy Bang! Bang!' He's a one-of-a-kind mind."
"I think I have a love for [television] that maybe some other comedians who subvert expectations of it don't," Aukerman says. "Take Tim Heidecker—I couldn't say with any certainty that he has a love for television. In fact, he may have a hatred for it. But I love it, and that's what 'Comedy Bang! Bang!' is for me: an ode to it. When we do a single-take episode, it's because other television shows have done a single-take episode and we want to put our stamp on it. Or when we did our series finale for our 35th episode, long before the series finale ever would be, it was a deconstruction of all series finale episodes that had been."
At the end of the day, though, Aukerman is just content to make and support stuff that he thinks is funny, even as his schedule becomes more and more relentless. "If it doesn't work out, it's just a podcast. Who cares if it sucks or not?" he says, then qualifies that somewhat. "It is a little bit of a responsibility when people are waiting for it all week and they say it's important to them, but at the same time it is just a podcast, so if it's bad, there'll be another one around the bend. Every show is going to be someone's least favorite. And every show is going to be someone's favorite. So maybe this week isn't your cup of tea, but there'll be one next week." He pauses. "And, you know, 400 old ones I haven't listened to yet."
Want a career in comedy? Check out "1 Thing Every Aspiring Sitcom Actor Must Know!"