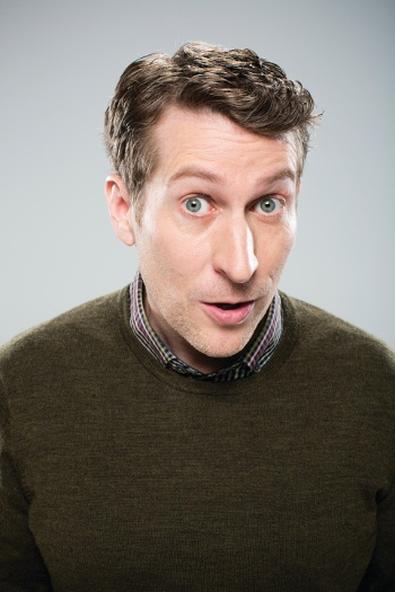 Sooner or later, every performer gets asked the same thing: Why? For Scott Aukerman, co-creator of the Zach Galifianakis–starring "Between Two Ferns," host of IFC's "Comedy Bang! Bang!," and co-founder of comedy podcast network Earwolf, that question came many years ago.
"One night, after I had written an entire full-length musical for comedians that I put up one night only in a bar, and that we rehearsed for months and months and months, Bob Odenkirk [the two-time Emmy-winning writer for "Saturday Night Live" and "The Ben Stiller Show"] happened to be there, and he said, 'It was really great, but why are you doing this?' " Aukerman remembers.
The reason turned out to be Odenkirk hiring Aukerman to be part of his own comedy empire, writing for and performing on "Mr. Show With Bob and David."
"He saw a lot of passion, and he saw someone who was gonna just have a love for what he does," Aukerman says, and that love is as clear today as it was then. Just watch an episode of "Comedy Bang! Bang!," the TV spinoff of Aukerman's successful podcast, beginning its third season in May. The show features comedy sketches, interviews with celebrity guests, and music-making with musician Reggie Watts.
Though the sketches are written beforehand, Aukerman says the majority of the interviews are actually improvised, citing a conversation with Andy Samberg that he calls "so stupid I don't think I could have scripted it."
But that's what he aims for. Aukerman says he wanted something "with more of an improvisatory air to it" than a scripted talk show. "I found that through 'Between Two Ferns' episodes; it really comes to life when people are doing things that are unexpected."
Aukerman says he knew what he was doing going into "Comedy Bang! Bang!" because he had become fascinated with the format of multicamera shooting, a lot of improvisation, and then editing it all together. And, as seen by the many clips of his that have gone viral, the model is one that audiences love.
So he adapted it for the show, with "Comedy Bang! Bang!" also bucking the talk show traditions. For his "character," Aukerman jokes, "The irritating parts of me are magnified.
"I'm very much not playing myself," he says, explaining that he was going for a "cross between Mr. Rogers, Pee-wee Herman, and early David Letterman."
"I'm not talking to the celebrities like I'm talking to you, just as myself, 'cause I think that'd be a little boring and it's not what the show really is."
For Aukerman, "Comedy Bang! Bang!" has been a once-in-a-lifetime opportunity. "It's a comedy lover's—like me—dream scenario, where I get to have a ton of great people on the show and tell them how much they mean to me." Jason Alexander, whom he's admired for years, will star on an episode of the upcoming season, and past guests include Pee-wee Herman, whom he dreamed about having on the show after the first season.
Who would he want next? A tough question for someone who just worked with President Obama on "Between Two Ferns," but Aukerman names David Letterman without hesitation. "He's my biggest influence on the show, and kind of the reason I developed a love for comedy," he says. "If he's out there Googling his name…would love to have you on the show, Dave!"