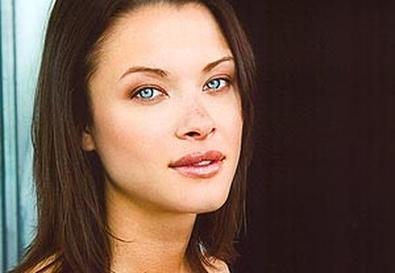 "Don't try and do the right thing because there is no right thing, there's just the right thing for you," says Scottie Thompson.
A serious ballerina throughout her youth in Virginia, Scottie went on to attend Harvard University where she graduated with a degree in Performance Studies and Literature. She remains a voracious reader of novels, and travels frequently to faraway countries you've never heard of in search of adventure.
After a number of high-profile guest roles on shows like "NCIS" and "Ugly Betty," Scottie finally landed a major network series role as Diana Van Dine on NBC's new action-drama "Trauma." Yet she still laughs at practically anything, and would rather talk about the Murakami novel then the Emmys.
Chosen as this week's Girl2Watch, Scottie will be featured in a series or articles, fun facts and social media tweets through this week for subscribers of Girl2Watch.com.
ACTOR2WATCH: So what was your first real break as an actor?
SCOTTIE THOMPSON: My role in "Brotherhood." It was a series on Showtime and it was my first professional audition ever. I didn't know what a pilot was, and Philip Noyce was directing it and I didn't know who he was or Jason Isaacs, the lead actor. I had no idea what any of it was, and I went in for a day player and ended up with a completely different role that recurred for a few episodes.
A2W: Do you have any memorable audition stories?
ST: I specifically remember this one where I was supposed to cry in one scene, but the thing was that was so frustrating was that it just wouldn't come. I walked out of the room and they said "Thank you", something really nice, but then I closed the door and walked out into the hallway and then I just balled for no real reason.
A2W: How proactive are you as an actor?
ST: I try and get out there and audition as much as possible. I don't really go out and do too much like networking and Hollywood events kind of thing. But I do some writing and I find it helps me as an actor in terms of giving yourself back the power, and feeling a bit of strength in that respect.
A2W: What kind of training do you get and who do you study with?
ST: I take a lot of classes. I've trained primarily in Meisner Technique, and I've done a little bit of Groundlings and Upright Citizens Brigade just to get my feet wet in the improv world because I think that's really important. But most of the teachers I've worked with I've gotten like references through agents or managers and they're sort of independent. I don't really go to the big studios per se. It's primarily been Meisner, and I've recently started a class that's Stella Adler-based that I'm enjoying too.
A2W:Is there anything you wish someone had told you when you first started acting?
ST: Trust yourself. Don't try and do the right thing because there is no right thing. There's just the right thing for you.