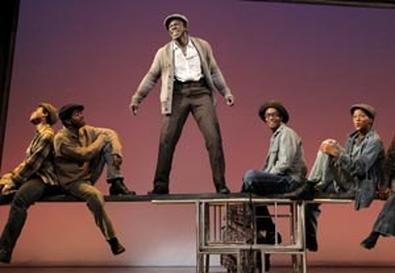 "The Scottsboro Boys" will play its final performance at Broadway's Lyceum Theatre on Dec. 12, ending a run that will total 29 previews and 49 regular performances.
Based on the true story of a group of African-American men falsely accused of rape in the 1930s, the musical spawned controversy over its format. Earlier this month, the Freedom Party organized a protest against the production, deeming its use of minstrelsy and blackface racist. Director Susan Stroman told The New York Times that the show is meant to expose the evils of minstrel performances, not glorify them.
"The Scottsboro Boys" is the final collaboration between Broadway songwriters John Kander and the late Fred Ebb and features a book by David Thompson. It won the 2009-10 Outer Critics Circle Award for outstanding new Off-Broadway musical as well as a Drama Desk Award for outstanding lyrics.
"We've never believed more strongly and passionately in a show as we did with 'The Scottsboro Boys,' " said the producers in a written statement. "We encourage anyone who loves challenging, provocative, and original new musicals to see us in our final two weeks at the Lyceum."