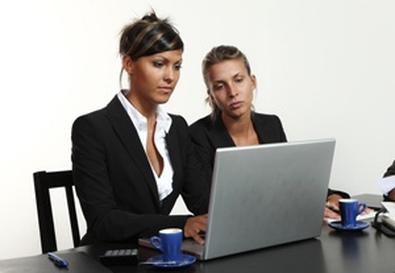 Scott LaRose, a member of the Screen Actors Guild, the Directors Guild of America, and the Writers Guild of America, was excited when he heard he would be able to watch several awards screeners—copies of nominated films made available to voters—on iTunes prior to this year's SAG Awards. He's a busy single dad of a 7-year-old, but he wanted to know whom to vote for. He turned on his Mac laptop and opened up iTunes, ready to watch "Conviction."
Seventeen hours later, the download was complete. "I was really happy to finally be able to watch it," LaRose said, "and it looked beautiful, but having to download something for 17 hours is ludicrous. And I have AT&T high-speed Internet. It was really frustrating." He joked, "It took me 138 hours to download '127 Hours'!"
This was the first time awards screeners for feature films were made available on iTunes for SAG members. In December, Fox Searchlight Pictures released "127 Hours," "Black Swan," and "Conviction" as free downloads, accessible by using a unique code. Shortly after, Paramount, Lions-gate, Focus, Columbia, and the Weinstein Co. followed suit. The intent was to make it easier for SAG Awards voters to see the nominees, while providing the studios with more protection from piracy. An exciting move in theory, but in application, many people experienced problems, and some still have reservations about this delivery method.
The Good With the Bad
For some voters, like SAG member Ellie Dvorkin, the technology was the problem. "I'm annoyed because I tried to download 'Black Swan' per SAG's instructions, and my slightly ancient laptop wouldn't let me," she said, adding that she misses having DVD screeners mailed to her. Dvorkin did get to watch "The King's Speech" and "The Social Network," however, as those films were sent to SAG members on DVD.
Some people were also dismayed by the time limit placed on watching the downloaded films. "I started playing 'Conviction' but then I had to go to the bathroom, so I paused it," said LaRose. "When I came back, this timer thing was on the screen counting down the time I had to watch it before it would disappear. So now I'm trying to enjoy the film, but I'm seeing this timer and thinking in the back of my head, 'This is going away in a few hours.' "
LaRose, who is working on selling a film he directed, "Comedy Hell," understands why filmmakers wouldn't want to allow people to save a downloaded film permanently. But, for the amount of time it took to download "Conviction," he believes he should get more than 24 hours to view it: "It took me 17 hours to download. Why can't I watch it a few more times? It's bizarre."
While SAG member Keston John doesn't think downloading should be the only way to watch a screener, he also doesn't think voters should complain. "The iTunes downloads, honestly, are such an excellent idea in helping many people see the movies," he said. "I understand many don't have the technology or have complained about watching these movies on a small computer screen. But there have been so many opportunities in L.A. and New York to see these movies in a theater for free. There really is no room for complaint."
SAG addressed the problems on its website: "Though we are happy with the positive response from most of our members, the SAG Awards production staff has been overwhelmed with questions. As with any new program, there are bound to be unforeseen issues. Please know we are working diligently to answer those questions as quickly as possible."
Leveling the Playing Field
Jackson Truax, a writer for AwardsCircuit.com, has analyzed the relationship over the past few years between the number of screens a film is playing on, its box office grosses, and how it fares in awards season. He found that blockbuster films—those playing on the most screens and making the most money—have an advantage when union voters are involved.
"My favorite example," he said, "is Ruby Dee," who won the 2008 SAG Award for outstanding performance by a female actor in a supporting role for "American Gangster." "That movie played in 3,000 to 4,000 theaters across the country and made $120 million to $130 million, and then she's up against Cate Blanchett" for "I'm Not There." "That movie only made $4 million and played in just a few hundred theaters. Cate didn't really have a chance."
Truax points out that going into this awards season, "Black Swan" had made more than $75 million, while films like "Rabbit Hole," "Conviction," "Winter's Bone," and "The Kids Are All Right" had made considerably less and were being shown in far fewer theaters. "I don't think anyone would argue against Natalie Portman [winning]," said Truax. "But the question becomes—regardless of how good the performance is—is there always an asterisk next to the win if we believe that it really wasn't a fair fight?"
Though Truax understands that filmmakers would prefer that voters see their work in a theater, he is thrilled with the idea of iTunes downloads for guild members. "With people's production schedules, with their busy lives, and with people being all over the country," he said, "anything that makes it easier to see the films in what is relatively a short span of time leading up to voting is a good thing."
Director Peter Weir admitted he was upset that his epic film "The Way Back" would mostly be seen by voters in their homes and not on a movie screen, as he intended it to be seen. "For various reasons, we were late—the company—in putting the film out. We hadn't had a theatrical release prior to those screeners going out," he said. "So it was pretty clear that for the voters, they could only see it at home. That was disappointing." As for voters watching his work on an iPad or a computer screen, Weir has mixed feelings. "You don't make the film for awards; it's not an Olympic event. You make it for the public. So at least the public can see it on the big screen. This kind of film, it would be a pity to only be introduced to it on a tiny little screen. It would lose impact."
"At the end of the day, you can't really vote for something if you haven't seen it," said Truax. "I think as a filmmaker, you'd rather people see your movie than not. Anything that can level the playing field is always a positive thing."