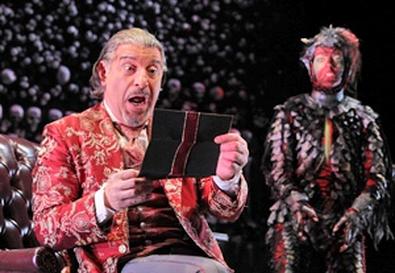 Writer-directors Jeffrey Fiske and Max McLean's dramatic adaptation of C.S. Lewis' 1942 epistolary novel, a correspondence between a senior devil and a trainee, captures all of the book's flaws and none of its charm, despite McLean's often witty comic frustration in the titular role.

Screwtape is a senior devil lecturing his inept nephew Wormwood, a recent graduate of the Tempters' Training College for Young Devils, on the temptation into sin of a rather milquetoast J. Alfred Prufrock–type Englishman. Those who have read Lewis, including his famous children's series "The Chronicles of Narnia," will recognize his allegorical tone mixed with fantasy. But what makes for fairly engaging reading does not translate to the stage. McLean merely speaks aloud some of the letters, with Screwtape more of a narrator than a character involved in the action, and that's a fatal flaw for drama. Imagine seeing a version of "The Diary of Anne Frank" with the story delivered through spoken diary entries by the neighbor downstairs. Despite his elegant delivery, McLean never connects with the audience, always looking a few feet above our heads.

It's really the unseen Wormwood's story. All Screwtape does is pace, rage, and dictate letters to his silent servant Toadpipe (Karen Eleanor Wight in an impish unitard). His insights, such as "One of our great allies is the church itself," and his jealousy of the "hairless biped" that the enemy loves so much, amuse but are not enough.

Cameron Anderson's scenic design includes a chilling backdrop of an ossuary that is also somehow funny, and Michael Bevins' costumes are elegantly appropriate. Jessie Klug's lighting design and John Gromada's music and sound add some interest to the evening but don't really alter the show's flatness. "The Screwtape Letters" could make a great play, but this one feels more like a sermon.


Presented by Fellowship for the Performing Arts and William and Bridget Coughran and Walt and Anne Waldie at the Westside Theatre, 407 W. 43rd St., NYC. Opened May 10 for an open run. Mon. and Tue., 7 p.m., Wed., 2 p.m.; Fri., 8 p.m.; Sat., 4 and 8 p.m.; Sun., 3 and 7 p.m. (212) 239-6200, (800) 432-7250, or www.telecharge.com.