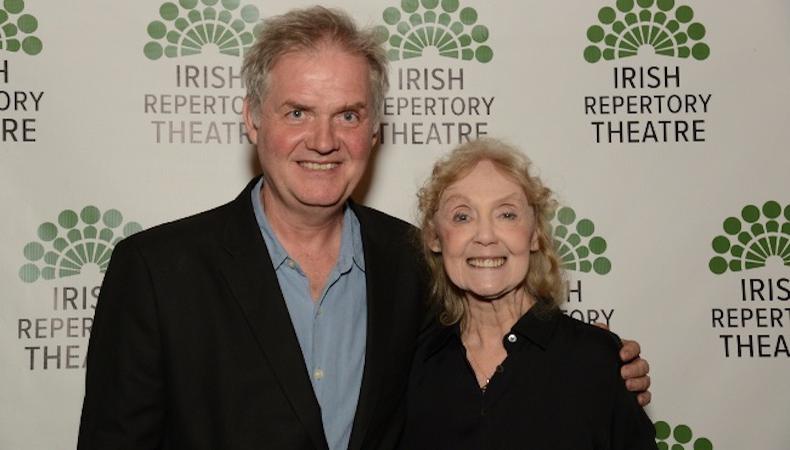 Ciarán O'Reilly and Charlotte Moore are the co-founders of the Irish Repertory Theatre. Since 1988, they've been mounting works by modern Irish masters. This season, they're not only producing "Finian's Rainbow," but "The Dead, 1904," based on the short story that closes out James Joyce's "Dubliners," and starring Boyd Gaines and Kate Burton. The latter, running through Jan. 7, is mounted at the American Irish Historical Society, and only 42 guests per night are admitted into the immersive theater experience.
Why is it important to have a company like the Irish Rep?
Charlotte Moore: The Irish are the best playwrights since Shakespeare. It's such a rich field of possibility. It's impossible to ignore.
Ciarán O'Reilly: If you're in the Napa Valley and you're surrounded by the acres of grapes, why wouldn't you have a vineyard to produce the wine? That's what we are, and we hope it's a good vintage.
CM: [Plus] we're both Irish; it's natural we would lean toward the literature of our forefathers.
Why did you decide to make "The Dead, 1904" immersive?
CO: It's not like we're the first ones to put on an immersive show—there's a number of them around town. But this feels so right, where you go to party, you sit down, and you have dinner. You dance if you want to, there are recitations, there are party pieces by the cast. Then you end up being able to be a voyeur by making your way up to the bedroom, where you witness...
CM: A private conversation.
CO: A private revelation.
What are some of the challenges of an immersive work?
CO: I think the biggest challenge is pulling focus, because we're in a beautiful, gorgeous home and people are standing around, and you have to guide their attention toward that particular scene. It's not a play that's deeply heavy with plot, or a whodunit. It's all about much tinier, smaller moments that you have to capture without hitting the audience over the head. The 42 people are not just guests, but almost extras in the play; that's the tricky part of it because we know these people will be a part of the play when they come but they aren't in rehearsal.
Do you have advice for actors who want to work in rep?
CO: Sometimes I find it revolutionary to do the play as it's written and do what the author intended in the first place. These plays are so powerful as they stand. If you impose layers, a play can lose its potency. That said, don't find the original stage manager's script. I don't even mean the setting. I mean the core of it.
Ready for your next gig? Check out our theater audition listings!