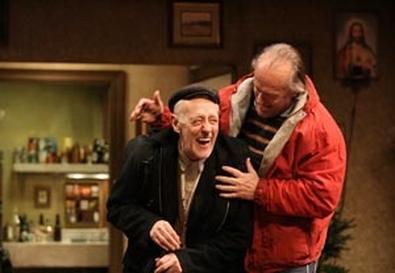 At the top of the play, a sleepy tousle-headed character emerges from the mysterious upstairs area and descends the stairs onto Takeshi Kata's drab-brown Irish cottage set. On his way down, he taps a votive candle in which a recalcitrant electric flame flickers below a painting of Jesus. Then and there, we know the flame will either burn brightly or conflagrate the portrait by evening's end.
Indeed, in this Conor McPherson play, symbolism abounds, particularly that of sightlessness. Elder brother and the home's occupant Richard (John Mahoney) is literally blind. His neighbor Ivan (Paul Vincent O'Connor) has lost his glasses in the house. Their visiting pal Nicky (Matt Roth) is cheerily unaware. Richard's younger brother Sharky (Andrew Connolly) is darkly repressed. The stranger in their midst (Tom Irwin) certainly has a black view of life. And all must be blind drunk, considering the quantities of alcohol each consumes over the course of Christmas Eve.
But somehow, under the direction of Randall Arney and in the hands of five worthy actors, the whole doesn't jell. Accents flicker in and out like the candle. Richard's blindness is never believable, whether Mahoney is indicating too hard or utterly forgetting about it when involved in a verbal skirmish. Connolly, intriguingly secretive in Act 1, is left sulking in a corner for too much of Act 2.
On the other hand, Irwin's work describing the eternal chill of hell is the most compelling of the production, supported by a wintry sound design from Richard Woodbury and lighting designer Daniel Ionazzi's icy crypt. This is the kind of gripping storytelling McPherson can provide so well. But the twist at the play's end is ludicrous—something even a man without glasses is bound to notice.
The play's ultimate messages—of the worthiness of life despite hardships and the joy of redemption—fail to infuse the viewer with much happiness, or even hope, in this production. This viewer was left very much in the dark.
Presented by and at the Geffen Playhouse, 10886 Le Conte Ave., L.A. April 22–May 24. Tue.-Thu., 7:30 p.m.; Fri., 8 p.m.; Sat., 4 and 8:30 p.m,; Sun., 2 and 7 p.m. (310) 208-5454.
www.geffenplayhouse.com
.