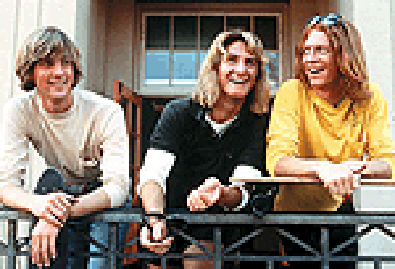 You would think that I Am Sam's director/ writer/producer, Jessie Nelson, would have had a few concerns about hiring one of Hollywood's notorious bad boys, Sean Penn, known as much for his virtuoso acting as for his infamous temper. Penn, as we all know, has had his history of run-ins with the law, paparazzi, set extras, studio heads, and directors.
It also seemed like an entirely uncharacteristic move for Penn to accept the title role in Nelson's project, a weepy, rather mainstream movie about a mentally disabled man's struggle to regain custody of his 7-year-old daughter. Sam possesses something rarely, if ever, seen in Penn's characters--pure goodness--and audiences are finding themselves caught off guard by Penn's sweetness. Though some critics have found the film to be shamelessly sentimental, it's hard to deny the beauty and effectiveness of Penn's performance, which recently earned him a SAG Awards Best Actor nomination.
Sweet and sentimental are not adjectives that immediately come to mind when thinking of Penn. While he has occasionally exhibited his softer side in such films as Racing With the Moon and at moments in She's So Lovely, more often we've come to savor Penn's knack for convincingly inhabiting morally flawed men, be it in Bad Boys, At Close Range, Casualties of War, Carlito's Way, Hurlyburly, or Sweet and Lowdown.
Wrote The New York Times' film critic Janet Maslin in her 1995 review of Dead Man Walking, "Penn isn't an actor who prompts automatic sympathy. He rarely invites any sympathy at all, and his unrepentant swagger says he wouldn't be caught dead trying. But his natural aloofness is what this role demands since Dead Man Walking isn't about the effort to rescue a contrite convict from an unfair fate. It's a hard look at issues raised by the death penalty, and Penn's lean, mean performance makes those issues come furiously alive."
In a later New York Times review, film critic Stephen Holden described Penn's performance as a coked-up, despondent Hollywood casting director in David Rabe's Hurlyburly as follows: "Penn, his face swollen and crumpling, his voice rising in childish hysteria, burrows so deeply into Eddie that he almost vomits his character onto the screen." (This, by the way, was a positive review of Penn's performance.)
Nelson never saw the ugly side of Penn's acting persona, nor did she witness the hostile elements of his personality that have been so popularized by the press. Nelson saw him get upset only once during the filming of I Am Sam, and that was during a scene in which a dog handler was trying to force a bunch of dogs to behave perfectly when the camera began rolling. Penn, according to Nelson, became angry with the dog wrangler for not letting the dogs be "real dogs."
Said Nelson, "Sean was working with disabled actors, kids, six dogs at a time. How much more can you throw an actor? But Sean loves that. It's like, the more spontaneous, chaotic, and real a scene can get, the more he thrives on it. He doesn't like when things get too staid or choreographed."
Nelson also sees how Penn's temper can be misconstrued--a point she wanted to clarify: "Usually his temper only gets ignited if somebody is being dishonest in some way or standing in the way of the truth, and then he can get angry. But Sean doesn't get angry for no reason. As long as you stay in a very clear place with him, he's actually an extraordinary person."
Truth or Consequences
Others who have collaborated with Penn over the years echoed Nelson's sentiment about his demand for integrity. Nick Cassavetes, who directed Penn on the 1997 film She's So Lovely, for which Penn won the Best Actor Award at the Cannes Film Festival, told Back Stage West, "The thing about Sean is you'll never find a false performance." David Morse, who starred in two of Penn's three directorial efforts, The Indian Runner and The Crossing Guard, said, "Sean has a great loyalty that really knows no bounds--the only bounds being maybe dishonesty." Longtime friend Timothy Hutton, who acted with Penn in Taps and The Falcon and the Snowman, told Rolling Stone magazine, "He's very honest and loyal. You get the sense with Sean that friendship is a lifetime thing." Likewise, Tim Robbins, who directed Penn in his tour-de-force performance as death-row inmate Matthew Poncelet in Dead Man Walking, chimed in, "One word that I would say is real key to understanding Sean is honesty."
Perhaps the most telling illustration of Penn's distaste for duplicity has been his publicly voiced criticism of a former close friend, actor Nicolas Cage. (The two actors met on the set of Fast Times at Ridgemont High and later co-starred in Racing With the Moon.) Unlike Penn, Cage has had a career marked as much by respected, character-driven work as by appearances in blockbuster vehicles like The Rock, Con Air, and Face/Off. In a 1991 Newsweek article, Penn cited Cage as an example of what he can't stand seeing: a talented actor doing bad movies.
Said Penn, "I saw [Cage's] Snake Eyes last night. It's not just that movie; it's most movies. As damaged as I am, as reckless as I've been, I've never murdered my own voice. I think actors shit on their profession all the time. They can't do a pure movie again, because they carry so much baggage all the time." In a subsequent New York Times piece, Penn went so far as to say that he no longer considered Cage an actor, but rather a "performer."
While Penn's condemnations of Cage might be considered overly harsh and elitist, Penn has a point. How often do great actors succumb to the pressures of selling out? Admittedly one man's sell-out is another man's success. But any way you slice it, it's inarguable that many of today's best actors have compromised their talents in some way for the sake of moving up the Hollywood ladder and pay scale.
Penn once said, "One of the reasons people sell out so quickly is because even the talented think they're frauds. It's a culture that doesn't encourage people to believe in the work they do. You're told to second-guess yourself all the time. That's where I think a little hostility and arrogance can save you, and I've never been lacking for either."
Code of Honor
Penn comes by his stubborn moral compass in part because of his family history. His late father, actor Leo Penn, was blacklisted during the 1950s after being named as a Communist sympathizer by colleague Clifford Odets and subsequently refusing to cooperate with the House Un-American Activities Committee. Though his father survived his struggles and eventually became a respected television director, Penn grew up well aware of the injustice dealt to his father, even as he and his brothers (actor Chris and musician Michael) grew up in the laidback surfing culture of Malibu, Calif. Penn initially wanted to pursue a career in law, but he eventually followed in his parents' footsteps (his mother, Eileen Ryan, is also an actor) after graduating from high school. Although he initially avoided training as an actor for fear it would squash his instincts, he was recommended to and ended up studying with L.A.-based teacher Peggy Feury, a member of the Actors Studio, who would instill in Penn his exacting standards.
Penn told a 1999 audience of Bravo's Inside the Actors Studio that it was Feury who fueled his discipline for his craft. "Peggy had such an effect on me, and I found out really how limited I was with these instincts that I prized so much. I found a method of training that one could really pursue certain tracks [with]."
Penn became "obsessed" with acting, studying with Feury "four days a week, five hours a day," often sleeping on the floor of Feury's studio. After soaking up everything he could from his teacher, Penn decided to try his lot in New York. After appearing in an Off-Broadway production of Heartland, Penn soon won his first film role, in the 1981 film Taps, followed by the seminal teen flick Fast Times at Ridgemont High. His performance as the perpetually stoned surfer Jeff Spicoli launched Penn's career.
Fast Times' director Amy Heckerling recalled the first time she met Penn. "We saw all the young people in town at the time," Heckerling told Back Stage West. "He came in and you could just tell by the power of his personality that he could do whatever he set his mind to. He wasn't completely in character yet, but that didn't concern me, because Sean was such an amazing character. Sean was a force, even as a kid. He was very knowledgeable about what he wanted to accomplish, who his heroes were. He was a powerhouse. There was no stopping him."
As a young man, Penn's favorite actor was Robert De Niro, who brought a commitment, discipline, and respect to his work that inspired a whole generation of actors, including Penn. Penn hasn't gone on the record to decry De Niro's uneven career choices as he has those of Cage--and, sadly, the only time Penn and De Niro worked together so far was on the ill-conceived 1989 comedy We're No Angels.
This is an excerpt.For the full story, look in the Member's Area. If you would like more information about becoming a member, Click Here