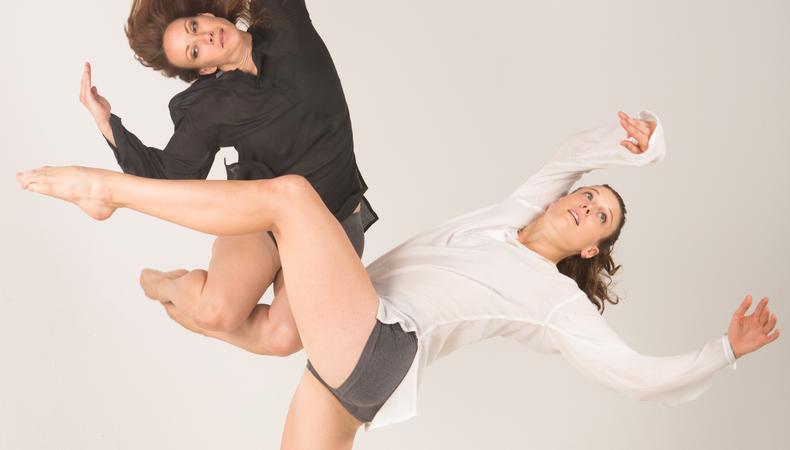 It's clear from the program of two of his latest works, currently showing at the Joyce Theater, that choreographer Seán Curran has become less concerned with the nitty-gritty of movement invention and more interested in the overall conception and direction of multipart, multilayered choreographic productions. Originally an Irish step dancer, then a leading performer with the Bill T. Jones/Arnie Zane Dance Company and an acclaimed contemporary choreographer, Curran in recent years has turned his sizeable talents toward the direction and choreography of numerous operas, plays, and musicals. One sees this reflected in his new concert-dance pieces, the influence of that multidisciplinary "big picture" kind of thinking required for musical theater work.
Performed by Seán Curran Company, a troupe of 11 strong yet unremarkable dancers, all with university degrees, "Fireweather," a premiere, and "Left Exit (Faith, Doubt, and Reason)," a New York premiere, are both imaginatively conceived and masterfully structured. But while they exhibit admirable interplay of movement, music, text, and colossal ideas, the physical vocabulary ranges from mildly engaging gestural actions to shopworn and repetitive modern-dance technique-class movements. Nonetheless, Curran's pieces are so carefully composed that they remain continually ensnaring. The end of one dancer's movement motivates another's beginning step; a sound or a body shape directly initiates physical activity. Everything links, and there are no holes through which one's attention can slip and no alienating sense of randomness.
Though the finer of the two works, "Left Exit" is burdensomely academic. It's about religions and humanity's search for a truthful understanding of why we exist. Intriguing recorded excerpts from interviews addressing physical disability, the blues, God, and existentialism are accompanied by ensemble movement episodes in which the dancers work together, often literally manipulating one another's bodies, to express the characters of the speakers and the essence of their viewpoints. Despite one's enthusiasm for the endeavor's appealing intellectualism, it's impossible to fully absorb the thought-provoking notions put forth in the dense, often rapidly delivered philosophical conversations while simultaneously processing the smart visual information being presented by the dancers—and never more frustratingly so than in the work's brief solo by Curran. To fascinating discourse about jazz and every other topic imaginable, Curran references the speaker's African-American identity while conglomerating a universe of dance vocabulary: street gestures, folksy skipping, stark modernistic jumping, the "off to see the Wizard" step. I need to see that solo at least 100 more times before I can figure it all out.
Set to an insistently dramatic atonal two-piano score by Charles Wuorinen (inspired by Dante's "Inferno"), "Fireweather" is a seven-part narrative piece depicting a variety of horrors. Marred only by too much apelike ambulating along the floor and a ludicrous portrayal of Satan by a naked male dancer, the narrative piece makes clever use of literal gestures and culminates in beautifully sculpted tableaux of wrenching naked bodies draped into mounds of tortured human souls.
Joe Doran's striking lighting design contributes immeasurably throughout the evening to the expression of Curran's rich, rewarding visions.
Presented by Curran Events, in association with the Joyce Theater Foundation, at the Joyce Theater, 175 Eighth Ave., NYC. Jan. 29–Feb. 2. (212) 242-0800 or www.joyce.org.
Critic's Score: B+