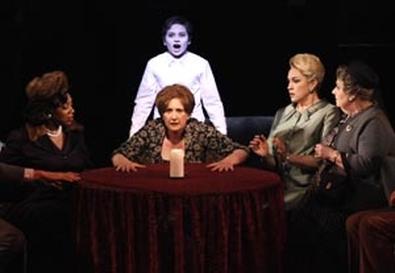 Thanks to his sparkling French-flavored score for the musical "The Baker's Wife," I've always yearned for Stephen Schwartz to compose shows in musical languages outside of his signature 1970s pop vocabulary, which isn't to my taste. (Selfish, I know.)

So when I heard that he was writing an opera based on one of my favorite films, "Séance on a Wet Afternoon," I was excited. The result, making its New York debut at Lincoln Center's New York City Opera, though certainly not without its flaws, proves Schwartz, who did his own libretto, to be a first-rate musical dramatist. Directed with intelligence and insight by his son, Scott Schwartz, and powerfully delivered by a uniformly top-flight cast, "Séance" is a welcome addition to the modern opera canon.

The imaginative story, which began life as a novel by Mark McShane, centers on Myra Foster, a genuine psychic frustrated by her lack of renown. She and her devoted husband, Bill, devise an elaborate plan to kidnap a young girl, Adriana Clayton, and hold her for ransom, in order for Myra to save the day by leading the police to the child. It starts out well, with Adriana stashed in an upstairs bedroom convinced that she's in a hospital with a contagious disease, but things soon go wrong, and Myra's sanity, which is shaky at best, starts to slip as Bill desperately tries to contain the situation.

Let's start with the good. Schwartz's music, though undeniably conservative, serves the drama at every turn, even when it occasionally takes a wrong one. There are echoes of Copeland, Beeson, and Blitzstein, and even a quick tip of the hat to Sondheim's "Sweeney Todd" (at an entirely appropriate moment that I won't give away here). Infusing it with freshness is Schwartz's prodigious melodic gift, most notable in the song forms with which he dots the piece.

In particular, the introductory "One Little Lie," for Myra and Bill, is a terrific scene in song with deft lyrics, while Myra's Act 2 opener, "Brightness Falls," is chilling in its musical beauty juxtaposed with its malevolent content. Schwartz also rises to the requisite heights for the several séance scenes, with the final one a humdinger that leads to a haunting ending (kudos to the directing Schwartz for the inspired final stage image), which the composer wisely takes from the novel, not the softened film.

On the debit side, resetting the story from suburban England to San Francisco robs the Fosters' relationship of its creepy and very British sadomasochism. Schwartz tries to compensate in a big aria for Bill, sung rather unbelievably to Adriana, about how much he loved the young and happy Myra, but it's too sentimental, and this Bill is never completely credible as an enabler totally under his wife's thumb.

Expanding the roles of the girl's wealthy parents through a conflict over belief in the supernatural seems superfluous, and the use of a chorus of reporters to give us plot exposition that we see in the film (the kidnapping, police work) is stale musically, textually, and even in the staging. Finally, as is often the case with Schwartz, there are some bewildering verbal clunkers of breathtaking awkwardness, usually involving the too-effortful use of rhyme.

Schwartz's thoughtful orchestrations (done in collaboration with William David Brohn) sound great as played by the City Opera orchestra under George Manahan's taut baton, which also confidently guides the evening's splendid singing. Lauren Flanigan is a compelling Myra, fraying psychologically with flair, eerily unsettling in her communication with the ghost of her dead son, Arthur, and ferocious in her devotion to him and her gift.

Kim Josephson smartly stresses Bill's constant unease and hits a bull's eye in the climactic husband-and-wife battle over Arthur. Melody Moore makes a strong impression with Mrs. Clayton's Act 2 plea to her disbelieving husband to accept the possibility of the paranormal and attend a séance. Two young performers, Michael Kepler Meo and Bailey Grey, are focused and effective as the controlling Arthur and the suspicious Adriana.

Heidi Ettinger's two-story set, in which all the walls of the Foster's house are translucent, combines with David Lander's lights to create tension but misses the home's gothic qualities. Trundling the Claytons' den on and off on a wagon is awfully clunky, but Ettinger's framing curtains made of strings of metal work well in a variety of ways, including the suggestion of rain. Alejo Vietti's period costumes are suitably dowdy for the Fosters and elegant for the Claytons.

Schwartz merits praise for stretching himself artistically at a point in his career where he could sit back comfortably and enjoy his considerable success. Here's hoping "Séance" gets the recording and subsequent productions it most definitely deserves.

Presented by New York City Opera at the David H. Koch Theater, 20 Lincoln Center Plaza, NYC. April 19–May 1. Schedule varies. (212) 721-6500 or www.nycopera.com.