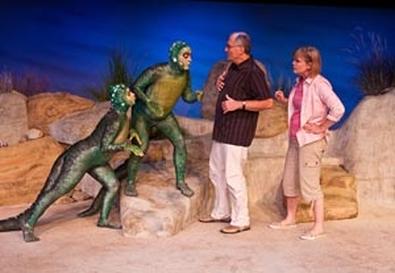 This production starts with a whirling of the night sky and an inundation of ocean water. And then the lighting designer said let there be light, and we're on a sunny seacoast. Here, long-wedded couple Charlie and Nancy contemplate their future. Or perhaps it's the past. Edward Albee's 1975 play, whimsical and serious, tells anew an old-chestnut story of humankind. Nancy encourages change; Charlie finds comfort in stasis. When a pair of lizards pops onto the shore, desiring a life more exciting than that spent with fish, we get Albee's thoughtful dialogue about who we are and how we progress. In Charlie Mount's direction, the familiar is startling while the bizarre is cozy and comforting.
Playing Charlie, Alan Schack lives honestly in this absurd world. His Charlie has indeed been in a longtime marriage to Nancy, and he is now indeed at the shore, sensing the environment. Observe the actor as he follows the conversation in his head and speaks when Charlie's thoughts are ripe. Arden Teresa Lewis gives Nancy a merry urgency that propels the action. With the arrival of lizards Leslie and Sarah at the end of Act 1, the play shifts into absurdist mode.
Kristin Wiegand's homework pays off, as she completely and satisfyingly nails the physicality of her lizard. Paul Gunning's lizard, meanwhile, is imperious and rudely insistent on propriety and yet endearing. (Gunning also designed the lizards' realistic yet enchanting costumes and makeup.) The audience is expected to appreciate the unexpected: The lizards cluck and hiss and pant, yet they are articulate and inquisitive. And yet, some might say expectedly, the females instantly want to be cordial, while the males are quick to assume battle stances.
Jeff G. Rack's rocky-seaside set invites us in and keeps us there. Mount's sound design captures the delights of a breezy vacation day. (And is that faint snoring we hear as a possible framing device for the play?) Yancey Dunham's lighting opens the play as the humans are awash underwater and ends in stars spinning and dancing. Our minds, too, spin and dance after this treat for the thoughtful theatergoer.

Presented by and at Theatre West, 3333 Cahuenga Blvd. West, L.A. Sept. 9-Oct. 16. Fri.-Sat., 8 p.m.; Sun., 2 p.m. (323) 851-7977. www.theatrewest.org.