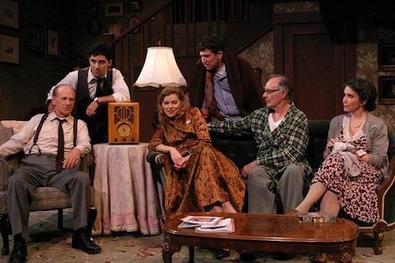 We all know Los Angeles is the land of film and television; home to all of the major studios and a hub for independent production, the road to on-camera stardom undoubtedly lies somewhere near Hollywood and Vine. But L.A. actors are not limited to digital versus celluloid; the 99-seat theater plan, introduced by Actors' Equity as a way for performers to showcase their work in a low-risk/low-cost environment, is alive and thriving. L.A. actors take note: Here are 9 99-seat companies that are definitely worth following.
Actors Gang
This prominent 34-year-old company is helmed by founding member Tim Robbins, and has produced work in its Culver City home and all over the U.S. and five continents. The Gang stages unconventional new works from major playwrights and exciting re-interpretations of the classics—their most recent production of "A Midsummer Night's Dream," fresh off its tours of Italy and China, is next set to visit Nashville, Tenn. and Porto Alegre, Brazil.
The Antaeus Company
While many 99-seat companies focus on new works, Antaeus bills itself "L.A.'s Classical Theater Ensemble." And they're certainly worthy of the title; this cooperative of actors and artists brings the classics to life with stunning finesse—its productions receiving critical acclaim and topping the local awards every season. Lovers of great works should also check out the Antaeus Academy for workshops such as "The Actor's Shakespeare" and "The Irish Writers: Journey to the Emerald Isle." Up next for the ensemble? Alice Childress' WWI love story "Wedding Band: A Love/Hate Story in Black & White," opening at Antaeus' North Hollywood theater on Oct. 9.
City Garage Theatre
This Santa Monica-based company has been producing vibrant, stylized works since 1987. Led by Artistic Director Frederique Michel and Producing Director Charles Duncombe, City Garage audiences know to expect the unexpected. Michel's ensemble-based productions are often absurdist, and always physically and visually compelling. This fall, head to its new home at Bergamot Station for Andrew Bovell's "When The Rain Stops Falling."
Deaf West Theatre
This 99-seat theater makes an invaluable contribution to the West Coast scene by creating compelling works for the deaf and hard of hearing. Spoken English and American Sign Language come together in Deaf West's unique brand of "third language" accessible performances. Need more bragging rights? DWT was the first intimate theater company in the history of L.A.'s Ovation Stage Awards to win best play and best musical in the same year (2000's "A Streetcar Named Desire" and "Oliver!"). Audiences can head to Downtown L.A. through Oct. 19 for this exciting company's production of "Spring Awakening."
Ensemble Studio Theatre/Los Angeles
Another award-winning 99-seat company, EST/LA is the West Coast offshoot of New York's famous Ensemble Studio Theatre. Like its New York equivalent, the Los Angeles ensemble focuses on new works, often giving developing playwrights their west coast or world premieres. Up next? Launchpad 2014, staged readings of 12 new plays by EST/LA's Playwrights' Unit.
The Fountain
This notable 99-seat company was created as a home for multi-ethnic artists and performers and is committed to producing works that "reflect the immediate concerns and cultural diversity of contemporary Los Angeles." Its critically acclaimed production of "The Brothers Size" is playing through Sept. 14, and will be followed by John Biguenet's solo show "Broomstick," running Oct. 4–Nov. 30.
Odyssey Theatre Ensemble
Another intimate theater with a large impact, Odyssey was most recently in the news for the celebrity-helmed world premiere "Annapurna"— its stars Megan Mullally and Nick Offerman took the production from Los Angeles to Off-Broadway last spring. But actors need not head east for Odyssey's award-winning work; the company's 45th season will wrap with Jason Alexander in "Broadway Bound" (through Sept. 28) and Shakespeare's "Othello," opening Oct. 18.
Rogue Machine Theatre
Though relatively young, this 6-year-old 99-seat company has made major strides in Los Angeles and Nationwide. Among many accolades, LA Weekly named Rogue Machine the best theater company in Los Angeles in 2012, and 2011's "Small Engine Repair" was recently brought to Off-Broadway's MCC Theater with playwright/actor (and Rogue member) John Pollono in tow. Up next? Mike Barlett's hit play "Cock" will be playing through Nov. 3 at Theatre/Theater on Pico and La Brea.
Sacred Fools Theater Company
This ensemble-based company is known for producing edgy and provocative new works. It's been recognized with nearly every L.A. theater award and by many top publications. Most recently, "Absolutely Filthy" won the LA Weekly award for best comedy ensemble, leading male performance (Brendan Hunt), and female comedy performance (Anna Douglas). Audiences can check out the new musical "The Behavior of Broadus" at the Fools' East Hollywood theater, from Sept. 12–Oct. 18.
Want more L.A. news? Sign up for our Backstage L.A. newsletter!