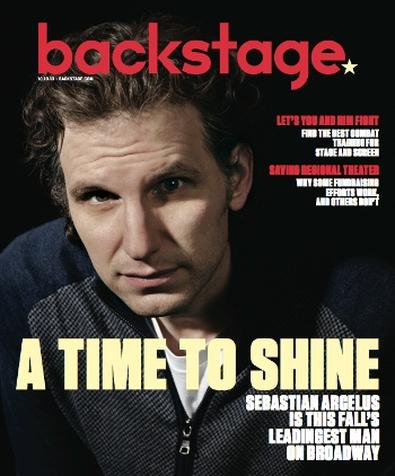 Sebastian Arcelus graces our cover this week, and he chats with Backstage about his roles on Netflix's "House of Cards" and in an adaptation of John Grisham's "A Time to Kill" opening on Broadway Oct. 24. Check out a sneak peek from the feature below!
---
Sebastian Arcelus on Working on a Pioneering Series
At the first table read of the first episode of "House of Cards," director David Fincher surveyed the cast and said, "Every one of you is my first choice, so don't fuck it up." As Sebastian Arcelus says after confirming the story, "That makes you sit up in your chair, doesn't it?"
Arcelus had originally auditioned for another character on the Netflix series before casting director Julie Schubert brought him in for a few different roles. Eventually, Arcelus landed newspaper editor Lucas Goodwin, which in a strange twist of fate was the character he had most identified with when reading the script.
With people such as Fincher, writer Beau Willimon, and star Kevin Spacey on board, there was never a sense of terror at stepping into uncharted territory with Netflix's first high-profile original series. As Arcelus puts it, grinning, "The best way to describe it is there's a great comfort and excitement that comes from knowing the guys in charge are, in fact, the smartest guys in the room. You just show up and do your part and follow their lead."
Though Spacey and Arcelus didn't share any scenes in the first season, Arcelus found time this season on set to approach Spacey, who played the prosecutor in the 1996 film adaptation of "A Time to Kill," about the Broadway version. "He was very supportive about it," Arcelus said. Did Spacey, whose "House of Cards" character, Frank Underwood, is the epitome of unctuous Southernness, give Arcelus accent tips? No, but that gives Arcelus an idea: "Should I play Jake Brigance as Frank Underwood?" he asks, then rolls his eyes. "I wouldn't even pretend to touch Frank Underwood. Kevin is so perfect and masterful; it is insane how good he is in that role."