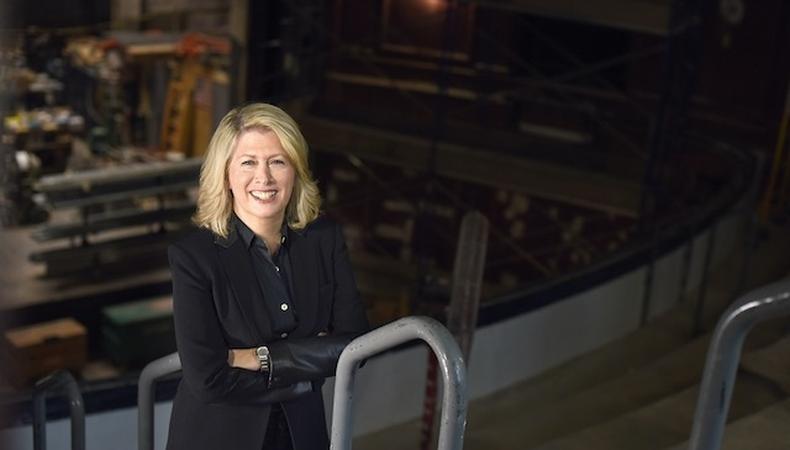 Second Stage Theater is checking two "firsts" off its list in 2018: One is becoming the first and only Broadway theater dedicated exclusively to producing works from living American playwrights, and with that, the first Broadway theater company to produce a play by an Asian-American woman. That's thanks to the nonprofit's acquirement of the Helen Hayes Theater, the 589-seat "Little Theater" off West 44th Street.
While Second Stage will continue producing plays Off-Broadway on West 43rd Street (Tony Kiser Theater) and on the Upper West Side (McGinn/Cazale Theater), the Hayes marks a major moment in the nonprofit's history and mission. It launches its inaugural season with the March 26 opening of playwright Kenneth Lonergan's "Lobby Hero," directed by Trip Cullman and starring Chris Evans, Michael Cera, Brian Tyree Henry, and Bel Powley. That will be followed by the aforementioned Young Jean Lee's "Straight White Men," directed by Anna D. Shapiro and starring Armie Hammer and Tom Skerritt. Backstage caught up with Second Stage's longtime artistic director Carole Rothman to discuss the company's move to the Great White Way and what she was looking for while casting this pair of anticipated American plays.
How long has the Hayes Theater been in the works with Second Stage?
Well, we signed the agreement to buy the theater in 2008, so that's a decade ago. And that was just when we signed to purchase it, but we had started looking for a place a couple of years before that. So it's been a long process. The process really began because the Hotel InterContinental wanted to buy up the whole block where the Kiser is on 43rd Street. And that theater for us is leased, it's not owned, and the landlord wanted to kick us out. Fortunately, in between the InterContinental and Second Stage, there are two porno shops, and those porno shops would not sell. So that saved us.
So you've got those porno shops to thank!
I thank them all the time. When I walk by, I say, "Oh, thank goodness they're there." It's part of Times Square history, right? So yeah, it's been a long journey.
And I imagine the theater underwent some redesigns. Can you tell us a little bit about that?
The theater is landmarked, and the interior is landmarked, so those presented some challenges, which [architect] David Rockwell loved because he likes challenges. So a lot of the things that we did in the theater were cosmetic to make it more appealing to the kind of [contemporary] plays we do. That was a big sort of philosophical change. But the other thing is we did some very, very, very practical things. We doubled the number of bathrooms, and we made it totally ADA accessible, so there's an elevator, and everything is accessible. The dressing rooms were in the basement and they were very low-ceilinged, and so we moved the dressing rooms back up to where they had been originally, when the theater first opened, so they're up on the third floor. They're very nice. There were a lot of amenities that were added. All of those things that just make it a much better house—not that it wasn't a great house before, I don't want to cast dispersions. But it looks very different and it feels very different, and it's got a little bit of Second Stage orange in it. It looks very clean and new.
This theater is now Broadway's only home dedicated to living American playwrights. Why is that such an important mission for Second Stage to uphold?
You mean aside from that's what we do? There are a lot of reasons. First of all, because it's really great for those living American writers to be able to earn a living, and you earn a little bit more money when you're on Broadway. And also, it means that the shows tend to get played out around the country, so there's visibility, there's a bigger audience. Generally, our audiences tend to be younger than the traditional Broadway audiences because we tackle topics that are appealing to younger people. So it was really important for us to [continue to] do that. We do a lot of plays by women and writers of color, so hopefully, it will bring in a more diverse audience. And that's, I think, something that a lot of people have been talking about. Of course, Broadway is a great, great tourist attraction, but really making it accessible to the people in New York City was important to us.
And there's already a lot of buzz here in New York about Chris Evans and then Armie Hammer hitting the boards. How is it that you landed on "Lobby Hero" and "Straight White Men" to introduce Second Stage's Broadway presence?
Well, "Lobby Hero" is just one of my favorite plays, and Kenny Lonergan is one of my favorite writers. Kenny's just somebody that I've always been in touch with, and of course, Tripp Cullman's directed, like, seven shows for us. So the combination of the two of them, there's a little bit of sentimentality—I don't have a lot of it, but there's a little bit. And then the play itself is even more topical now. It deals with a lot of issues that people are thinking about today—sexual harassment, the police, race. It had a very present feeling even though the play takes place in 1999.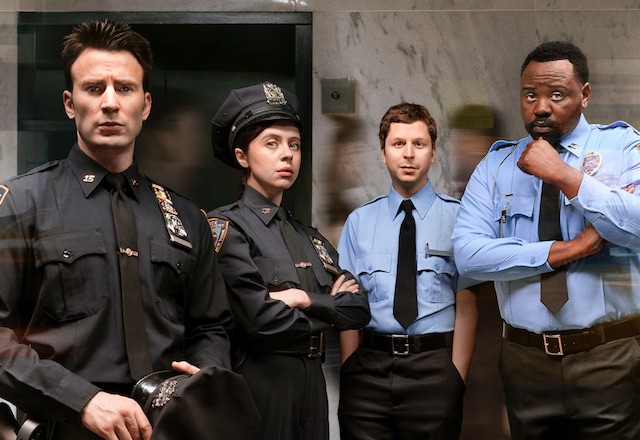 Mark Seliger
What hand do you have in rounding out the cast for "Lobby Hero"?
Michael Cera had done "This Is Our Youth" with Kenny on Broadway, and he felt that Michael spoke his language incredibly well, and so that was just somebody who they asked to [star]. Sometimes that does happen, but for the parts of William and Dawn, we did auditions. We did extensive auditions, especially for Dawn, who's supposed to be 22 years old. We cast from Telsey + Company, and we saw a tremendous number of auditions not in person, but people sent in their video auditions, so we watched a lot of those. And then we had a lot of auditions and we had callbacks. On this particular one, I saw a lot of people who sent in their auditions—really, a lot of young, talented actors.
What are some of the traits you feel an actor needs to embody Lonergan's characters?
He cares a lot about people actually saying his words. That may sound weird to you, but a lot of times, people feel like they can come in and improvise on the script. He's not really that into that. And the ability to handle his language—he has a certain rhythm that kind of fluctuates between something that's serious and something that's very funny, so you have to be able to pick up what part of it is funny. The people that did the best were the people that we could figure out had a sense of humor.
It all comes back to script analysis and finding those rhythms in the end.
The people who actually prepared their auditions were a lot better than those who didn't, and the people that, frankly, memorized it were able to really do a better job than those people who didn't. That doesn't always happen, but in this particular case, since this is a play with only four characters and their parts are huge, it was important. They usually did a better job if they knew the script pretty darn well.
Then looking at Young Jean Lee's "Straight White Men," how did you end up working with her?
I've always admired her work. I think she's got a really quirky vision and everything that she does is very different, and we commissioned her to write a play for us, co-commissioned her with Center Theatre Group in Los Angeles, and we were sitting—Michael Ritchie, Young Jean, and myself—in my office right after the election, and I won't say who, but some were depressed about the election. What our conversation was about was, "I wonder what the artists are going to be talking about now because the country seems to be shifting—what are people going to write? What are the things you want to say?" And one of the topics of discussion that came up was, like, "Gee, I wonder why we had never thought that straight white men were a class on their own." And as we were talking about it, I said, "Oh gosh, Young Jean, we should do your play." It's a really interesting look at a certain group of people, and she has a very specific way of looking at that group of people as an Asian-American woman looking at straight white men. It was just very intriguing to me. I think it's really funny, and, you know, it's kind of out there. There's a couple of performers in it that are gender nonconforming and it's an interesting look at a certain culture in the United States and with a really interesting perspective. So I don't know. It's pretty out there, but I think people are going to like it.
Dreaming of Broadway? Check out Backstage's theater audition listings!