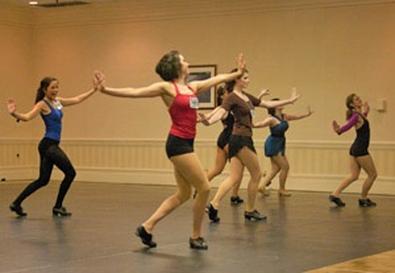 Regional combined auditions are a way for actors—particularly the young and inexperienced—to be seen by an array of theaters and other producing organizations at once. Not all combined auditions are alike, however. If you're considering attending one, your first step is to do some research.
They've Got Possibilities
Some regional combined auditions are huge affairs with a built-in screening process. For instance, the spring auditions of the Southeastern Theatre Conference—to be held in Atlanta in 2011—attract about 800 actors and 90 companies. But as April J'Callahan Marshall, SETC's director of professional theater services, points out, actors who don't meet certain criteria (they're still in school, for example) must first pass muster at a preliminary audition at the state level.
At the other end of the spectrum are the Institute of Outdoor Drama auditions, now at their new home in Greenville, N.C. Here eight to 10 producers of outdoor theater, several of them local, see about 200 performers each year. According to auditions manager Susan Phillips, the majority of attendees are students looking for summer employment. There are also interviews for technical positions, and some attending companies specifically seek performers who can double as techies.
The StrawHat Auditions, located in New York City, are for non-Equity actors, including current college students. While producing organizations from all over the country attend, most are summer theaters based in New England, says audition producer Kirsti Carnahan.
The Rocky Mountain Theatre Association auditions, like some other combined events (such as SETC), are part of a larger regional theater conference held in a different location each year. According to RMTA president Marianne Adams, company attendance is higher when the convention is in Colorado or Montana than when it's in other states. 2011's event will be in Cheyenne, Wyo.
Actors come to Memphis, Tenn., from across the country for the Unified Professional Theatre Auditions. UPTA audition coordinator Michael Detroit stresses that these are not regional but national auditions. Nor are they for beginners: Actors must meet a minimum training-and-experience threshold to attend. Staff, tech, and design jobs are also available.
The auditions' websites will often tell you which theater companies are likely to attend, and at the theater companies' sites you can learn what kind of work they produce. If you're looking for work as a Shakespearean actor, for example, you might have luck at the Midwest Theatre Auditions in St. Louis, says auditions coordinator Peter Sargent, but that would not be the place to go if you're interested in performing on a cruise ship. MWTA also interviews for tech jobs.

Oh No, You Didn't

Most regional combined auditions give each actor a 60- or 90-second slot in which to present a monologue and/or musical number. (Some actors fit several short selections into that time frame.) Later, each company holds callbacks, often in a hotel room. The procedure for dance calls varies from event to event: Most are by company invitation only, although MWTA holds open calls, while RMTA sometimes forgoes the dance call altogether, depending on which city is hosting.
In any case, after doing your research, your next order of business is finding audition material that is suitable and will show your talents in the best light.
Few company representatives are likely to be prudes. Nevertheless, you should avoid monologues that contain excessive profanity or have an assaultive tone. Too much aggressive material wears on the auditors, says MWTA's Sargent: "I hate to put limitations on it, but when you're looking at 150 to 175 auditions in a day, that kind of impact piles up."
Some audition selections are performed so often that they weary the listeners. StrawHat has what it calls "the dreaded list," says Carnahan. And SETC even includes on its website a list of material to avoid.
More than one audition spokesperson mentioned songs from "Thoroughly Modern Millie" as particularly overused. RMTA's Adams singles out "anything" from Jane Martin's play "Talking With…," the "Sunbonnet Sue" speech from "Quilters," and the "Mr. Cornell" monologue from "The Star-Spangled Girl."
"Please, no. We can all recite it," she says of that speech from the Neil Simon comedy. Actors "don't understand that we get together afterwards and it's almost as if you have a bingo card: 'Okay, we got that one filled.' "
You might consider looking to a novel or a screenplay for off-the-beaten-path monologue material. Nikki Savitt—an actor who has become something of a legend at UPTA, having attended every year since 1994—recalls that one year an actor used a speech from the film "Passion Fish" to great success.
Savitt herself brainstorms each year to find just the right audition package. Complementing a monologue with a song is "almost like pairing the perfect wine with your dinner," she says. "A teacher of mine once said it best. She said, 'Think of it as doing a 90-second performance and make it all work together."
Katie Hamilton-Meier, who attends Webster University (home of MWTA), notes that material that's too obscure can be as problematic as material that's too familiar. The singer-actor, whose MWTA audition secured her a 2010 internship with the Hope Summer Repertory Theatre in Holland, Mich., explains, "You don't want to pick something so weird or off the charts that they sit there wondering, 'What's that song?' rather than listening."
UPTA's Detroit doesn't dissuade actors from using particular audition material, whether too arcane or "done to death." The more important consideration, he emphasizes, is that it suit the actor: "If it's a song that's overdone and they don't do it well, then they shouldn't do it anyway."
The Right Stuff
So, how do you find the monologue or 16 bars that's ideal for you? One tip is to keep in mind the sorts of roles you'll be considered for.
Savitt consistently turns to comedy for her auditions. "I'm 4-foot-10," she says. "I'm a plus-size girl. I've got a belter voice. So for me to get up and do something dramatic, it just doesn't make sense." She does, however, keep more-serious monologues, including Shakespeare, memorized in case she is asked to show her range at callbacks.
Actor Jim France has auditioned successfully at SETC, MWTA, and UPTA. Like Savitt, he prefers to keep things light for his main audition. He often chooses humorous monologues from seldom-seen works of George Bernard Shaw. A mature actor, France is accustomed to performing such roles as Scrooge, Fagin, and Theodore Roosevelt. "For me to sing something from 'All Shook Up' or 'Footloose' would be insane," he says. "If they wanted a laugh, that would be it."
If you're a young actor used to stretching your range in college productions, you may need to revise your expectations about the sorts of roles you'll be vying for in the real world. Although former RMTA attendee Mychal Lowman graduated recently from Idaho State University, he acknowledges that he looks about 15 or 16.
"You have to understand that in college you get to play a lot of roles that maybe you're not designed for," Lowman says. "But once you get out into a professional setting, that's not going to hold water." In college he usually played characters in their late 20s or early 30s, but if a professional theater is casting a role in that age range, and the choice is between an actor who looks 16 and would need age makeup and an actor who already looks that age, "it's kind of a no-brainer," he says.
The Big Moment
Barrett Foa now has a regular role on CBS's "NCIS: Los Angeles," but early in his career he worked his way up the rungs of the theater ladder, from summer stock to Off-Broadway and regional theater to the original cast of Broadway's "Mamma Mia!" He believes that his first StrawHat audition, in 1995, was instrumental in moving his career forward. It resulted in his first summer stock job, at the New London Barn Playhouse in New London, N.H.
Foa recalls the distractions he faced when approaching his moment in the StrawHat spotlight: "Everyone is stretching and hitting high notes, and it's easy to lose track of what you do, why you are there, and what you have to offer." His advice for maintaining concentration before an audition is to find a quiet corner in which to commune with your iPod. But "at the same time," he adds, "some of that crazy energy can pump you up. Just try to find the balance that's right for you."
Remember that the theaters and other producers in attendance want you to do your best, and the audition directors will make considerable effort to put you at ease. At UPTA, says Detroit, actors receive complimentary sodas and Red Bull and even have access to low-cost mini-massages either before or after their turns.
In the excitement preceding the actual audition, it's easy to lose track of everything you've practiced and learned. Justin Thomas, a student at Jacksonville State University in Alabama, attended the Outdoor Drama auditions and wound up spending two seasons with the show "Sword of Peace" in Snow Camp, N.C. He noticed that, under pressure, some of his fellow performers forgot about the importance of focus—literally. While doing their monologues, "their eyes would roam," he says. "That's not what they teach you in an Acting 101 class. You want to pick a point on the wall and make that your focal point."
And what about all that technique training you would harness if you were acting in a play? It's certainly not easy finding the emotional underpinnings of a role when you're presenting short fragments of a script out of context. "It's just such a weird thing to do," says Hamilton-Meier. "But you have to approach it like another performance. You need to jump into it 150 percent, so they know that if they hire you, that's what they're going to get."
More Audition Pointers
Protocol and etiquette are largely self-evident at combined auditions. Actors should trust their common sense regarding conduct and behavior.
"The more professional you look and act, the more it's going to help you in the long run," says Outdoor Drama's Phillips, who warns against slovenly apparel and cautions women against dressing too "scantily." SETC's Marshall, though, suggests that "form-fitting" clothing may be more appropriate than excess bagginess. For some company representatives, she says, "shape is a critical element. They've got size-4 costumes, and you have to be able to wear a size 4."
A certain amount of movement and gesture during your 60 or 90 seconds may be appropriate. But in eight or 16 bars, there's not enough time to fully show your physicality, so save your best moves for the dance call.
If you're singing, you'll have time for a brief consultation with your accompanist about tempo and cues. You should have sheet music that's marked clearly (and in the proper key), and indicate the final line of your monologue before a song cue, so there's no awkward pause between them. If your song has a lengthy piano introduction, trim it: The listeners need to see your talents, not those of your accompanist.
Actors who exceed their time limit may earn demerits, so be sure to time your selections carefully in rehearsal. "Always have a 15-second buffer zone," advises Savitt, "in case you have to pause or breathe or swallow. I used to be, 'Oh, it's perfect. It's 90 seconds.' That was cutting it way too close."
The Personal Connection
At the end of a long day, the auditors will likely be too exhausted to spend much time socializing with the actors. But there may be opportunities to network with them in informal settings. Both Savitt and France have gotten to know company reps by hanging out in the hotel bar and schmoozing.
When combined auditions are part of a larger regional theater conference, you may choose to enroll in a workshop or seminar taught by personnel from a theater you're interested in. At RMTA, Lowman attended a session on building résumés with teachers from the Opera House Theatre in Philipsburg, Mont. He also appeared in a conference showcase staging of the Irish classic "The Playboy of the Western World"—and it happened that the Opera House Theatre was looking for actors proficient with Irish dialects and hired him. In essence, Lowman used these opportunities to extend his audition beyond the allotted 90 seconds.
Of course, none of this networking will guarantee you a job. But you may be planting a seed that will bloom seasons later. Says audition perennial Savitt, "Even the years that I came away not filling my calendar, somehow it's always benefited me down the line."