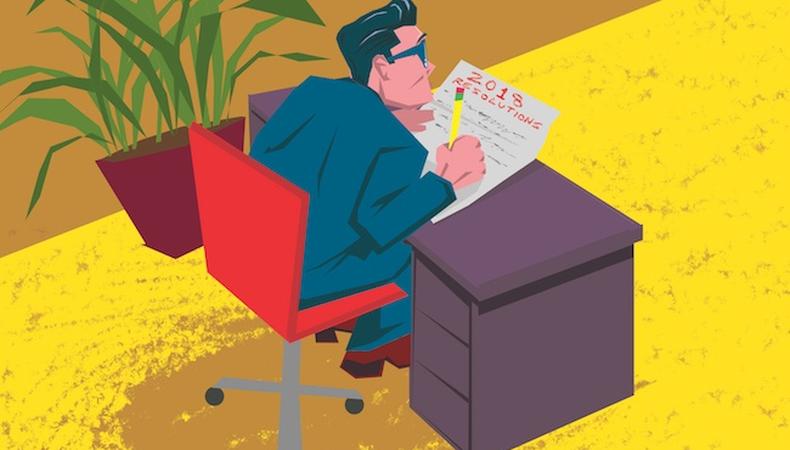 2018 has finally arrived! That means it's time to stop drinking eggnog and start making resolutions. This is absolutely crucial, because having a written set of goals will help you stay focused over the next 12 months.
My resolutions usually involve not stalking former clients who have gone on to stardom or not taking out contracts on personal managers, but this new year is going to be different. The world has changed, and I am determined to change with it. Agents can't get mired in the old way of doing things. They must embrace the future. So the following list is designed to address that desire, because Secret Agent Man intends to grow strong and be a positive force in this evolving industry for a very, very long time.
I now present you with my list of resolutions for 2018:
1) I resolve to educate myself about all the new streaming services out there. It seems like there's a new one every week, and as an agent, I need to keep track of them. That means understanding who owns what. For example, did you know Sony is behind Crackle? Do you even know what Crackle is? Seriously. I'm asking.
2) The code of conduct has changed dramatically over the last year, and pond scum like Harvey Weinstein have been ordered to leave the party. I have absolutely no concerns about my past behavior, but to be safe, I resolve to sign up for every sexual harassment workshop I can find. I will also make an absurdly large donation to the Girl Scouts or a similar organization.
3) I resolve to stand up to casting directors who want my clients to self-tape for their projects. I will insist they meet those actors in person, because I firmly believe that face-to-face auditions are the best way to go. Look at it this way: If an actor puts himself on tape, it's an all-or-nothing situation that may or may not lead to an offer. That performer gets one chance to make one choice. But if the same actor auditions in person, the casting director can offer up notes and direction that might improve the audition.
READ: 13 Self-Tape Mistakes That Sabotage Your Chances
4) I resolve to stop telling my assistant to print out hard copies of all my scripts. Too many trees are dying. And let's be honest—I can afford a damn iPad.
5) And finally, I resolve to visit all the casting directors who are serving time in prison for having the audacity to attend workshops in an attempt to teach and meet new actors. I understand their crimes are serious, but that doesn't mean they should rot away in a federal penitentiary without at least one visit from yours truly. After all, they may get out one day, and I'll need them to see my clients.
I feel good about this list because it addresses all the realities I've been ignoring. It's time to find the right balance between the old and the new. That's how you get groovy stuff done!
As for you, my loyal reader, I will leave you with the same words of wisdom I gift you every year. The book for 2018 is completely blank. What gets written on those pages is up to you.
Happy New Year!
Ask Secret Agent Man all of your acting/industry questions on
the Backstage Community forums!