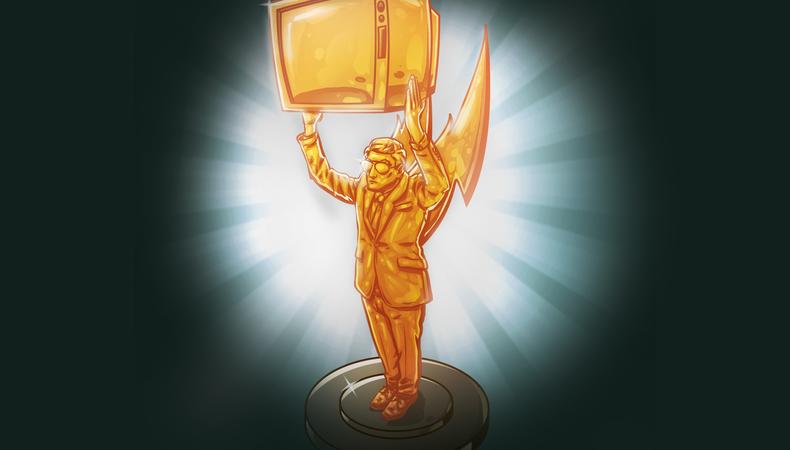 Forget the Emmys. These are the Sammys.
MOST DIFFICULT PERFORMANCE TO PULL OFF
What kind of fool would take on an iconic character like Hannibal Lecter after Anthony Hopkins made the role his own? A brilliant Danish actor named Mads Mikkelsen on NBC's "Hannibal," that's who. He pulls off this acting challenge by painting the character with a subtle brush, creating a serial killer who is the complete opposite of what you expect. (Second place goes to Jonny Lee Miller for playing Sherlock Holmes on "Elementary.")
MOST OVEREXPOSED ACTOR
There was no competition in this category because there was only one nominee. Her name is Lena Dunham. Despite a disappointing second season, "Girls" is still one of the most surprising shows on television. But why does Dunham have to get naked in almost every single episode? Did she lose a bet with Judd Apatow?
BEST COMEBACK
And the winner is Julia Louis-Dreyfus for her outstanding work on what is quickly becoming the smartest comedy on television. Granted, "Veep" has a brilliant ensemble, but Louis-Dreyfus is the neurotic core that holds it together. And watching this show is a lot more fun than watching her former co-worker attack black people.
THE UNSUNG HERO AWARD
This prize goes to all the actors who play zombies on "The Walking Dead." These performers endure hours in the makeup chair, they commit to their characters, and no one knows their names. The most they can hope for is a memorable death.
BEST BBC CAST
There was a lot of competition in this category. I was tempted to vote for shows such as "Orphan Black" and "Mr. Selfridge," but when all is said and done, "Ripper Street" is the one I enjoyed the most. The story is set in Whitechapel, six months after the infamous Jack the Ripper murders. Matthew Macfadyen, Jerome Flynn, and Adam Rothenberg combine their British and American sensibilities to create original characters that never feel less than authentic. It's like you're actually there in 1889 watching them perform their duties.
THE GOOD IN ANYTHING AWARD
Andre Braugher always shines, even on a mediocre show like "Last Resort." I don't think I've ever seen the guy give a bad performance. He was endearing as a sad, middle-aged everyman on "Men of a Certain Age," and he was commanding as the captain of a rogue sub on "Last Resort." Braugher is a lot like garlic: He makes every meal a little bit better.
BEST CROSSOVER
Welcome to the small screen, Jim Caviezel. You had an impressive film career. Hell, you even played the son of God. And you also picked the right show when you decided to make the jump to television. "Person of Interest" provides you with a role that is part saint, part sinner, and always entertaining. And best of all, you get to work with the guy who played Ben on "Lost"!
BEST SAVE
And the winner is Kevin Bacon for saving one of the dumbest shows I've ever seen on network television. The only reason "The Following" works is because Bacon carries the entire mess on his shoulders. Without him, the show would've been canceled after the first few episodes. (Second place goes to Billy Burke on "Revolution.")
LIFETIME ACHEIVEMENT AWARD
Congratulations, Jessica Lange! You started your career as King Kong's girlfriend, and now you're winning accolades for your stellar work on "American Horror Story: Asylum." The arc your character traveled on this creepy show was a tricky one, and you pulled it off with ease.
BEST ENSEMBLE
Without a doubt, this award goes to the entire cast of "Game of Thrones." They are perfection.