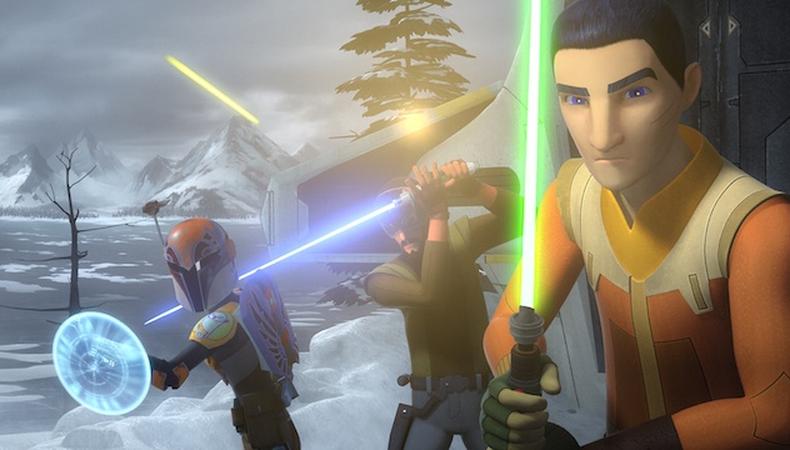 "Star Wars: Rebels" is flying into Los Angeles' Microsoft Theater from a galaxy far, far away for the 69th annual Emmy Awards on Sept. 17, where it's nominated for Outstanding Children's Program. We spoke with the Disney XD series' executive producer and supervising director (and longtime figurehead of Lucasfilm's animation department) Dave Filoni about how the series has just grown stronger since the feature film franchise reboot, what he was looking for while casting the likes of Freddie Prinze Jr. and David Oyelowo for the animated series, and why it's his job to adjust to his ensemble's needs in the studio.
The series has just gotten better since 'The Force Awakens.'
"What's been great for me is I get a lot of support from the story group that helps the films and I interact with the writers and directors of the films for the most part. That really is just a nice continuation of my own learning curve in working in this medium. You're always learning, you're never finished, there's always something new to discover. So I think what's fun now is there's a group of people all trying to tell these stories and we can lean on each other. There isn't a massive divide between what we do creatively in animation and the features like there might be in some studios. I just think that comes out of everybody loving 'Star Wars' and wanting to get these stories right."
READ: John Boyega Is the 'Star Wars' Hero You're Looking For
'Rebels' posed unique casting hurtles.
"The casting of 'Rebels' was a real challenge because from the time we started the series to getting it on the air, we had a very small window. But that just means we had to be very decisive. You know, some casting processes take months at a time, and we literally only had down to weeks. But it's one of the real lucky strokes we had, which is [co-creator] Simon Kinberg, myself, [and co-creator] Carrie Beck, we all kind of liked the same things and we all had a very clear idea of who we thought these characters were."
They got lucky by casting 'Star Wars' fans.
"So when casting, Freddie Prinze walked in the door and started performing Kanan; we were like, 'Well, this is the guy.' Freddie just understands. And he wasn't deceived by our clever attempt to make people not realize they were trying out for 'Star Wars.' Freddie just walked in and was like, 'This is "Star Wars," right?' He's a big fan, and he's really brought that type of charisma that we needed to Kanan. Vanessa Marshall is a diehard 'Star Wars' fan. She was fluent in my previous show, 'Clone Wars.' I like that level of passion. It's not required, you don't need to know 'Star Wars,' but it's nice to have some people among the actors that really know stuff about the mythology because then they can help the others."
He records episodes as an ensemble in the studio.
"I try to record them ensemble all the time, so I need to have chemistry between them in a way that maybe other shows don't, necessarily, when they divide everybody up. So it was important to get everybody together and kind of have them play scenes, you know, see how Steve Blum would play against Hera [played by Marshall] and Freddie. We tried a couple different combinations, but it was pretty clear who we wanted to go with from early on."
His favorite ensembles mix veteran camera and voice actors.
"Tiya Sircar had never voice acted before. She was pretty nervous about the whole thing, but she's been brilliant. I found over the years when you have this mixture of voice actors and camera actors that you get a kind of fusion and everybody gets everybody else to kind of raise their game. I'm not suggesting that one type of actor is better than another, it's just that they give each other traits and [the camera actors] see things that the voice actors are doing to heighten their performance, and then the voice actors tap into more of the dramatic, emotional rawness of the on-camera people."
Creators need to have the confidence to choose the right cast.
"I think you just have to build up that sense in yourself and that confidence to say, 'This person, they are that character.' You have to be open, I think, as a director and lead creative to say [that. And actors] have to own a big part of it, it's not just about what I want, it's about what they can become, what they can contribute to add that necessary dimension of believability. They all have just done it [on this series]. I really love the cast on 'Rebels.' I can't say that enough."
It's his job to adjust to actors' needs.
"I've staged the whole episode before I get [the script] to [the cast], so I can really give them, I hope, clear direction on the physicality of the situation—how far everybody is, if there's more violence, if there's explosions. We've had a couple scenes where we needed a really intense, emotional performance that was quite personal. So like with Tiya Sircar, I'd approach her a couple months in advance of shooting the episode and take her aside and say, 'I'm gonna need you to get to this place because this is about your family. Are you all right with that? Should I limit the room? Do you want to make that more personal?' You just have to respect their process and their comfort level."
The 'Rebels' characters have come to reflect the actors, and vice versa.
"When you do have the room full, it gives a different energy. They become like a bunch of super balls sometimes. Especially if they start ad-libbing humor (as they're prone to do when they're together), the room can get out of control. But the actual characters of 'Rebels' are very much like that…. It's interesting having them all together. It's the most fun because now they've been together so long, you get that natural familiarity that these characters should have with one another. And it's just worked out; I kind of marvel at it. They all ask me if they can just be in costume or, you know, they all tell me if there's a live-action counterpart they better be playing it. And I just kinda leave that one alone."
Want to work in voiceover? Check out Backstage's voiceover audition listings!