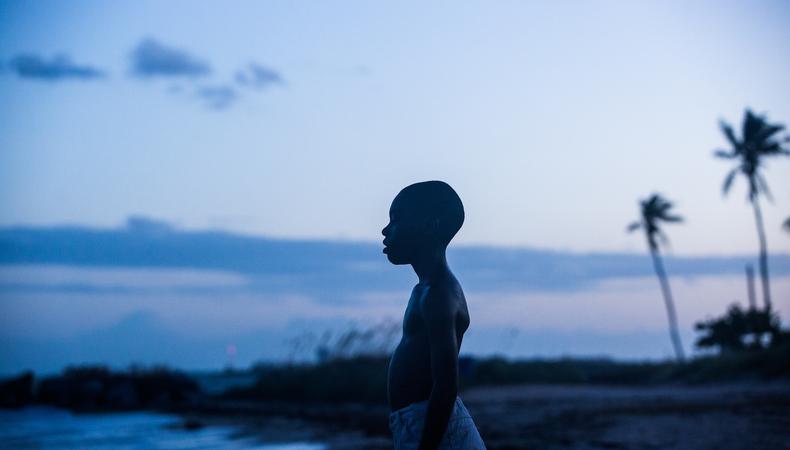 With his adaptation of Tarell Alvin McCraney's stirring play "In Moonlight Black Boys Look Blue," writer-director Barry Jenkins and his cast have shot to the top of many a shortlist this film awards season, and with good reason. In a post-#OscarsSoWhite climate, "Moonlight" is one of several 2016 films that elucidate a black American experience with poetry and visceral grace. Here, it is the story of Chiron, a young queer man growing up in inner-city Miami.
Divvied up into three acts—"Little," "Chiron," and "Black"—the film depicts three interrelated life experiences that affect Chiron and his drug addict mother, Paula (Naomie Harris), for years to come. As a young boy (Alex Hibbert), he finds an unlikely friend and makeshift guardian in a local drug dealer (Mahershala Ali) and his wife (Janelle Monáe); as a teen (Ashton Sanders), he faces high school bullies and his first sexual encounter; and finally, as an adult (Trevante Rhodes), he moves north and becomes a drug dealer—but he still can't shake that one encounter on the beach with a friend named Kevin (André Holland).
READ: "1 Way Theater Prepared André Holland for 'The Knick' "
"We see so many movies that you know when the beats are going to fall, you know what's going to happen, you know when you're supposed to feel this and when you're supposed to feel that," Jenkins tells Backstage. The filmmaker sought to rid his film of those expected emotional cues by introducing unorthodoxy in subject and structure. "I ascribe to the theory that in order to be universal, you have to be specific. This story is set in a very specific place and it's [got] very specific characters. And we approached it visually and also structurally in these very distinct ways."
The result is a filmic gem that proves hard to shake. Jenkins employs a warm, caressing fluidity in his camera work, as seen in the long panning shot at the film's opening that follows Ali's drug dealer on his day-to-day routine. But there are also utterly surprising images he stirs up that freeze-frame and stick in viewers' minds long after the credits roll—the sensual close-up on Chiron's hands as Kevin touches him, his fingers curling through the sand; Harris' drug-addled Paula staring straight into the camera's lens, yelling at her son, on mute. These and other creative elements resonate with audiences without necessarily advancing plot. They fit under Jenkins' self-described "universal."
Choices like these require a certain amount of trust between the filmmaker and his actors. "Sometimes I let them know what I'm doing, [but] I don't want them to get into the headspace of the machinations of what's going on. I just want them to be in their bodies in the scene," Jenkins says.
He could not have asked for a better cast. Harris, in particular, and Monáe, in her feature film debut, faced the challenge of aging with their characters. Casting six separate actors for Chiron and Kevin in three acts was another hurdle altogether. Jenkins says they cast the widest net possible.
"I said right away that they don't need to look like each other, [but] they need to feel like each other. And so we had a very specific thing that we were looking for with each of those guys," he says. "There had to be a certain spiritual continuum.... The big thing with this film was that I knew there was going to be a lot of silence. I was looking for someone who could emote without speaking, and mostly, that was in the eyes. I was really paying attention to what they were doing when they weren't speaking, what they were doing with their eyes.
"And they were fully on board," Jenkins adds. "The one thing I'll say with this cast is if I asked them to do anything, they were like, 'Yes. How do you want me to do it? How many times do you need me to do it?' It was amazing."
Ready to star in your own feature film? Check out our film audition listings!