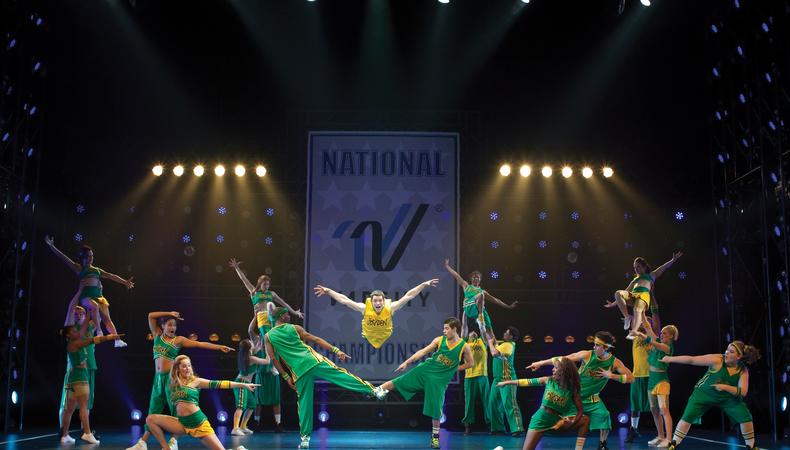 It's been nearly two weeks since the Tonys—long enough for us to discern the implications of this season's nominees and subsequent winners. As Neil Patrick Harris aptly sang of Broadway, "It's bigger!" With "Bring It On: The Musical" snagging the fourth nomination for best musical and "Pippin" leading the revival parade with 10 nominations and four wins, flash—particularly in choreography—has caused the tap shoes of yesteryear's chorines to yield to today's barefooted gymnasts.
"Instead of being a triple threat nowadays, you have to be a quadruple threat," said Trevor Sones, a 24-year-old actor who spends his days auditioning for regional theaters, national tours, and Broadway musicals. "You have to be able to do all the styles of dance and do tumbling on top of that to book the gigs."
From the leaping paperboys of "Newsies" to the trained circus performers of "Pippin," Broadway musicals today require young performers to add acrobatics to their repertoire. "Every audition that I've been to thus far has asked every male dancer if they can do tumbling or tricks," Sones said. It seems that those without gymnastics skills are left at a disadvantage.
"Tricks and spectacle with someone's body has become a really big thing," said Stephen Carrasco, current swing in Broadway's "Kinky Boots." "It's about doing things in theater that have never been done before."
Andy Blankenbuehler, Tony Award–winning choreographer and 2013 nominee for "Bring It On," agrees. "Today's audience needs to be challenged," he said. "Everybody is very short with their attention spans and higher with their expectations."
Is tumbling the lasting device to push these creative boundaries, or is all this flipping and flying just a fad? Many in the business believe that the gymnastic trend is cyclical but on a hot streak right now. Tommy Martinez, currently performing the main tumbling track in Broadway's hit musical "Newsies," believes that tumbling will continue to be a presence in musical theater, but that the prevalence will die down. "Especially in the musical theater realm, it's kind of becoming a necessary skill," he said. "I would advise anybody to go and get a basic acrobatic skill set if they're planning on being a dancer."
Despite the time and training needed to master proper technique, none of the top musical theater programs in the nation specifically advertises a course that teaches this craft. "I think a training program's first responsibility is to teach students those fundamental storytelling skills, what is always going to last, and then to begin to attend to the skills of the moment," said Ralph Zito, chair of the Drama Department at Syracuse University. Carrasco and Blankenbuehler agree that an of-the-moment style may not be the aspiring actor's fix-all. Authentic storytelling may still be the most important thing to acquire in training. After all, for choreographic pyrotechnics to yield a deep response, they must serve the narrative.
As theater evolves, each show puts forth its own stylistic requirements, and creative teams continue to demand more and more of their casts. "The unfortunate side of all this variety is there's hardly anybody out there as versatile as they need to be," Blankenbuehler said. But gymnastic skills may be one more weapon in the arsenal of a well-rounded performer, which is truly the make-or-break when it comes to being cast.