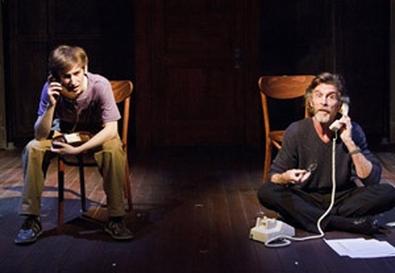 Playwright Jonathan Tolins hits the bull's-eye with his new comedy-drama "Secrets of the Trade." This look at a pushy Long Island kid who longs to make theater and snares a major Broadway producer-director-writer for his mentor is breezily engaging, as rock-the-rafters funny as it is bracingly touching. Under Matt Shakman's smart, inventive direction, the show moves with style and speed, propelled by terrific performances from Noah Robbins and John Glover. I have one word for you: pounce.
The story begins in 1980. Sixteen-year-old Andrew Lipman, the echt precocious Jewish son, at the urging of his highly supportive father, Peter, an architect, and somewhat more skeptical mother, Joanne, a schoolteacher and former Broadway dancer, writes a letter to Broadway great Martin Kerner (equal parts Hal Prince, Moss Hart, and Michael Bennett) asking for a summer job. Two years later, Andrew gets an invitation to lunch, an event at which Kerner sizes him up and takes him under his wing. As Andrew traverses a Harvard education, learning his craft, accepting his gay sexuality, early lack of success, and political activism, Kerner, also gay but not publicly, swans in and out of his life, dispensing showbiz wisdom, emotional support, and tough-minded criticism. As Andrew gets older, the relationship gets more complicated but also more interdependent, until a final confrontation implacably redefines it.
Tolins can write a punch line with the best of them, but what characterizes his work here is a rigorous emotional honesty. All five of his characters—the last is Kerner's longtime gay assistant, Bradley—are written with complexity and insight, and what they do is often surprising yet inevitable. Robbins is Andrew, who in many respects is the gay version of Eugene, the role he played so memorably last season on Broadway in "Brighton Beach Memoirs." This gifted young actor is even better here, deftly mixing humor and heartbreak while convincingly charting Andrew's growth into manhood. Glover, one of our finest stage actors, makes a meal out of Kerner, embracing all the character's glamour and style without ever stinting on the humanity beneath. Together, the two actors create theatrical magic.
Amy Aquino thankfully sidesteps a whole host of undoubtedly tempting Jewish-mother acting clichés, turning Joanne into a believably loving but increasingly bewildered mother willing to risk anything for her son. She and Glover make Joanne's Act 2 confrontation scene with Kerner, beautifully written by Tolins, a real highlight. Mark Nelson is fine as the proud but subconsciously envious Peter, who wants his son to succeed where he failed, with Nelson bravely keeping Peter's insecurities front and center. As Bradley, Bill Brochtrup suggests intriguing layers beneath the character's impassively professional façade, mixing in just the right amount of seen-it-all bitchiness.
The impressionistic, minimal production from Mark Worthington (sets), Alejo Vietti (costumes), and Mike Durst (lights) reinforces the play's theatricality, with special kudos to Vietti's knowing costumes, which subtly reveal character and time progression. John Gromada's original music adds spark, though I wish I could have heard the pre-show collection of cast-album cuts a little more clearly.
Tolins writes in an unapologetically straightforward style that was once the hallmark of commercial theater. He's more interested in storytelling and character than experiments in form and content. "Secrets of the Trade" is the kind of show that once upon a time would have had a long and healthy commercial run Off-Broadway at the Promenade or Variety Arts or Circle in the Square Downtown. These days the options are more limited, but this highly satisfying show deserves a much longer life than six weeks.

Presented by Primary Stages in association with Ted Snowdon at 59E59 Theaters, 59 E. 59th St., NYC. Aug. 10–Sept. 4. Tue.–Wed., 7 p.m.; Thu.–Sat., 8 p.m.; Wed. and Sat., 2 p.m. (No performance Wed., 2 p.m., Aug. 11; additional performance Sun., 3 p.m., Aug. 15.) (212) 279-4200 or www.ticketcentral.com. Casting by Stephanie Klapper Casting.