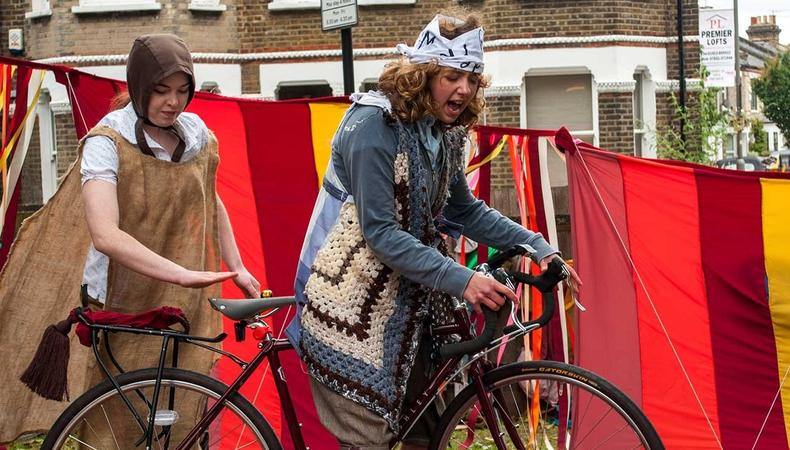 You work, you strive, you work some more but sometimes you've just got to take some precious "me time" to kick back. Luckily, you're in London, one of the greatest cities in the world where we like to drink, dance, and watch Shakespeare on bikes. Join us!
Listen to a theatrical Knight.
For many stage actors, London is where it's at. On 12 September, Sir Mark Rylance will be at the National to chat about his new book on the capital's many, many theatres. Expect anecdotes galore and theatrical tales of the buildings, productions, and people that make London "the theatre capital of the world". (Tickets: £7)
Forage for a cocktail.
As part of this year's Totally Thames festival, the Brunel Museum is going cocktail crazy. On Fridays and Saturdays in September, their rooftop garden is being transformed into the capital's quirkiest bar. Enjoy cocktails from foraged ingredients, sit around the fire pit and toast marshmallows or visit the huge underground concert hall, the Brunel Tunnel. An unusual evening guaranteed. (Tickets: £5)
Disco up a skyscraper.
Hard week? Only one answer: Dance it out 1,000 feet up in Europe's tallest building on 9 September at a silent disco at the top of the Shard. Just pop on some headphones, pick your DJ of choice, and dance off the woes of the week. (Tickets: £37.50)
Enjoy a day by the river.
Summer may almost be over but there's still time to take advantage of one of London's greatest assets, the Thames. The Great River Race on 9 September is a 21.6-mile boat race right across the city, east to west. Grab a pint, bag a prime riverside spot and get shouting for the 330 boats and 2,000 competitors taking part. (Free)
Go see the biking bard.
You've been to the RSC, checked out the Globe...now it's time to witness Shakespeare done in a completely new way...sort of. The HandleBards are the world's first all-female cycling theatre troupe who bike from venue to venue with their props in a bid to be environmentally friendly. This week, they're presenting their version of 'As You Like It' so get on your bike and check it out. (Tickets: £15)
Check out Backstage's London audition listings!