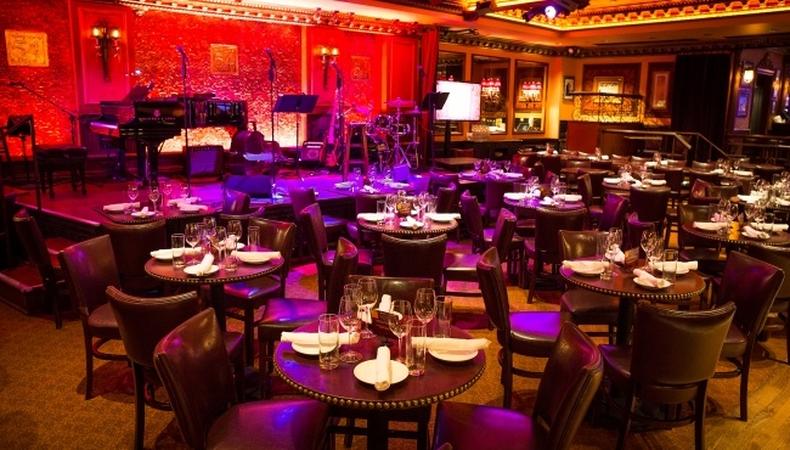 Life may not always be a cabaret, but in New York City you can always see cabaret. From uptown to downtown and everywhere in between, these are the Manhattan spots that offer cabaret—along with how much the food and drink minimum will cost you.
Feinstein's/54 Below
Where: 54th St. between Broadway and 8th Ave.
The cover: $25 food or drink minimum
The deal: Sub-level to Broadway's Studio 54 upstairs, Feinstein's/54 Below is the official "Broadway cabaret" destination and as such, nearly all programming is theater-related. On a given night, catch Tony winners, reunion concerts of Broadway shows past and sung-through productions of new or unproduced works.
Birdland
Where: 44th St. between 8th and 9th Ave.
The cover: $10 food or drink minimum
Birdland: Named after jazz legend Charlie "Bird" Parker, Birdland is a confluence of cabaret and jazz. It does host solo performances from some of theater's biggest names (Ramin Karimloo and Keala Settle both recently had shows there), but the spot definitely emphasizes jazz performances and even houses its very own big band.
Joe's Pub
Where: Lafayette and Astor
The cover: $12 food minimum or two-drink minimum
The deal: Located inside the historic Public Theater, Joe's Pub is a downtown cabaret go-to and is a favorite of downtown cabaret performers: Bridget Everett is a staple on the performance roster, as is comedian John Early. Stars of the stage take their acts downtown to Joe's Pub, too, including Tony nominees Jenn Damiano and Cristin Milioti, and Broadway legend Betty Buckley.
Café Carlyle
Where: 76th St. and Madison Ave.
The cover: $75 food and drink minimum for 8:45 shows; $25 for 10:45
The deal: If Joe's Pub is the definition of downtown cabaret, the Café Carlyle is its uptown counterpart. Located within the swanky and iconic Carlyle Hotel on the Upper East Side, this legendary and oh-so-intimate venue is most famously associated with Elaine Stritch, who lived in the upstairs hotel for 12 years, intermittently performing downstairs. These days, you can catch performances from stars of the stage and screen such as "SNL" alum Ana Gasteyer, "Hamilton" star Mandy Gonzales, and even the clothing designer-musician, Isaac Mizrahi.
The Duplex
Where: Christopher St. and 7th Ave.
The cover: Two-drink minimum
The deal: The Duplex is an iconic institution. Located in the heart of the West Village, it has strong ties to queer performance and hosts the most intimate shows by everyone from comedian Cole Escola to jazz singer Charles R. Hale.
In the market for a gig? Check out Backstage's NYC audition listings!