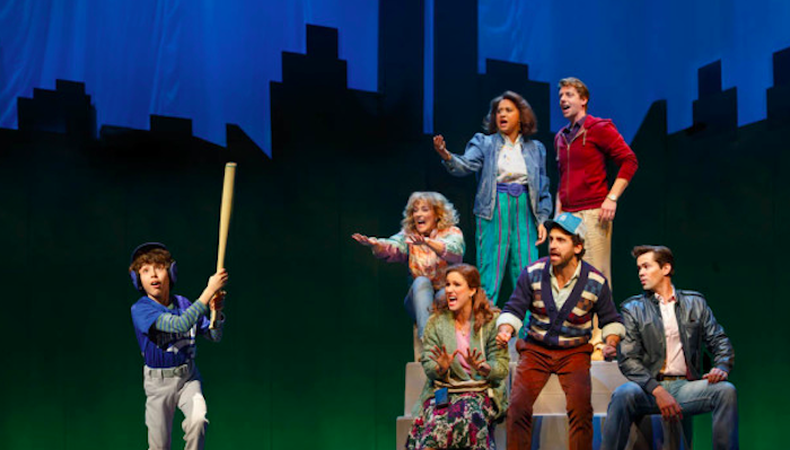 New York is the city that never sleeps, and with so many events and activities each week across all five boroughs, it can be hard to know what's actually worthwhile. Here are the events New York City actors should have on their radars this week.
Reunite the tight-knit family.
If you missed the highly-acclaimed "Falsettos" revival on Broadway this past fall—or you just want to relive the tender queer musical—you're in luck. Before closing in January, Lincoln Center filmed the tuner, which featured Tony-nominated performances by Christian Borle, Andrew Rannells, Stephanie J. Block, and Brandon Uranowitz, and will be holding screenings at movie theaters throughout Manhattan through July 16. (Ticket prices vary depending on the theater)
Enjoy a "yuge" take on "Lear."
Despite some damning emails, Donald Trump isn't going away anytime soon, nor is work inspired by or overtly about him, so we might as well embrace this era of orange-tinted art. One such piece is the forthcoming "Trump Lear," in which comedian David Carl will portray Carl David, an impersonator who has been imprisoned without bail for his Trump-inspired version of William Shakespeare's "King Lear" (you got that?). Performances begin July 15 at Under St. Marks. (Tickets: $20)
New York's first-ever trans theater festival is back.
The Brick Theater in Williamsburg will once again welcome back the first-ever Trans Theatre Festival, beginning July 17. Celebrating "the stories, art, histories, and experiences of trans artists," the lineup of performances includes both theater and dance, and will be ongoing through July 29. (Prices vary depending on the show; some performances are free)
Victory Dance is back to serve the youth.
Victory Dance once again presents its summer programs, featuring performances created specifically for young audiences. As part of Victory's initiative to provide daytime dance performances and education to city-run summer schools, this year's lineup will include a mix of international and New York-based dance companies, smack dab in the center of the city at The Duke on 42nd Street. The first of the two programs is ongoing through July 20, with the second kicking off on July 27. (Tickets: $10)
54 debuts a dynamo, female pilot musical.
If you're in need of some high-flying, feel good musical inspiration, get yourself to Feinstein's/54 Below on July 17, when the new musical "Sweetwater" will receive its first-ever performance. Telling the true story of the Women's Air Force service pilots who served in World War II, the original show from Patricia Noonan and Sean Mahoney will feature a cast of Broadway talents including Hannah Elless, Tamika Lawrence, Teal Wicks, and more. (Tickets start at $30)
Partake in the Triathlon, without breaking a sweat.
Consider skipping brunch this Sunday! You don't actually have to do the New York City Triathlon to be an active participant. The annual event will dash through Manhattan on July 16, when thousands will swim, bike, and run through the west side, and you can cheer them along from the comfort of the sidelines, without an ounce of training. Check out a full map of the best spots along the route for spectators to hang. (Free)
Ready to book a gig? Check out our NYC casting calls!