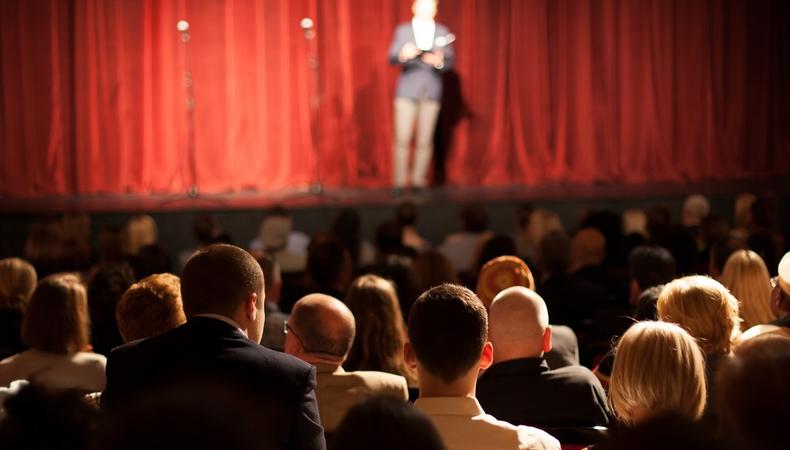 Long before her superstar-making turn in "Bridesmaids," Melissa McCarthy was cutting her teeth as one of The Groundlings. "Crazy Ex-Girlfriend" creator and star Rachel Bloom also found her comedic sea legs in the improv scene as a member of the Los Angeles branch of Upright Citizens Brigade. Whether you're looking to whet your whistle performing improv or see shows and get a sneak peek at tomorrow's stars of "Saturday Night Live," here are a few of the best improv locales in L.A.
The Groundlings
Where: Melrose
Notable alumni: Aforementioned McCarthy, Maya Rudolph, Taran Killam, Kristen Wiig, Ana Gasteyer, Will Forte, Will Ferrell
Classes: Sign up for a one-day Intro to Imrov class; it's three hours and just $36. Prospective students can also sign up for Improv Workshop A, a six-week program that costs $295.
Shows: There are one or two performances every night at The Groundlings, ranging from the weekly alumni show "Cookin' with Gas" to sketch-improv hybrid, "The Garbage Pail Groundlings." Ticket prices vary depending on the show, starting at a worth-your-money $5.
Upright Citizens Brigade
Where: The first location is on Franklin and a second is on Sunset Blvd.
Notable alumni: Amy Poehler (founder), Abbi Jacobson, Ilana Glazer, Aziz Ansari, Fred Armisen, Ellie Kemper, Kumail Nanjiani, Jenny Slate, Donald Glover
Classes: With facilities in both L.A. and New York City, UCB is paramount in producing the next generation of improv talent. Enrollment is open year-round, with all talent required to begin with Improv 101, an eight-session intensive that costs $450.
Shows: With an alumni roster that comprises a massive chunk of Hollywood, it's no surprise that UCB shows are some of the best. Between its two L.A. locations, you can take in upwards of three shows on any given night, including performances by the famed ASSSSCAT troupe and up-and-coming superstars like Moshe Kasher and Jon Rudnitsky. Ticket prices vary depending on the show and begin at five bucks.
Improv Olympic
Where: Hollywood Blvd.
Notable alumni: Stephen Colbert, Tina Fey, Seth Meyers, Chris Farley, Jason Sudeikis, Bill Hader, Vince Vaughn
Classes: IO offers a Level 1: Intro to Improv class that's intended to introduce those new to the craft to "fundamental skills of longform improv and the tenets" of the institution. The eight-week class is $300.
Shows: IO is famous for its Harold teams, created by father of modern improv Del Close along with Charna Halpern. The Harold shows are renowned for beginning with a single audience suggestion before blossoming into a longform piece performed by expert improvisers. Tickets start at $5.
The Second City
Where: Hollywood Blvd.
Notable alumni: Steve Carell, Rachel Dratch, Andrea Martin, Jack McBrayer, Bill Murray, Jane Lynch, Tim Meadows
Classes: Like IO, Second City is another Chicago-born institution that's established a branch out west. TSC's improv program adheres to a three-tier curriculum: Improv 1, 2, and 3. Students can sign up for each seven-week segment individually (pricing ranges from $320–$370), or one-stop shop and buy the three-class package.
Shows: TSC shows range from sketch to improv to scripted and regardless of format guarantee unmatched hilarity courtesy of titles such as the upcoming "Trump in Space — The Musical" and "The BreakWomb." Ticket prices vary depending on the show with many starting at $10.
The Improv Space
Where: Westwood
Notable alumni: Previously Ultimate Improv, the Improv Space is hoping to foster talent that will be notable alum in the near future—that could be you!
Classes: The Improv Scene offers intensive classes at the first, second, and third levels, as well as sketch. You can also subsidize your training with a class specifically tailored to voiceover for animation if you're looking to break into that facet of the industry.
Shows: There are one–three shows nearly every night on the Improv Space stages, including recurring installments like the raucous "Tipsy Hustle West," the two-hander "Tom and Jake," and "First Draft," which improvises a brand new sitcom in real time. Best of all, many of the shows are completely free!
Speaking of performing, don't miss Backstage's L.A. audition listings!
Being in theatre means depending on the kindness of strangers—Saima Huq