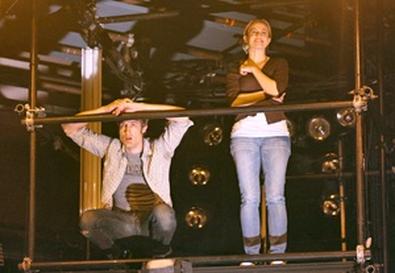 Watching Transport Group's new musical "See Rock City & Other Destinations" is like flipping through a friend's vacation snapshots. Some are eye-catching, some are moving, and some leave you with that "I guess you had to be there" feeling. This patchwork tuner is composed of short vignettes revolving around tourist attractions and the emotional sustenance a handful of sightseers hopes to gain from visiting them. Director Jack Cummings III delivers an innovative environmental production, and the seven-member cast limns its multiple roles with urgency and wit, but Adam Mathias' book is uneven. About half of the sketches land with precision, but the rest miss the bull's-eye, either by a few degrees or several target rings. Also, in an annoying and unnecessary convention, the actors read stage directions to set the scenes and occasionally comment on the action. However, the score is solid, featuring Brad Alexander's fresh, unfamiliar music and Mathias' surprising lyric choices.

The evening begins with the audience standing along the walls of the Duke on 42nd Street. The theater is empty, apart from a large scaffolding and a three-piece band. Just before curtain time, the actors set out lawn and beach chairs for the audience, and the scenes start. The most successful piece is a short sketch featuring three estranged sisters who are scattering their father's ashes from a cruise ship in Alaska's Glacier Bay. Mamie Parris, Sally Wilfert, and especially the magnificent Donna Lynne Champlin convey years of subtext in a few minutes. The squabbling siblings finally come together while performing a half-forgotten childhood song.

In the cute opening scene, Parris lends Southern charm and emotional depth to a South Carolina waitress without turning her into a Dixie stereotype. Wilfert is simultaneously caustic and coy as a single woman suppressing the urge to flirt with a stranger at the Alamo. Ryan Hilliard delivers a moving performance as her stroke-ridden grandfather, and Jonathan Hammond is shyly winning as the object of her desire. A solo scene featuring a UFO enthusiast spending the night in the desert outside Roswell, N.M., is too predictable, but Stanley Bahorek endows the geek with goofball sweetness.

Bahorek and Bryce Ryness bristle with adolescent testosterone as a pair of Dalton kids playing hooky at Coney Island. They vigorously put across a ballad of braggadocio that features infectious rock rhythms and Mathias' best verses. But the broadness of their macho posturing too obviously foreshadows their suppressed mutual sexual attraction, which manifests itself during a ride in the haunted house. Their sequence could do with some cutting as well.

The evening finishes with an underdeveloped segment featuring Champlin as a nervous bride and Hammond as a mysterious tour guide offering a hidden side of Niagara Falls. Cummings' clever staging saves this slight piece: Set designer Dane Laffrey's scaffolding is shifted around the space to suggest the rugged terrain at the falls.

R. Lee Kennedy's lighting, which employs everything from video-camera illuminations to fluorescent tubes stretched across the floor, imaginatively sets the various scenes. If the authors work on the weaker pieces, "See Rock City" could end up as a solid tourist attraction.


Presented by Transport Group at the Duke on 42nd Street, 229 W. 42nd St., NYC. July 25–Aug. 14. Tue.–Fri., 8 p.m.; Sat., 2 and 8 p.m.; Sun., 3 p.m. (Additional performance Wed., Aug. 4, 2 p.m.) (646) 223-3010 or www.new42.org. Casting by Alan Filderman.