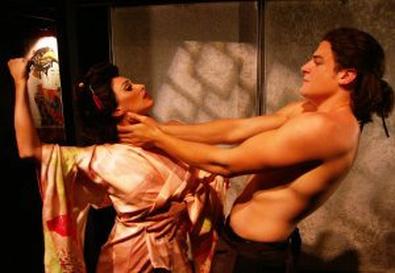 This is Blank Theatre's sixth production of a musical by visionary librettist-songwriter Michael John LaChiusa. His collaborations with founding artistic director Daniel Henning have been a marriage made in artistic heaven, and this latest effort is no exception. Like the Blank's first LaChiusa production (1998's "Hello Again," based on "La Ronde"), this 2005 Off-Broadway show combines provocative vignettes derived from classic literature. Henning adds a stunning cast of five and a marvelous five-member combo helmed by music director David O.
The evening's three stories are based on the works of Japanese short-story writer Rynosuke Akutagawa. LaChiusa deftly wove these provocative tales into a thematic tapestry that explores the gap between seeing and believing. Dark and brooding—dealing with lust, murder, and crises of faith—yet wryly amusing at times, the mini-narratives beautifully complement LaChiusa's masterful music and lyrics, ranging from operatic ballads through jazz to Broadway bombast.
The sung-through curtain raiser "Kesa & Morito," briefly preceding both acts, is set in medieval Japan. It tells of illicit lovers who secretly plan to kill each other. As the ill-fated couple, Lesli Margherita and Doug Carpenter are in splendid voice.
The second playlet, "R Shomon," loosely follows the plot of Akira Kurosawa's Japanese film classic "Rashomon." In 1951 Manhattan, a rape and a murder have occurred, and four people—a ruthless thug (Carpenter), a flirtatious wife (Margherita), the ghost of her murdered husband (Perry Ojeda), and a movie-theater janitor (Jason Graae)—tell vastly different versions of what happened. Carpenter gives a bravura portrayal with a hint of Marlon Brando, and his operatically trained voice soars in this emotion-charged piece. Margherita is likewise brilliant, pulling out all stops as a duplicitous femme fatale. Ojeda's take on the ill-fated gangster husband is terrific, and perpetual funny man Graae superbly flexes his dramatic-acting muscles as the suspiciously nervous janitor. Suzan Solomon offers first-rate comic relief as a daffy medium.
The best of the vignettes, the funny and touching "Glory Day," set in New York after Sept. 11, tells of a disillusioned but mischievous priest (expertly acted and sung by Graae), who spreads the word that a miracle will occur in Central Park. The focus is on the reactions of desperate citizens (fine turns by Carpenter, Ojeda, and Margherita) to this trumped-up beacon of hope. Solomon shines as a cynical atheist-socialist, making the most of two of the show's best numbers.
Presented by the Blank Theatre Company at the 2nd Stage Theatre, 6500 Santa Monica Blvd., Hollywood. April 17–May 23. Thu.–Sat., 8 p.m.; Sun., 2 p.m. (323) 661-9827. www.theblank.com.