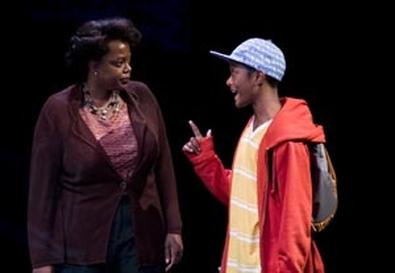 Fourteen-year-old Khadim Diop is the heart of "Seed," carrying the show as Chee-Chee, a neglected, wise-beyond-his-years kid from New York City's Washington Heights projects who befriends overly involved social worker Anne Colleen Simpson. Diop is a promising young actor, and his performance is the reason to see this show.

Of course, an actor's work, particularly that of a young actor, is also a credit to the director, and Niegel Smith has created a gritty, authentic portrait of Harlem from Radha Blank's colorful script. Smith clearly knows how to get the best from his actors, as all five cast members deliver rich performances. Bridgit Antoinette Evans personifies Anne right down to her unsure mannerisms and wavering voice, showcasing the character's deep-set insecurities. Haunted by the unfinished cases in her file, Anne goes on leave from her job, but she can't seem to put everything behind her. She constantly visits ex-client Rashawn (a moving Pernell Walker) in prison and finds someone new to help Chee-Chee. His mother, Latonya (pronounced La-TONE-ya), portrayed expertly by Jocelyn Bioh, is wary of Anne's motives, but she's too busy trying to earn a living as a single mother to care about her son's education or whereabouts. (Her monologue at a Duane Reade drugstore is a comic highlight, and Bioh's precise timing is exemplary.) Chee-Chee totes "David Copperfield" with him everywhere, quoting entire paragraphs, and he finds his very own Miss Betsey in Anne. The two are "dappies"—a word Anne concocts to replace one that begins with an N—and Chee-Chee gives Anne a reason to be, one that she takes a tad too seriously. Jaime Lincoln Smith rounds out the excellent cast as Chee-Chee's estranged father, Twan.

Blank's words are honest, and she incorporates freestyle verse seamlessly into the piece. The production runs too long, and the script could definitely use some tightening. However, Blank creates relatable three-dimensional characters who pierce the soul. Kate Freer's projections and Colin D. Young's lights work hand in hand to create the essence of subway platforms and Harlem streets; add Luqman Brown's sound design and the theater almost literally becomes Harlem.

Anne teaches Chee-Chee that a good question can open a window to yourself. Ultimately, the questions this play asks about race, social status, education, and family make it an important piece of theater.

Presented by the Classical Theatre of Harlem and Hip-Hop Theater Festival at the National Black Theater, 2031 Fifth Ave., NYC. Sept. 16–Oct. 9. Wed.–Fri., 8 p.m.; Sat., 2 and 8 p.m.; Sun., 3 and 8 p.m. (212) 352-3101, (866) 811-4111, www.theatermania.com, or www.classicaltheatreofharlem.org.