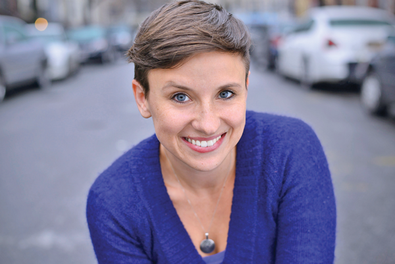 Emily Best created Seed&Spark, an interactive crowdfunding site that lets contributors feel part of the independent filmmaking process while supporting the indie world.
The layout of Seed&Spark is great. What prompted that form of online fundraising?
We wanted something that was really similar in scope to Kickstarter, so we made a wedding registry. That's what it's based on. And people love the aspect of shopping and knowing exactly what their contribution means. They love knowing if they have something in the garage, they can just give it to you.
Do you ever worry about crowdfunding over-saturation?
I think this is the new arts economy. People really understand that you have to vote with your dollars for the culture you want. If I care about the arts, I'll fund the arts that matter to me. And what's awesome is I don't have to give a lump sum to some big arts organization anymore; I can give it directly to the specific art and artists that appeal to me. Filtration is a really important skill in the digital age. It can't just be "Oh, I have a Kickstarter." They should be saying, "They're making this amazing movie, and I can get involved!" That's definitely our goal.
Do you curate the projects?
We curate based on what to me is a great metric of success: Can I effectively communicate to the community what I am offering? We are an audience-building tool, more than anything. We want to help filmmakers build their audiences throughout their careers.
Seven of the first batch of 14 films just announced they reached their fundraising goals. Was that surprising?
We're over the moon about it! We wanted all 14 projects to be successful but because we're a beta site and we're still testing, we learned a lot about what it takes for a project to be successful. Kickstarter gives a lot of data about how their projects are funded or not funded, and we didn't expect our platform would reveal all the same things, but we're now putting together a whole bunch of information we can make available to anyone who wants to read it.
Any immediate plans to move out of the beta stage?
We have a huge slate of features rolling out that will involve social viewing, where you can watch movies with friends from different locations, and until all of those have been tested and we can tinker and work on them we won't shed our beta status. People can be very forgiving about beta status! I know that however well you think it will go or how prepared you think you are, it won't go that well and you won't be as prepared as you think you are. Nothing major really breaks; it's just sort of little nuances that we're learning along the way. But I don't want to drop the beta until I think we're a well-oiled machine!