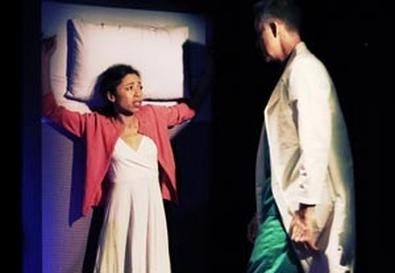 When this particular Alice tumbles down the wrong rabbit hole, she lands with a thud in the middle of the uniquely muddled, ever-unpredictable mind of Jacqueline Wright. Alice's surreal journey through a crisis point in her life is akin to awakening from a disturbing dream; the only difference is, the details cannot be forgotten by the time one sips that first cup of morning coffee. Wright's visions stay floating on the surface of the brew, giving one pause that the world may not be as easily maneuvered as we as a species would cavalierly like to believe. Without even the most diaphanous filter, Wright takes aim at the banality of everyday life as the world implodes, scoring a direct hit at our collective comfort zone.
Alice (Michelle Hilyard) struggles with her humdrum domestic life, coming to grips with the fact that "she's in a love story, but there's no love in it." She becomes a target for a mad mercenary (a spectacularly bizarre Darrett Sanders), who murders her customer service co-workers at a kitchen-sponge manufacturer before setting off charges to annihilate the place. Later, she inexplicably finds herself home again, raped, ravaged, and traumatized, at which point her painfully oblivious hubby (Tristan James Butler) cheerfully asks, "So, how was your day?"
With the imagination of director Adrian Alex Cruz leading an outstanding, bravely committed cast, and a production blessed by an inventive design team able to create with bare-bones simplicity, Wright's fantastical situations careen into life. Alice's current tumble is a haunting exploration of yet another woman on the verge of a nervous breakdown—except this time from inside the victim's nightmarishly delusional life.
The wonder of Jacqueline Wright is that no matter how dark, no matter how disturbing and bleak is her vision, no one since Tennessee Williams has been able to communicate his or her angst as poetically—and humorously—as she. This may not be Wright's most memorable effort in an impressively fertile body of work, but it's still a work by Wright, which makes it worth studying. Missing even one blinding facet in the rapidly spinning mirror ball of her mind isn't an option for anyone who appreciates artistic expression at its most courageous and personally revealing.
Presented by and at Theatre of NOTE, 1517 N. Cahuenga Blvd., Hollywood. Nov. 4-Dec. 17. Fri.-Sat., 8 p.m.; Sun., 7 p.m. (Also Thu., 8 p.m., Dec. 1, 8, and 15.) (323) 856-8611. www.theatreofnote.com.