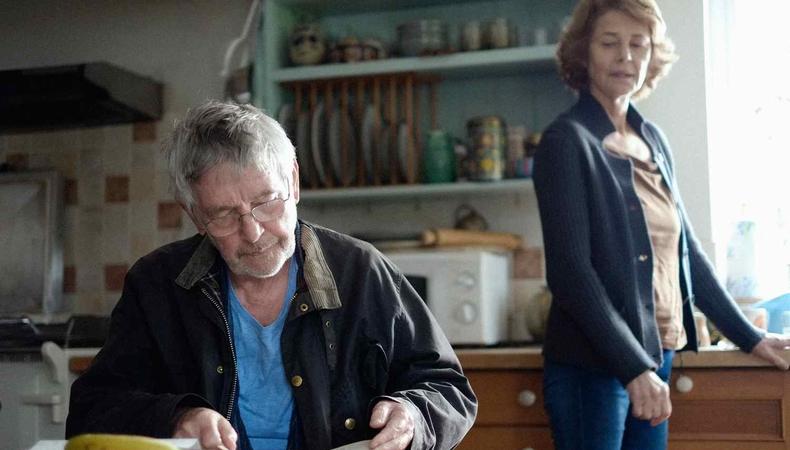 Andrew Haigh is puzzled that more films aren't made about the elderly. "We cannot escape getting older," the filmmaker points out. "I think we're very afraid, aren't we, of getting older? That's part of the problem. We're all so scared of aging and death that we don't want to be confronted by it on the screen. So we try to pretend it doesn't happen." Part of the Hollywood obsession with the young and the new, he suggests, has more to do with fearing the inevitable. "We'll probably be a lot happier as people if we can confront our own aging process and our own mortality."
Whatever the reasons, Charlotte Rampling's staggering performance in "45 Years," the British indie written and directed by Haigh (also the brain behind "Looking" and "Weekend") opening in select theaters Dec. 23, proves that more great roles should be created for veteran actors—or at the very least, for Rampling. The 69-year-old critical darling plays Kate, a woman who begins to doubt the foundations of her marriage to Geoff (Tom Courtenay) when he receives a letter bearing surprising news. Based on David Constantine's short story "In Another Country," the film builds to the couple's 45th anniversary celebration, as Kate struggles to reconcile her happily married existence with the ghosts of what might have been.
"The thing about Charlotte is, she's absolutely dedicated; she has such commitment to only doing things she cares about," says Haigh. "She's just so determined to do roles that she feels challenge her, that she'll work with interesting people, that she'll get to explore things she hasn't explored, that she's scared to confront." This project offered Rampling all of that and more. "There's a strength in her as an actress that's really, really interesting. It was so important for me that the Kate character didn't feel like a weak person. She has an inner strength, which almost makes the tragedy greater.... Those roles don't come up very often for someone of that generation."
The same could be said for Courtenay, who turns in as nuanced a performance as his co-star. Haigh didn't write the parts with either actor in mind—"because you don't know if you're going to get the person," he says—but together the two manage to crank his subtext to a 10 on the Richter scale. What makes "45 Years" so simultaneously microscopic and epic is its emphasis on how partnerships define identity; even those who haven't been married for nearly half a century can relate to the notion that a change in a relationship's dynamics can necessitate a change in oneself.
"The story on one level seems quite simple, really," Haigh explains. "You might think it's about jealousy. But then underneath, it's so much more messy and complicated." With any long-term relationship, he adds, the foundations on which it's built can crumble "when you start to focus in too much on things, into how you met, and why you stay together, and how much you know someone.
"Hopefully there's a kind of disconcerting nature to the film that only really has its effect when you leave the cinema." Thanks to a gut-punch of a final shot, in which Kate's grappling with the irrevocable reaches its breathtaking conclusion, Haigh guarantees that effect; "45 Years" burrows its way into the audience's minds long after the credits roll. "I love films that kind of linger in your brain. That's what I always wanted people to feel when they sit down and think about it. And then would maybe cry on the bus [later] or something like that."
Inspired by this post? Check out our film audition listings!