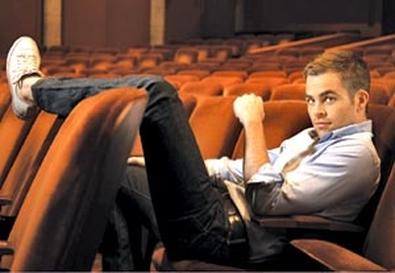 In 2007, Chris Pine was appearing in a Los Angeles production of Neil LaBute's
Fat Pig
. He played the bad-boy pal, that cocky kid in the office who bends the rules for the sport of it. It was a secondary role, but Pine absolutely nailed it—a young actor to watch.
And people were indeed watching. He caught the attention of a Paramount Pictures exec who attended the Geffen Playhouse production. And Paramount was soon to be in need of a young Captain James T. Kirk.
Also in the Geffen audience were the director and CD in need of actors for 2008's
Bottle Shock
. They nabbed Pine for the little film about an upstart Napa Valley winery in the sleepy 1970s, in which he was unrecognizable as a sunny hippie, the antithesis of his LaBute character. Playing opposite Alan Rickman in
Bottle Shock
, Pine apparently did what he is doing to this day: He spent his off time discussing theater. As Rickman last year recalled from their time on the set, "Chris and I talked and still do talk about theater and things he wants to do in the theater, which is reassuring in terms of somebody who just finished doing
Star Trek
and is about to have all that's going to land on him through that—that he's still got his eye fixed on a different horizon, or a parallel horizon. He's a serious, and really talented, actor."
Yes, the publicity and fan adoration from
Star Trek
has landed squarely on Pine. Nice, but seemingly not his goal in life. When Back Stage spoke with him, he was into the second day of rehearsals, back at the Geffen Playhouse, working on a lead role in Beau Willimon's
Farragut North
. As Pine says, "At the end of the day, I want a long career, and I want a career made up of many and diverse roles." The 28-year-old is well on his way.
Roots Wide and Deep
Pine comes from a family of actors. His father is Robert Pine; his mother is Gwynne Gilford, a child of actors. The young Pine had wanted to play sports, but as a self-described late bloomer, that was not to be. During Pine's student days at U.C. Berkeley, a friend suggested he audition for a production of an obscure Irish play. Pine won the role and played about 20 different characters—using different dialects, playing women and old men. His parents, he says, were proud and supportive. They were also wondering how he'd like the fallow periods of an acting career.
Pine says that growing up in Los Angeles in a family of actors, he had no "romantic visions" about the financial aspects and the artistic aspects of acting. As he noted then, and now, "There is unfortunately no correlation between hard work and success, and the word
deserve
has no place in the acting business, unfortunately."
He watched his parents continue to study acting and his mother to teach. Pine would tag along and help coach her students. A stickler for technique, as he terms her, she gave him birthday and Christmas gifts of books by Boleslavsky, Stanislavsky, Michael Chekhov, Uta Hagen, Stella Adler. He recalls, "I was passionate about it, insofar as I'm a perfectionist and very hard on myself. So I read them more out of thinking I should read all of these before I get into it—and then talking it out with my mother and working on scenes."
One of Pine's online biographies states he studied at American Conservatory Theater. "No, my biography is all the lies that I made up when I began and had to make up a résumé," he says. In truth, his Berkeley professor was an adjunct at ACT. Pine took one acting class in college; "the rest of the time it was just experiential," performing in plays throughout the year. Later he studied with Ivana Chubbuck, Howard Fine, and recently with Nancy Banks and Sandra Seacat.
But after college, he returned to Los Angeles and, he says, "was very lucky." His father, on an audition for
Gilmore Girls
, asked casting directors Jami Rudofsky and Mara Casey if they would help out his son. They did. "These ladies are the best, and I owe them a tremendous amount," says Pine. They brought him in for a guest spot, and he went to producers. He didn't get the part. But he got his first taste of being in the room—with CDs, with producers, even with other actors. "I think many times there's stuff that no acting school will ever teach you, and you just have to be a self-aware artist," says Pine. "Sitting in an audition room can be the most destructive experience ever, so you have to know how you operate. If it does you a service to talk to another actor in the room, to get comfortable and loosen up, then great. But if that dissipates your energy, if that makes you feel competitive, you have to be very vigilant—the combative egos that happen in an audition room that can come across as quite nice and quite approachable. You just have to be conscious of that. All great learning stuff."
Making Luck Happen
So the unemployed Pine began working at a restaurant, which he says he "just abhorred with every ounce of my being and soul." It galvanized him. Apparently the brutality of pilot season was far preferable. It was time to find an agent. And that came easily. He openly recognizes the part luck—"call it nepotism," he says—played in that process. Craft played a huge part, too. Even today he articulately discusses technique, still happy to have an ever-growing bag of tools but not leaning too heavily on anything striking him as extraneous or forced or too intellectual.
The "luck" that brought him agents had begun percolating when Pine did a season at the Williamstown Theatre Festival. As he recollects, the associate producer at the time, Jenny Gersten, took a liking to him and secured him a general with a network head of casting. The exec referred him to talent agents at SDB Partners, as did Casey and Rudofsky. Ah, but his father was with a similarly named commercial agency, so young Pine thought there was a mixup and never called.
Meanwhile, he recalls, "I had had a series of really awful, debilitating meetings with agencies. I'm sure many of the actors reading this magazine will attest to the fact that when you're in a position of powerlessness and someone has power, depending on the person you're meeting with, either there's empathy there or there's use of power that is completely heinous. I have a couple names in my pocket and a couple memories that serve me very well."
The head of casting came into the restaurant where Pine was working and asked if he had contacted SDB. Pine revealed his confusion over names. The persistent exec emailed SDB on the spot, Pine had an audition about a week later, "did a scene for them, and then they called me up and took me on; again, very lucky." Pine is still represented by SDB. He says, "This is what I'll say about that: I'm a firm believer in loyalty. At the end of the day, this is a business, and you are a business, and I have felt in my career it has served me to stay with the people who started with me because I believe they're as passionate and as dedicated as they've ever been. But to each his own."
The Young Voyager
Pine got his pilot season in, winding up with a few lines on
ER
to add to his résumé. And then he returned to Williamstown for a second season. "Pilot season had not gone well," he says. "So I decided to move to New York after reading this article in Vanity Fair about Dustin Hoffman and Gene Hackman and Robert Duvall living together and doing this starving-artist thing, and I was just determined to be a starving artist at any cost." Pine gave up his apartment and stayed in New York for a few weeks, "just taking in the New York scene, which I felt to be more exciting artistically than I felt L.A. was, and that was just because I hadn't really found the theater scene in L.A., which doesn't take hunting but it's just more—you have to be more determined."
He returned to Los Angeles to explain to his agents his plan for poverty. "And as things always seem to work out once you let go, I let go completely, my auditions started to really click, and I went into the room feeling empowered," he says. He booked two guest spots: on
CSI
:
Miami
and on
The Guardian
. "I played a serial rapist-killer on
CSI
, and I played this kind of latchkey homeless orphan kid a couple sandwiches short of a picnic on
The Guardian
, playing real characters—and I say characters in quotes. And then I got this role playing the love interest in
The Princess Diaries 2
, which was the last thing I expected to get, because I had just come from playing the serial rapist and the latchkey kid."
Feet on the Ground
The rest of Pine's career has thoroughly been reported by the world's press. He takes his current media status sensibly and kindly: "If the worst thing that happens in your life is that you're asked the same question repeatedly for a month, and people look very interested while they're talking to you and wanting to know about you, think about every day you worked at that restaurant and every day you worked as a delivery man for Domino's, every day you were a host, every day you were a bartender and worked until 4 a.m. And then just be very grateful."
Pine is now happily immersed in
Farragut North
, preparing for a June 24 opening as the play's central figure. Pine plays Stephen, a young overachieving press secretary working for a presidential candidate. Stephen may be gifted and decisive, but he's human. Cleverly manipulated, he stumbles and falls under the massive wheels of politics as usual.
Apparently not often without a pile of scripts to consider, Pine says that when he read this one, he thought, "Goddamn, that's a piece of writing." Then he lovingly patted it and set it down. "It took me for such a great ride," he recalls. "And I love the character, I love the hubris, I love the whole idea of this guy who's like a lion in his den, just taking up space and owning it in the beginning and by the end is this caged animal desperate to get back to his position of power. And I was scared of it, which like anyone will tell you, once you feel that thing, you'd better jump into it headfirst." He was even more scared when he realized he had only one week of rehearsal and one week of tech. But the years in Williamstown are serving him well.
Not scared was the playwright. Says Willimon, "I could tell from the first moment I met him that he was perfect for the role. And that's only proven to be the case." Willimon had not seen Pine on stage, so the scribe turned to others for their opinions and recollections of Pine—including Geffen artistic director Randall Arney, directors and others at Williamstown, and Farragut's director, Doug Hughes. "It's not very often that you get an unequivocal, 100 percent unanimous, 'This guy is amazing, a pleasure to work with, has such a raw and deep talent, and you have to get him to do your play if you can,' " Willimon reports.
Pine, who in his younger days felt marking up a script in prescribed fashion couldn't serve him, has now marked Farragut's script until it's unintelligible. As when he performed in Ronan Noone's one-man
The Atheist
Off-Broadway in 2006, Pine calculated how long he had to memorize. "I knew I wanted to be off book by the time rehearsal started," he says. "I usually don't like to do it that way. I like to go into rehearsal and find it organically, and by the time week three comes around, you basically know the lines, and then you spend a week and a half solidifying, and then you're good. But I knew I had to spend that week doing the actor stuff and not worrying about lines." He is also working with two coaches on the role, "someone that I could jam with, that I was on the same page with, that was not a slave to technique but rather had a tool bag themselves."
Currently, the actor is getting timelines down, creating backstories about particular moments, thinking about the quality and length of relationships, particularly with the character played by Pine's co-star Chris Noth. "Certainly it's like Acting 101," Pine reflects. "Anytime there's a dash after a sentence, or an ellipsis, you'd better know what you're about to say, for your own sake, because if your fellow actor doesn't cut you off at the right time, you'd better have something coming out of your mouth. For phone calls, you'd better know what's happening on the other end, otherwise you're not hearing and reacting."
With Hughes, Pine is simultaneously considering the central question of who Stephen is and a little piece of backstory and a secret to justify the play's crucial moment. "I couldn't really justify it to myself," says Pine. "It was something very nebulous, like it's very gratifying that someone might want to meet with you. I can't play 'gratifying to my ego.' It has to be something more specific to me that essentially gets at that same thing but comes at it from a different angle to be as vague about it as possible. That's the crux of the play. So I'd better sell it and understand what the hell is going on there, for sure."
Whether rehearsals are focusing on the first scene—with its clipped, overlapping dialogue and the technical challenges of also eating and drinking and making that spontaneous—or whether Pine is pondering Stephen's attraction to a young intern, played by Olivia Thirlby, the actor is focused on making his work specific, real, fresh, nuanced—all in the shortened rehearsal schedule. And meanwhile, although actors must "feel in the moment and whatever grabs you," he says, even that must be tempered so you don't throw your fellow actors off during a performance. Pine says he also wants to feel ownership over
Farragut
North's language, beyond its sheer volume of dialogue. As he says, "There's always something to learn. You always want to be better. Always. You want perfection. That's the quest. I'm positive I'll never get there, but that's the goal."
Farragut North
runs June 24–July 26 at the Geffen Playhouse, 10886 Le Conte Ave., L.A. Tickets: (310) 208-5454 or www.geffenplayhouse.com.
OUTTAKES
> Meditates or otherwise relaxes before auditioning or performing onstage
> Admires Daniel Day-Lewis for his artistic integrity, Paul Newman for his philanthropy, George Clooney for his understanding of the "oftentimes troublesome marriage of commerce and art," and Meryl Streep for her craft
> Recalls Gene Hackman's appearance on
The Actors Studio
: "He said something near the end, first that he can't sit through a movie of his, which completely resonates with me, but also he's, like, waiting for the acting police to come and take away his acting card. If Gene Hackman is going to say that, I think it's fair to say that most of us out there feel the same way."