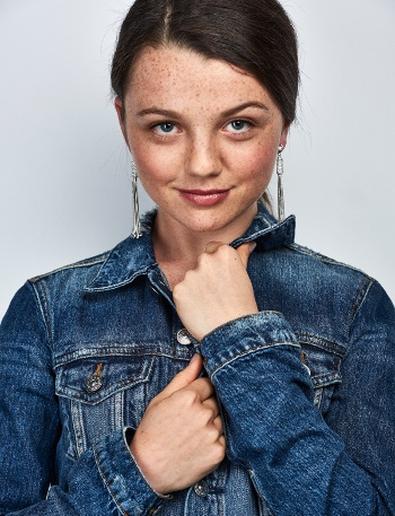 At 19, New Zealand–raised actor Stefania LaVie Owen is already making her mark in the States with the just-wrapped first season of "Chance" on Hulu and supporting turns in "Krampus," "The Carrie Diaries," "Coming Through the Rye," and "All We Had" with Katie Holmes.
On playing Hugh Laurie's daughter.
"[My character, Nicole,] has a really great relationship with her dad and looks up to him a lot. In a lot of scripts that I've read, you get the rebellious teenager or the sexualized teenager, but it's nice to have somebody different. I can really relate to her."
On choosing a challenge.
"I love to see scripts that are really different and I love to challenge myself and have completely different characters. I like to experiment. As long as it's different, and of course the quality of the script has to be good, that's what I look for."
On sticking to her roots.
"When I went to L.A., I met a lot of people who were in the business who kind of lost themselves. I find that it's very important to be strong in who you are and don't let people sway who you are. I'm very lucky that I have a really supportive family, I have amazing friends, and I have a very grounding home to go back to, so that's really helpful for me. But I think that if you're passionate about acting, you also have to remember to stay true to who you are and not forget the people back home. You really have to stay strong and be who you are and not get swayed by the industry."
On the importance of a good reader.
"A lot of people don't like doing [taped auditions]. Sometimes it's kind of a hassle because it takes longer than just going into the room. When you're doing an audition at home, you sometimes can be doing it for a very long time because you're seeing yourself and you're really picky about it. It really helps to have a good reader. For me, my mom is actually very good at reading, and so my mom helps me with my auditions. But as long as you have a good reader and you have trust in that reader, you can make a connection with them and it'll hopefully translate on the screen."
READ: "8 Steps to a Perfect Self-Tape Audition"
On learning behind the camera.
"When I was doing 'The Carrie Diaries,' I was able to be on the other side of the camera [when] we were auditioning the boyfriends. It was a really great experience for me because I got to see the other side. Every boy that came in was so different. And whenever they'd leave, the casting director was like, 'Oh, that boy was so, so good. He's not right for this role, but let's think about him for that role coming up later in the season.' That in itself, just sitting in and listening to what the casting director had to say, was really interesting because...of course it's about how you perform in the room, but you're either right for it or you're not. So all you can do is be yourself, do what you do, and just breathe. At the end of the day, they're looking for something extremely specific. So as long as you breathe and don't take things seriously, [you can] just go in and go out and hold your head high."
Want to land a job on a Hulu series? Check out our TV audition listings!