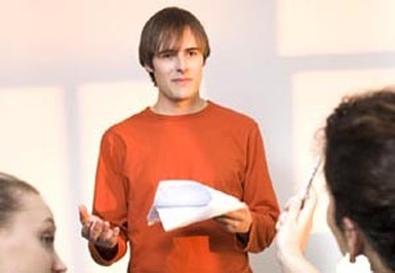 Los Angeles–based casting director Deborah Aquila of Aquila/Wood Casting has a special connection with actors: She studied acting at NYU's Tisch School of the Arts and the Stella Adler Conservatory in New York. She also runs an acting school, Aquila/Morong Studio for Actors, with fellow CD Donna Morong. Aquila's long list of film and TV credits includes Primal Fear, which introduced audiences to a young Edward Norton; the groundbreaking indie flick Sex, Lies, and Videotape; the Steve Carell comedy Evan Almighty; the hit Showtime series Dexter; and hotly anticipated films like The Time Traveler's Wife, The Ugly Truth, and Five Killers, the last starring Katherine Heigl and Ashton Kutcher.
From Acting to Casting
"I found out early in my college career that I was too afraid to pursue acting. In performance, there was too much fear for me. I didn't wake up in the morning not able to breathe if I didn't do it. However, my day was made brighter and happier when I had interaction with actors and the creative process via film, theatre, whatever it was at the time. I eventually knew that that was my calling, as it were: to teach, to be with actors, to encourage, to support. That led into a casting career."
The Talent Search
"I just did Fame. That went all over the country. To find new talent in young people, you do a search and you dig, dig, dig everywhere. You go to theatre groups, you go to dance companies, you go to churches, community centers—anywhere that has a theatre group, we're there. As for adult talent, it's role-specific. I'm a theatre rat. That's a great pleasure for me: to find somebody in the theatre that I didn't know before. And then, of course, I would like to get to know them, so I call them in for roles and we get to know each other's work a little bit. You prescreen all over the country when you're doing a major film. And we do accept tapes when we're casting. For instance, on Fame we did a worldwide search, so we had a website and people sent in tapes."

A Safe Space
"I love to work with actors—I love actors. I want to create a safe environment in my office. Truly, it's the only way, I think, for the creative process to work. If you create an unsafe space, you're not going to get the very best you can from the actor. You want to create that space where it's truly their audition. If they come in and they're prepared, I will provide the safest experience possible. I read with everyone; I have somebody who tapes for me so my focus is never taken away."
Audition Prep
"Whatever your process is, do it. Read the script. Prepare however your teachers taught you to prepare and let us see the depth of your performance, because that's going to help us sell it to our team. That's what we do: We embrace talent, and then we have to sell it on the other side. When we get excited about somebody, that's a lot of energy put out to our producers, our director, our studio by saying, 'Please trust us on this, because this is exciting.' Actors have to help me do that for them."
How Not to Be Nervous
"It all comes down to preparation. You know what I'd love actors to know? We're on their side. Truly, I can't do my work unless they do theirs. We're the advocates, not the adversaries. And with me, they should never, ever be nervous. It doesn't help them, and it certainly doesn't help me, because then I get nervous for them. I know that that's a lofty thing to say, because everybody gets anxious. But I really believe that with the right preparation, you have something to hold on to, then you can relax into the role and have fun. It should not be torture. I should be able to see how much you love what you do."
Promoting Yourself
"Get into a theatre piece. Do something clever on the Net—get exposure that way. If you have to write your own thing and get it up on YouTube, do it. It's a whole new technology out there. Post cards are fine, mailers are fine, but truth be told, we get an enormous amount of paper in this office. Go green, kids."
Honing Your Craft
"Jazz musicians play every day. That's my best advice. Do your craft every day, wherever you can do it. If it means doing it in class three times a week, absolutely. If it means theatre work, absolutely."
Casting Challenges
"We've had very challenging films over the years. But those are the things that make it worth it. Primal Fear was a challenge. Fame was a challenge. Twilight was a challenge. House of Sand and Fog was a big challenge. When you're casting an ethnically diverse film, you really want to be as pure about it as you can be, as authentic, as respectful. We reached out into the Iranian community, made some contacts in the community, reached out to friends, went to theatre groups, and were generally welcomed. Folks within the community would actually reach out to me and say, 'Have you seen this person? Have you come to this show?' It was lovely. It was really a rewarding experience. And it broadens your horizons. With each film that you do that way, you get introduced to a new culture. It opens the world up a little bit more."
Why She Can't Pick a Favorite Discovery
"I get really shy about that. I celebrate everyone—I really do. Their talent was there for the discovery. It has everything to do with the actor. It truly is about them. It's their work that should be applauded, really and truly. That's what makes us excited to come to work every day."