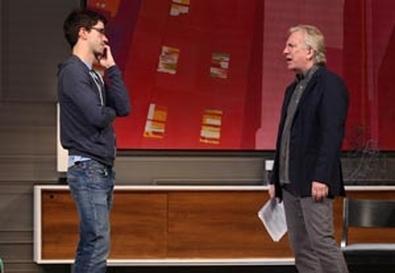 The prospectus for this "Seminar" certainly sounded promising: Alan Rickman, the master of the bloodcurdling sneer and the stinging retort when playing Snape, the withering wizard instructor in the "Harry Potter" franchise, starring as a ruthless writing teacher who delivers truthful if brutal criticism to a quartet of young scribes portrayed by the able likes of Lily Rabe and Hamish Linklater. What's more, the play is by the prolific Theresa Rebeck, author of such insightful and enjoyable works as "View of the Dome," "The Butterfly Collection," and "Mauritius," and the director, in his Broadway debut, is Obie winner Sam Gold, who has captured the natural rhythms of everyday life in his collaborations with Annie Baker and other rising playwrights. Too bad the finished product is so uneven.
The play starts off promisingly enough with witty dialogue among the four students about the struggles in making a name in the fiction biz, but the laughs are too easy as pretentious Douglas (Jerry O'Connell) spouts pompous pronouncements and promiscuous Izzy (Hettienne Park) gratuitously exposes her breasts while nerdy Martin (Linklater) and prim Kate (Rabe) seethe with repressed mutual sexual attraction. The action picks up considerably when Rickman enters as the cynical Leonard, a once respected novelist who now only writes magazine pieces on war-torn hot spots like Somalia and leads the occasional seminar for promising young authors. He proceeds to rip into the class's offerings with offhanded disdain while launching into tales of his international adventures.
This could have worked as a subtle study of the difficulties and joys of the writer's life, but Rebeck is guilty of the very flaws Leonard finds in his students. In an early scene, he chastises his class for creating characters so whiny and self-pitying that no one would want to read about them. But you can't get much whinier than Kate, who is crushed by Leonard's dismissal of a story she's been working on for six years, and Martin, who is so unsure of himself that he refuses to present any of his work, despite having paid all his rent money for the course. Their actions and those of the others seem forced, intended to create conflict rather than springing organically out of character. It's never made entirely clear why Martin won't share his work or why Leonard gave up on his fiction.
Rebeck also mixes in predictable romantic entanglements, power plays, double-crosses, and secrets, including the plot device of a fictional memoir supposedly penned by a minority author but actually written by a privileged white upper-cruster. We've already had one play this season employ that device, "The Submission," and there have been so many others recently that it's practically become a subgenre.
There are consolations, chief among them Rickman, who wisely understates Leonard's prickly intelligence, colossal ego, and enormous self-loathing. The actor is absolutely delicious as Leonard slides a metaphorical knife in so smoothly, the victim can't even feel it. As he delivers a blistering assessment of a student's bleak future, it only gradually becomes apparent that the teacher is speaking about himself. This is the kind of part that could have been played with fireworks, but Rickman sounds subtle and beautiful grace notes. Linklater gives spine to Martin's neediness, Rabe lights a fire under the seemingly placid Kate, O'Connell lends depth to the jerky Douglas, and Park gives Izzy a refreshing spark.
Gold maintains a steady balance between broad comedy and sharp character study, and David Zinn has designed character-revealing sets and costumes, but they do not entirely make up for Rebeck's obvious devices and tricks. Ironically, in this play about writers, we can see the writer's hand too clearly.
Presented by Jeffrey Finn, Jill Furman, John N. Hart Jr. and Patrick Milling Smith, Roy Furman, David Ian, David Mirvish, Amy Nauiokas, and James Spry at the Golden Theatre, 252 W. 45th St., NYC. Opened Nov. 20 for an open run. Tue.–Thu., 7 p.m.; Fri. and Sat., 8 p.m.; Wed. and Sat., 2 p.m.; Sun., 3 p.m. (Additional performances Mon., Nov. 21, 8 p.m., and Sun., Dec. 4, 7:30 p.m.; no performances Thu., Nov. 24, and Tue., Nov. 29.) (212) 239-6200, (800) 432-7250, or www.telecharge.com. Casting by MelCap Casting.