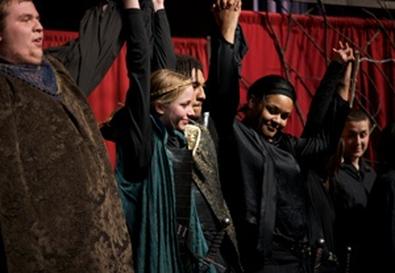 "You've been sleeping with a donkey," asserts teaching artist
Josh Aaron McCabe
. "Is that how you want to spend your evening?"
The kids giggle and the young girl, playing Titania, launches into her speech with renewed passion. "'What vision have I seen? Methought I was enamored of an ass.'"
"Yes! Yes!," McCabe encourages her.
In a Pittsfield, MA church basement a group of 13-17 year-olds are rehearsing for a May 9 production of "A Midsummer Night's Dream." These youngsters are juvenile offenders-mostly guilty of minor transgressions-and have been sentenced to
Shakespeare in the Courts
.
Josh Aaron McCabe

Now in its twelfth year, the program represents a partnership between Shakespeare & Company in Lenox, MA, and the Berkshire court system. The premise is that Shakespearean stories have special resonance to teenagers facing significant crossroads. Further, the program encourages the kids to articulate their thoughts and feelings and to work collaboratively in an intensively positive environment. With the help of four teaching artists they rehearse a Shakespearean play three hours a day, four days a week for six weeks.
All the teaching artists, who act with Shakespeare & Company, say the program allows them to combine their social activism with their esthetics. Besides McCabe there are Jennie M. Jadow,
Ehren Remal
, and
Carmen-Maria Mandley
, all of whom are intensely committed to the initiative.
(L-R) Carmen-Maria Mandley and Kevin G. Coleman
Hurdles Galore
Still, the challenges are overwhelming, not least maintaining an easy-going tone "yet establishing boundaries," says Mandley. "We also don't want to sound like the teachers who have pissed the kids off."
A major issue is the teens' resistance to participating, at least initially. Most have never seen a play and they all read below their grade levels. Understanding Shakespeare, not to mention memorizing the lines, is a daunting task.
Kevin G. Coleman, founding member, director of education, and veteran teaching artist, says plays are selected on the basis of the intellectual and emotional level of the participants. "Henry V" is easier than "Hamlet" or "Julius Caesar," or "Macbeth" he maintains. Likewise, casting is based on personality. The most outgoing kid may play Hamlet, while the isolated youngster will be cast in a smaller role.
(L-R) Jennie M. Jadow and Ehren Remal
Not all the kids complete the program. There are drop outs and those who are disruptive are asked to leave. But the teens who can make it through the rigorous rehearsals and the high-pressure demands of a performance have scored in a way they never had before. "It shows they can finish something," says probation officer Nancy MacAuley, who serves as a liaison between the courts and theater. "And no one can ever take that away from them."
Coleman adds. "I can't say the program will 'fix' them or that they won't make bad choices. But they will make fewer bad choices. What's important is that the program changes these kids. Those who were fighting are now taking care of each other. They apologize if they've hurt someone. They don't run away.
(Enrico Spada)

"We did a production of 'Hamlet,' and the girl who played Ophelia, always dealt with stress by running away," he continues. "But the day of the performance, I saw her backstage holding a waste paper basket. She said she was so nervous she was going to throw up. But she wasn't running away. She was committed to the production and going to stay with it. That was a profound change."
Bringing Theater Skills to the Table
The teaching artists bring special skills to the table as actors, most pointedly, "knowing what it costs emotionally to play these roles," notes Coleman. "We understand the intellectual process in making a text clear, how to handle the physical elements on stage, and how to work collaboratively."
Jadow comments she would never ask the kids to do something she wouldn't do on stage. "When I relate my own experiences with Shakespeare, they're willing to give it a shot," she says.
McCabe, who has struggled with Shakespeare, says he knows what it takes to create a safe environment, so the kids can dare to find themselves within the parameters of Shakespearean language.
Remal talks about his ability to play a clownish role in order to make the kids feel comfortable. "I'm showing them it is okay to fail and to be silly and then to keep going. Am I playing a part? Yes and no. I adore these kids."
Enhanced Artistry
On the flip side, the teachers have grown as artists. Thanks to the youngsters' interpretation and, arguably, misinterpretation of language McCabe, for example approaches Shakespeare with greater understanding. "I now see his words in a more layered way," he says. "I believe that's made my performance more complex."
(Enrico Spada)

Coleman notes he's grown hyper-sensitive to interpersonal dynamics among kids who don't have the social skills to manage anger or mitigate hurt feelings. It's an awareness that he now brings to the stage as an actor and director.
Jadow suggests that directing these students has made her freer to take risks. "I find them really brave and I'm inspired by it," she asserts. "If a 13-year-old from Pittsfield can stand up and do a whole play than I, with the benefits of training and a professional crew surrounding me, can certainly do my job in a bigger way."
"Without knowing it, these kids have taught me to be more honest in my work," adds McCabe. "Because they don't have the skill sets, slickness, or savvy they are forced to be honest. I can fake my way through a role if I have to. It's nice to go back to something raw. If they can do it, I can do it."
Kids Talk
Similarly, all the kids report feeling differently about themselves. Charlene, 16, says the experience has made it possible for her to step out of her comfort zone and believes her new found confidence will serve her well in the future. "I couldn't act before and now I can."
Roger, 16, who was certain he wouldn't get along with anyone, has made some real friends. Further, he has discovered he is an actor. Mastering a skill is a new experience. "I'll go to college for business," he remarks. "I want to be an auto-mechanic. I'll open my own shop. Now I feel I can do something."
Fifteen-year-old Miranda, who wants to be a nurse, has overcome paralyzing shyness. "You can get over your fears," she says. "When I heard I had to come here, I thought I'd be defiant, rude, and not do anything. It turned out, I actually enjoy being here. I'll be back, even if it's not court ordered."