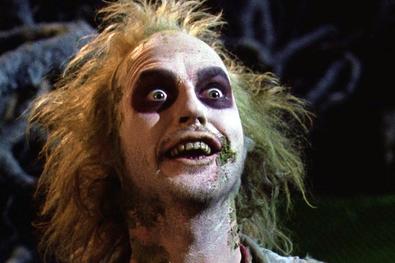 Tim Burton fans rejoiced last week with news that a "Beetlejuice 2" is in the works nearly 27 years after the original film. Lovers of the 1988 flick are (dare we say) dying for more of Michael Keaton's stripe-suited spirit, but we have to ask: What is taking the second film so long? Sometimes, in film franchises as in life, the good stuff is worth the wait. Here are 10 more movie sequels that took a decade (or longer) to arrive.
"The Godfather: Part III"
The third part of one of the most beloved trilogies of all time, "Part III" was released more than 15 years after its 1972 and 1974 predecessors. It picks up the story of Al Pacino's (now aging) mafioso Michael Corleone, but received mix reviews in comparison to the first two "Godfather" films. Still, Francis Ford Coppola's belated third installment earned seven Oscar nominations, and remains part of the classic film canon.
"Escape from L.A."
Kurt Russell donned the eyepatch once again to reprise his role as Snake Plissken in this 1996 follow-up to 1981's "Escape from New York." John Carpenter directed and co-wrote both sci-fi action films, and while some call "Escape from L.A." over the top, others ask: Isn't that the point?
"Blues Brothers 2000"
Released 18 years after the original film, this 1998 comedy revisits the same story all those years later. This time Dan Aykroyd's Elwood is released from prison after the loss of his brother (John Belushi's tragic 1982 death is worked into the plot), and sets out on a musical mission to reassemble their band. The film is dedicated to Belushi, Cab Calloway, and John Candy (all late stars of the first film), and includes guest appearances from Aretha Franklin, Eric Clapton, B.B. King, and more.
"Live Free or Die Hard"
While this Bruce Willis-starring franchise has grown to five (and counting) films, "Live Free or Die Hard" was only the fourth installment, released a full 12 years after 1995's "Die Hard: With a Vengeance." This 2007 popcorn-genre action film picks up where "Vengeance" leaves off, and introduces new characters in Justin Long's good-guy computer hacker and Timothy Olyphant's (very) bad cyber-terrorist.
"Indiana Jones and the Kingdom of the Crystal Skull"
Despite the success of 1989's "Indiana Jones and the Last Crusade," it took George Lucas almost 20 years to bring Indy back with this 2008 installment. Harrison Ford reprises his role in the fourth film, this time racing Cate Blanchett's evil Soviet agent on a quest for—you guessed it—a supernatural crystal skull. Karen Allen returns as Indy's long-time love interest Marion, and Shia LaBeouf joins the team as the adventurous couple's son.
"Wall Street: Money Never Sleeps"
Twenty-three years after his Oscar-winning performance in Oliver Stone's original "Wall Street," Michael Douglas returns as Gordon Gekko for this 2010 sequel. This time the film follows Gekko's release from prison and attempted reformation, and introduces new conflicts with the 2008 financial crisis. LaBeouf joins the action as Gekko's corruptabe future son-in-law and protégé, and Douglas brings the acting goods as the film's anti-hero.
"Mad Max: Fury Road"
Thirty years after Mel Gibson hit the road in "Mad Max Beyond Thunderdome"—the third film in the star-making "Mad Max" franchise—Tom Hardy stepped into the role for summer hit "Mad Max: Fury Road." Though not a sequel per se (director George Miller called it a "revisit" at the 2015 South by Southwest Film Festival), this critically acclaimed blockbuster brings audiences back to the world of the 1979 original.
"Jurassic World"
One of the summer's biggest hits with over $1.5 billion grossed worldwide, "Jurassic World" was a long overdue addition to the "Jurassic Park" series. While the most recent film in the franchise (2001's "Jurassic Park III") was largely panned by critics, "Jurassic World" received a warm reception and rising superstar Chris Pratt earned raves as good-guy Raptor-trainer Owen. It only took nearly 14 years.
"Crouching Tiger, Hidden Dragon: The Green Legend"
This follow-up to 2000's Oscar-winning "Crouching Tiger, Hidden Dragon" is making waves for more than its gorgeous cinematography and unbelievable martial arts choreography. In a major (and majorly controversial) move for the studio, Netflix has partnered with the Weinstein Co. and IMAX to make "The Green Legend" the studio's first day-and-date feature film release. Five years after its predecessor, the sequel will premiere simultaneously on Netflix streaming and in select IMAX theaters Aug. 28.
"Star Wars: Episode VII - The Force Awakens"
Though it won't premiere until Dec. 18, the buzz around this overdue "Star Wars" installment is almost worthy of its own film: The latest trailer was viewed over 88 million times in its first 24 hours. The fan frenzy makes perfect sense; it's been over 10 years since "Star Wars Episode III: Revenge of the Sith," and "The Force Awakens" promises to pick up 30 years from where 1983's "Return of the Jedi" left off.
Inspired by this post? Check out our film audition listings!