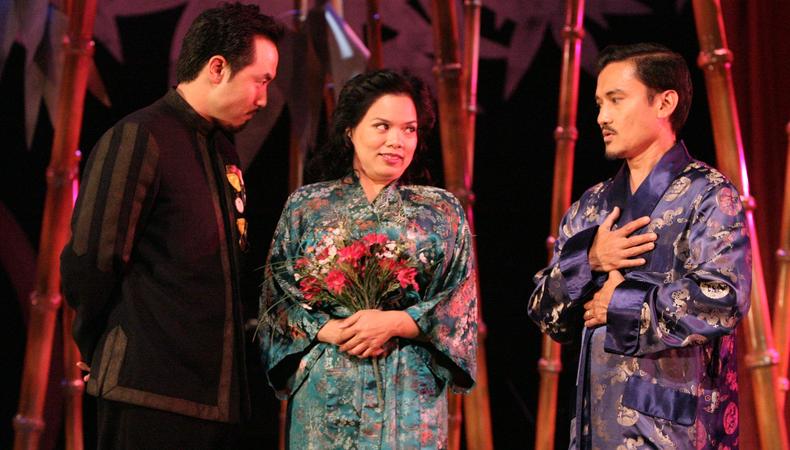 The sequestration budget cuts that clicked in automatically after Congress failed to reach a deal before March 1 could lead to fewer roles for actors.
Small and mid-sized theaters from New York to Los Angeles are bracing for the across-the-board cuts to federal funding mandated by the Budget Control Act of 2011. Those cuts will include the National Endowment for the Arts, which helps theaters fund production costs through grants.
The NEA is set to take a $7.3 million cut—5 percent of the agency's overall current budget—divided between its grants and administrative costs. Grants that have already been awarded won't be reduced, the NEA says, but rather it is future funding that will be scaled back to meet the new fiscal reality.
Theater executives who have been through government budget tightening before say it's likely most organizations will see a percentage reduction rather than an outright elimination of their funding. Still, for small-to-midsized theaters a reduction of $5,000-$10,000 could mean one or two less Equity actors in a production.
"Our budgets are already so tight this will hurt," said Tim Dang, producing artistic director at East West Players in Los Angeles. "We're going to have to cut to the bone where it already is. It makes us think of small-cast shows."
Since 1980, EWP has received NEA funding every year except for two. In 2012, EWP received a $60,000 grant from the NEA to help fund its production of "The Three-Year Swim Club." To help cushion the blow from the expect cuts to next year's funding, it's now scrambling to diversify. Dang encouraged other theaters to do the same.
"We need to be better at spreading out our funding so that if this particular chunk of funding drops out, we can still do the production," he said.
Other theater organizations are large enough to absorb the funding reductions. A spokesman for the New Dramatists Inc., a New York playwrights' lab that mounts staged readings with paid actors, said it would "swallow it" if its NEA funding isn't renewed. In 2012, New Dramatists received $100,000 from the NEA to help their playwrights' development process.
Jesse Berger, artistic director at Red Bull Theater, a New York theater company specializing in the Jacobean plays of Shakespeare and his contemporaries, said the NEA has tightened its purse strings in recent years. "I took that as a sign of ongoing cuts," he said.
Red Bull recently received $10,000 from the NEA to mount "'Tis Pity She's a Whore," a play about incestuous love by John Ford. The production's total budget is about $300,000. Any reduction in funding would have to be made up, said Berger. "It's not something that we could easily replace. You can shave around the edges with set budgets and fashion budgets, but we mount large-scale classical plays. It doesn't get much cheaper than that."
With the federal government's fiscal crisis likely to continue, it's possible further cuts to arts funding could happen soon. With that in mind, advocates are organizing a National Arts Advocacy Day on Capitol Hill April 9. The rally is meant to dissuade lawmakers from chopping arts funds in the name of cost savings.
Meanwhile, the NEA is waiting to see what its fiscal future holds. The sequester cuts are based the arts organization's current $147-million budget, which runs through March 27, when the continuing resolution funding from the federal government ends. After that, everything may change. In the meantime, the shows will go on.