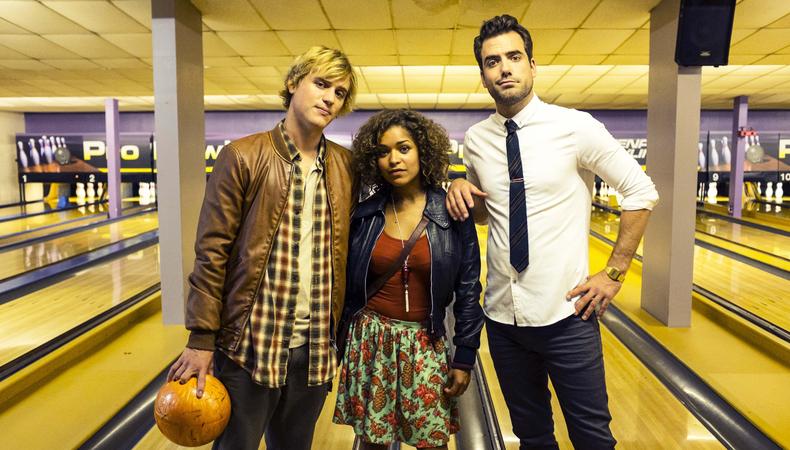 Got any plans this weekend? No? Time to catch up on some quick, easy-to-stream TV!
With an increasingly vast landscape of small-screen content at our fingertips, it can feel overwhelming trying to find a quality series that's right for you—time is precious, after all! Below we break down some streamable shows featuring great acting, writing, and directing that you can knock off your must-watch list in just a day. Check out the (super short!) descriptions below for 10 (super short!) TV series ready for your binging pleasure.
"Scrotal Recall" aka "Lovesick"
Recently picked up for a second season by Netflix and renamed "Lovesick" due to its off-putting (but, come on, delightful) title, this British sitcom about friendship, romance, and how the two overlap—oh, and chlamydia—is an easy-to-binge example of intimate writing from Tom Edge and gorgeous acting from Johnny Flynn, Daniel Ings, and Antonia Thomas. Ignore the title and check it out.
6 episodes, 22–24 minutes: 2 hours, 15 minutes
"Top of the Lake"
Elisabeth Moss received hosannas for her performance as Peggy Olson on "Mad Men," but in this SundanceTV mini-series from Jane Campion and Gerard Lee, she truly shines as Det. Robin Griffin. Or rather, she glowers, winces, and stares intently at the scant evidence in the mysterious case of a missing girl in her picturesque New Zealand hometown. If you're in the mood for a chilling, small-town mystery, this is your show. (Season 2, co-starring Gwendoline Christie and Nicole Kidman, is coming!)
7 episodes, 47–50 minutes: 5 hours, 45 minutes
"Casual"
You know the tragicomic brilliance of Michaela Watkins. Oh, you don't? Spend an evening with a glass of wine and Hulu's original series "Casual," about a newly divorced mom rediscovering the world of dating and sex—while residing with her brother Alex (Tommy Dewey) and daughter Laura (Tara Lynne Barr).
10 episodes (Season 1), 25–28 minutes: 4 hours, 30 minutes
READ: "Fall in Love With Michaela Watkins"
"High Maintenance"
This web series is a soon to be must-watch addition to HBO come fall. It is perfect for anyone looking to watch a few quick episodes now and then—or binge great TV all at once. "High Maintenance" is a series of vignettes honestly depicting the lives of New Yorkers in the market for weed; their only connection is The Guy, an affable dealer played by Ben Sinclair, who co-created the web sensation with wife Katja Blichfeld.
19 episodes, 5–12 minutes: approx. 3 hours
"Catastrophe"
Even if you're not a 30-something single person caught up in a one-week stand that leads to pregnancy and eventually marriage, "Catastrophe" will somehow resonate with you anyway. Actor-writers Rob Delaney and Sharon Horgan deliver brutal truths about romance and aging as brilliantly as they deliver hilarious one-liners; their chemistry on the page and screen is palpable—a must-watch for any artist looking for a quick fix of great writing and performances, available on Amazon streaming.
2 6-episode seasons, 24–28 minutes: 5 hours
"Stranger Things"
This Netflix original premiered only a few weeks ago and has already become a word-of-mouth sensation and instant cult classic. An homage to Steven Spielberg, Stephen King, and so many other 1980s-era pop culture (and starring a riveting Winona Ryder, David Harbour, and Millie Bobby Brown), "Stranger Things" fires on all cylinders from its very first moments—which will grab you and force you to finish all eight episodes in rapid succession.
8 episodes, 41–55 minutes: 6 hours, 45 minutes
READ: "How Netflix's 'Stranger Things' Cast Its Kid Actors"
"Rick and Morty"
Don't underestimate animated series! As Adult Swim's superb sci-fi sitcom from Justin Roiland and Dan Harmon proves, cartoons provide viewers wacky, shrewd, supremely entertaining—not to mention easily digestible—delights. The hysterical voiceover performances of Roiland, who voices both titular space- and dimension-traveling characters, are reason enough to binge.
2 seasons, 21 episodes, 21–23 minutes: 7 hours, 45 minutes
"Olive Kitteridge"
Considering last year's Emmys raining down on actors Frances McDormand, Richard Jenkins, and Bill Murray, plus writer Jane Anderson and director Lisa Cholodenko, this four-episode HBO limited series about a cantankerous and depressed wife and mother (McDormand, never better) belongs on this list and then some. We dare you not to be moved.
4 episodes, 60 minutes: 4 hours
"Freaks and Geeks"
Judd Apatow. Paul Feig. Linda Cardellini. James Franco. Seth Rogen. Busy Philipps. Martin Starr. Jason Segel. Any of these names ringing a bell? Stream it now on Netflix.
18 episodes, 44 minutes: 13 hours
WATCH: "Seth Rogen's 'Freaks and Geeks' Audition"
"Black Mirror"
Last but not least, a dose of chilling dystopia. This British anthology series from Charlie Brooker dabbles in satire, the morality of technology, and most of all, speculative fiction. Each installment features a shockingly different society, each hitting disturbingly close to home.... You'll never look at pigs the same way again.
7 episodes, 42–73 minutes: 6 hours
To star in the next binge-able streaming series, visit our television audition listings!
And for more acting advice, check out Backstage's YouTube channel: