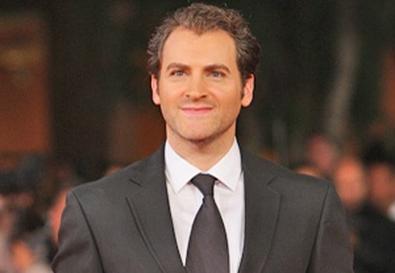 How new to this Hollywood thing is Michael Stuhlbarg? Shortly before being introduced to a packed audience following a screening of his film "A Serious Man," the soft-spoken actor tries to carry out the chairs and table for the Q&A. Doesn't he know that when you're the lead actor in an acclaimed film from Joel and Ethan Coen, you have people do that for you?
Where you may have seen him before:
Winning raves and a Tony nomination as the mentally challenged brother to Billy Crudup in Martin McDonagh's black comedy "The Pillowman" or as part of the first replacement cast of Sam Mendes' revisionist "Cabaret." Stuhlbarg had also logged many guest appearances on television—most notably as a German fashion designer on "Ugly Betty"—when the Coens cast him in the lead role of '60s-era Minnesota physics professor Larry Gopnik in "A Serious Man."
The hardest part of the film:
"I'm not a math-head," Stuhlbarg says. "So my biggest concern was the physics." To prepare for the role, his sister introduced him to physics professor Jeff Williams at Bridgewater State College in Massachusetts. "He kindly opened his doors to me, and I went to his office, and he explained Schrödinger's cat to me and the uncertainty principle and wrote out endless equations for me to make it easier to understand." Stuhlbarg pauses before adding, "It wasn't easier to understand."
Playing the lead:
Stuhlbarg had worked on stage with Frances McDormand, Joel's wife, and had met both Coens socially. But he admits to being intimidated at his first audition, which was for a different role in the film's prologue. "When I walked into that room, I was like, 'Oh my God, what am I doing here?' Then they started laughing. Once they started laughing, I was fine. It was getting in the door and making yourself accustomed to being with people you admired your whole life." Stuhlbarg was brought back to read for Larry and his brother, the brilliant but childlike Uncle Arthur. The actor was told he would get one of the roles, so he started preparing both. Then Joel called with the news Stuhlbarg would be playing Larry. "Once I got the part, I was happy to just have one thing to think about. Then I went about making sure I wasn't going to be the one to stop production. That was my main concern."
Making them laugh:
Stuhlbarg admits there were two occasions where he struggled with a scene—because he couldn't stop laughing. One was a moment where Larry and Uncle Arthur (Richard Kind) are in their pajamas, preparing for bed. "I have a sunburn, and he says, 'Boy, you should have worn a hat.' And there was something that just made me giddy about that, and I couldn't stop laughing," Stuhlbarg recalls. "The other is a scene with Adam Arkin, who plays my lawyer. We must have wasted 30, 45 minutes on that day because neither of us could keep a straight face during the shooting of that scene. We both kept laughing. Joel said afterwards that when things like that happen on set, watching an actor trying not to do something adds another kind of tension to the situation that he never would have planned. So I guess it worked out."
How his life has changed:
"I have another job when I get home, so that's where my head is at the moment," Stuhlbarg says. He is currently at work on the new HBO series "Boardwalk Empire," executive-produced and directed by Martin Scorsese. The actor portrays Arnold Rothstein, the man allegedly responsible for fixing the 1919 World Series. "I haven't even had a chance to look at anything, because I've been so busy working on that." He's also taking things one day at a time. "I'm just grateful for the opportunities that have come my way. I'm fortunate enough to have a job to go back to, and that's certainly what it's been about for me: to just try to keep my feet on the ground, talk to people, love the people I love, remain friends with the people who are my friends, try to keep on getting out there to do as good of work as I can."