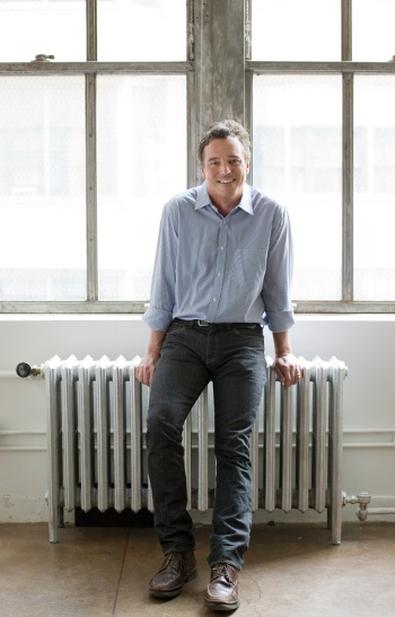 Tony Award nominee Derek McLane ("Ragtime") is taking on Broadway again, this time in the Tony-nominated production "Beautiful: The Carole King Musical."
What's a little-known fact about set designers?
We tend to get involved very early on, often before the show's even fully written. I really like sitting down with the directors—and sometimes with the writers—and really talking through scenes and figuring out, What is the engine, the artistic machinery? What is the concept that makes us go from scene to scene? Finding those things is a big part of defining the style of the entire production.
What inspired you?
Carole King says to her mother when she decides to go to 1619 Broadway for the first time, "Ma, it's just like a factory but they make songs." Trying to capture that romance was what I set out to do. I grabbed the most interesting details— soundproofing materials, recording equipment, speaker fabric—and that's how I made that set, with a kind of collage of all that equipment. And the patina of cigarette smoke and coffee that I imagine pervaded the entire building.
How did you recreate the time and place of "Beautiful"?
I looked at a lot of pictures of Carole King in recording studios, but also of the Shirelles and the Drifters and some of the people named in the story, and some who are not but worked in that environment. I compiled a lot of photographs and I thought, What's the thing that gives it its look? The tape decks and the microphones, we had that stuff built for the set and that really created that music factory.
What are the crucial components of the set?
That piano! Rather than having a bunch of different pianos, you have the one in Carole's Brooklyn apartment and that same piano becomes the piano in Barry Mann's office, and it does that by turning around. It spins, and the action of that, of just reorienting that one piano—that and adding a few pieces—is what helps tell us where we are and saves us the energy of having to lug it off stage and bring a different one onstage.
The other thing the show does is it goes back and forth between the act of writing music in these offices and performance. They're writing songs for other performers. Part of what's fun and satisfying about the show is hearing Carole King and Gerry Goffin create a song acoustically and then suddenly hear it performed full-blown by the Drifters or the Shirelles. All of them are meant to either be on a big stage or in a TV studio, so there are a number of pieces of scenery that come in for those moments. Like, the glittery, sparkly light-up panels that come in for some of these Drifters and Shirelles numbers. For the "On Broadway" number, a piece comes in with different colored light bulbs that's really meant to suggest the old Broadway marquee. All that stuff has to appear and disappear very quickly.
What was a challenge for you?
One of the things that struck me when I read it—aside from loving the stories and the songs and the fact that the show just made me smile—was that I realized there were an incredible number of scenes in offices, especially in the first act, that were very close to one another. Every one of those offices had a piano in it. One of the first things I thought about was, How am I going to get a piano on and off stage for all these different offices and not kill the rhythm of the show? The scenes move so quickly from one to another. I thought, That's a crucial part of this design…how to make all of those offices work and how to get from office to office quickly and in a way that felt fun and light. I wanted the scenic moves to demand as little from the audience as possible and the actors to stay in the performance.
Like this post? Check out our interview with the Tony-nominated star of "Beautiful" Jessie Mueller!