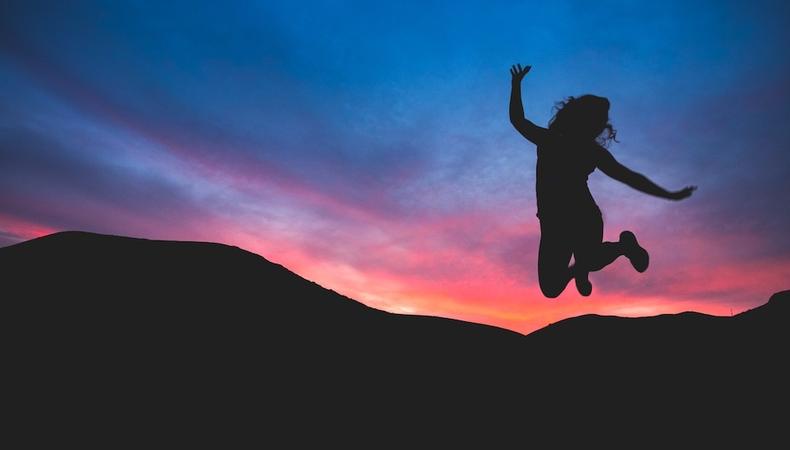 In my former life as a Fortune 500 business coach, it was my job to see that the people I was responsible for were as successful as possible. And the most powerful time to see that happen has always been—and still is—during the transition from one year to the next.
The first few months of every year are a fantastic time to leave the unwanted things in your life behind and realign your focus on what you really want to see happen for and to yourself. Once you've set yourself up during the first weeks of the year and laid out your plan of attack, the remaining months have something strong to build upon.
Think of it like a construction project: You can only go as high as the foundation is deep.
A powerful way to do this is through goal planning and visualization. When done correctly, the results are life changing! However, it does take some time, commitment, and a bit of dedicated work. It's important to keep in mind that time has no conscience—you can't put this one off. But if you jump in and get going straight away, you're sure to be further along than if you hadn't begun at all.
The first (and very important) thing you'll need to do is make some room in your schedule to actually sit down and do this. You can't just squeeze in life planning; start off by setting up management meetings with yourself and consider these questions:
What do you want to do with yourself?
What do you want out of your full life experience?
What have you wanted to do, get, or become that haven't yet followed through on?
What dreams need to be dusted off, shaken and stirred, shined, revisited, and put back on track?
What are you determined to accomplish in 2017?
Goal Planning
The words "goal planning" can often have a bad connotation, or even a reverse effect. Instead of inspiring you, they can push you toward suddenly having to deep clean the bathroom, purge your closet, or call that old friend you've lost touch with. When you think about planning for your future, you'd rather find something—anything—else to do.
It's important to keep your thoughts and emotions activated in your life planning. Keep your passion integrated throughout all you do, for it's your secret weapon. If anywhere along the way you discover obstacles to being whole and healthy, effective and complete, put action into making the adjustments necessary to correct those obstacles.
In life and business, it's easy to get sidetracked, and we can find ourselves so busy surviving that we forget to design a life that reflects our sincerest desires. Do not take this for granted even for a minute as it happens more often than you'd think. Your survival job takes over a bigger and bigger piece of your creative life and the next thing you know, you aren't anywhere near where you thought you'd be as an actor, and you're that much older. Not good.
READ: 5 Keys to Setting Goals That You Can Actually Achieve
Action
Like it or not, this isn't going to happen without you! You're the one who has the active role in bringing your dreams to fruition. With a little bit direction and some focused energy, you can make a big difference in your life. Here's what you can do:
Carve out some specific time to let your thoughts begin to soar. Allow your mind to run wild with imagination! As you do, write down at least 25 things you would love to do. Try not to judge and don't limit yourself.
Give ever goal on your list a deadline. As Napoleon Hill said, "Dreams are Goals with deadlines," so think big! Separate your list into columns. Divide the list into things that are there because they'd be fun and those that will assist your overall life plan. Once you're done constructing your list, check to make everything contributes to your growth and advancement. In other words, everything on your list should move your story forward, not distract from it.
Remember to be creative with this process. Dream, create, envision, and use your imagination. Don't get caught up with where you are or where "things" presently are. See life as it could be, as you'd likeit to be. Allow your imagination the freedom to explore. Think about possibilities and opportunities instead of obstacles, worries, and concerns.
Even when things don't seem to be going so well (which happens to everyone), don't allow yourself to be easily swayed. Find your strength and own it! There's always a delay between sowing and reaping. You plant (action) in one season, and harvest (see results) in another. Patiently move your story forward, and in time you can be living the life that you've dreamed of!
Clay Banks is a former Fortune 500 business and life empowerment coach, motivational speaker, acting coach, and consultant. He's presently a recurring Master Coach at SAG-AFTRA Headquarters as well as a guest Master Class Auditioning Coach with the American Academy of Dramatic Arts, Hollywood. Banks owns Clay Banks Productions & Studio International (CBSI) where he conducts ongoing on-camera acting classes and actively produces. Every Wednesday night at 7pm PST, 10pm EST, CBSI livestreams a 20-minute TED talk-like power teaching exclusively for actors. Clay just completed an extensive on-line certificate-acting program, Technicalities of On-Camera Acting.
If you'd like more information about Coach Banks' Business Month teachings, in person or online, contact him at Info@ClayBanksStudio.com.
Is auditioning more one of your goals for the year? Check out our short film audition listings!
The views expressed in this article are solely that of the individual(s) providing them,
and do not necessarily reflect the opinions of Backstage or its staff.