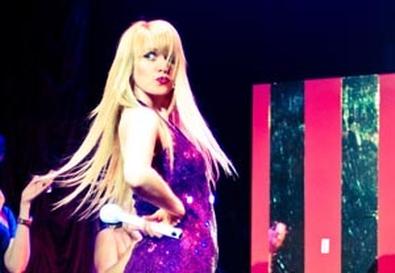 Seth Rudetsky cares passionately about musical theater, and up to now he's given no indication of wanting to see the form cheapened. So he has some explaining to do with "Seth Rudetsky's Disaster!," the jukebox musical he and Jack Plotnik wrote for the Triad Theater. Their spoof of disaster movies, set to period-appropriate 1970s standards, benefits from a large, talented, and enthusiastic cast that relishes its hard selling of stock characters peddling ridiculous plot points. But it mines very familiar territory, wanders aimlessly, and doesn't know when to quit.

We're in the mid-'70s, drowning in bell-bottoms and leisure suits and celebrating the opening of an offshore casino in the Hudson around 54th Street. The unscrupulous entrepreneur behind it (Clif Thorn) has stinted on safety. That's unfortunate, because it's in for earthquake, tidal wave, fire, bee swarm, and whatever other disasters Irwin Allen thought of during the decade. Imperiled will be the cater-waiter (Zak Resnick) and his ex-girlfriend, the Cosmo reporter (Carrie Manolakos) who just happens to be on board, the gambling-addicted nun (Anika Larsen) and the faded disco diva (Lacretta Nicole) she's counseling, the Brooklyn couple looking forward to retirement (Kathy Fitzgerald and, at the performance I attended, Drew Geraci), the pop singer (Lauren Kennedy) and the boy and girl identical twins (Clark Kelley Oliver) she looks after, and so on.

Don't expect any of their stories to go anywhere except the nearest convenient song cue, however, and you can be sure that the song will be off a "best of" album, whether it be one by B.J. Thomas, Helen Reddy, the Captain & Tennille, or their equivalent. Expect the cultural references to drop in Vicki Sue Robinson, Telly Savalas, Erin Moran, Karen Valentine—any half-remembered celebrity likely to raise a chuckle with audiences of a certain age.

Fortunately, Denis Jones' direction and choreography make the most of these easy targets, and everybody's marvelous. Resnick has a mellow tenor and falsetto I want to hear more of. Fitzgerald, whom I've wanted to see again ever since "Swinging on a Star" in the mid-'90s, is as expertly funny as ever. Young Oliver not only excels at lightning-quick changes as those twins but is a swell singer and farceur, while Rudetsky, as the scientist concerned about the temperature of the soil beneath the water ("I'm looking for some hot stuff, baby, tonight," he explains), is an island of relative calm amid the madness.

All have the right goofy attitude and know how to milk obvious jokes. But the show hammers home the silliness for two-and-a-half hours, including intermission, which is maybe an hour too long. There aren't even that many songs; Rudetsky and Plotnik have set too many plot strands in motion and leave too many threads hanging.

I know we're not supposed to dwell overmuch on dramaturgy in this sort of entertainment, and "Disaster!" does entertain, especially if one has fond memories of the unintentionally campy "The Poseidon Adventure" and its cheesy brethren. But the show is aiming low, and it's more pleased with itself than it has any right to be.

Presented by Off the Aisle at the Triad Theater, 158 W. 72nd St., NYC. Jan. 22–March 25. Sun., 7 p.m. (800) 838-3006, www.brownpapertickets.com, or www.disastermusical.com.