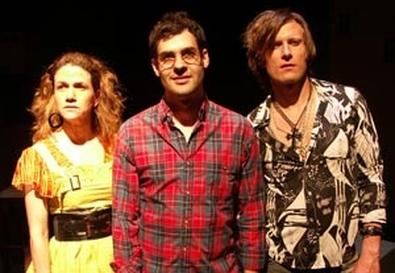 Cross
They're Playing Our Song
with
Will & Grace
and stir in hip seriocomic undercurrents oozing with up-to-the-minute relevance. The result is Mark Saltzman's deliriously funny and surprisingly touching world-premiere play, revolving around a Rubik's Cube of crisscrossing motivations that prove all's fair in love, war, and fervent showbiz ambitions. It's hard to recall a play that explored the crazy world of driven creative artists this incisively or one with such a fresh and savvy view of sexual politics in the 21st century. Director Daniel Henning and three pitch-perfect actors draw us into the giddy fun, then sock us in the solar plexus with the rueful emotional reality at the play's core.
Platonic chums Brian (Andrew Leeds) and Vanya (Hedy Burress) are struggling to make it as a Broadway songwriting team, beautifully established in an audition song that sends up the styles of Sondheim, Webber, and others. (Four terrific original songs by Berton Averre and Rob Meurer are sprinkled into the story.) Throwing a monkey wrench into this promising partnership is their collaboration with a narcissistic rock idol, Jan (P.J. Griffith, sporting leather jacket, shoulder-length hair, skintight jeans, and a prima donna attitude). Starting with a flashback structure, as letters and emails are exchanged years after Brian and Vanya have gone their separate ways, the story explores what went sour in their relationship and whether a fresh start could be in the offing.
As the sexy wildcard joining the budding songwriting duo, Griffith creates the most delightfully deranged parody of a singing sex god since the Conrad Birdie character swiveled his hips in
Bye Bye Birdie
. Griffith gobbles the scenery in a couple of sidesplitting songs and serves as a sizzling catalyst for the sexual intrigues that follow. The excellent Leeds brings hilarity and depth to the role of the closeted tunesmith Brian, and Burress matches him with her witty and forceful portrayal of a woman with possibly more up her sleeves than meets the eye. Design elements are exemplary, and the fast-paced 105-minute show passes by in a flash. This is among Henning's finest projects to date.
Presented by the Blank Theatre Company at the 2nd Stage Theatre, 6500 Santa Monica Blvd
.,
Hollywood. May 14
–
June 21. Thu
.–
Sat
.,
8 p.m
.;
Sun
.,
2 p.m
. (
Also Tue
.–
Wed
.,
8 p.m. May 12
–
13
.) (
323
)
661-9827 or www.theblank.com
.